Ben Rekhi's documentary The Reunited States, which screens virtually Sat/24 at noon at the United Nations Association Film Festival, argues for a more perfect union within the 50 states and territories. The people Rekhi profiles strive to find common ground with their political polar opposites. When the director started filming on August 12th, 2018, the first anniversary of the Charlottesville "Unite the Right" rally that ended in Heather Heyer's death, the US was deeply divided. But Rekhi could hardly have anticipated that, by the time his film would start its festival run, the atmosphere would have grown so poisonous that people actually talk about the possibility of a second civil war.
"We never could have imagined the world that it would come into. The ground has shifted beneath all of our feet and we're the most divided we've been in at least a generation," says Rekhi.
"We're at this crossroads where we can descend further into chaos and division, or turn the course and learn to find a new way through this. And we hope that the film can be small part of that conversation of healing and reconciliation."
Rekhi, who now makes his home in Los Angeles but grew up in Los Gatos, has held many jobs in the film industry since getting his start 20 years ago as a camera department intern on the Coen Bros.' O Brother, Where Art Thou? Until now, the feature films he has directed have all been narratives, including the Melissa Leo-starring The Ashram in 2016 and a 2019 crime drama set amidst the Philippine drug wars, Watch List. What set him on the path that led to his first feature documentary was seeing Heather Heyer's mother, Susan Bro, speak in Washington, DC.
"I was just really struck by that the fact that here's someone who had suffered this immense tragedy, who had come out the other side, talking about the need for difficult conversations to avoid further violence," Rekhi says. "It hit me like a ton of bricks that I felt so petty, all of a sudden, that I had been so emotional, and so wrapped up in my own emotions about politics. And here was someone who could speak with such clarity, who is on the front lines of division and talking about the need to move past it."
That night was the seed. Rekhi approached Bro after the event, telling her that he would love to tell her story. She was gracious, but wary. Her concern was that Rekhi's interest might be in her grief. That was not the story she wanted to share, but if the filmmaker's intent was to allow another platform from which she could discuss racial injustice and social inequality, then she would participate.
Rekhi already had a title in mind, The Reunited States, but he wondered if someone else had already used it. Sure enough, someone had. Mark Gerzon, author of The Reunited States of America: How We Can Bridge the Partisan Divide, has been exploring the issue of political divisiveness in the US for over 30 years. Gerzon would ultimately come on board as Rekhi's consulting producer, and introduced the filmmaker to some of the movie's subjects.
"Mark is considered sort of a godfather of this bridge-building movement," Rekhi says. "What we tried to capture in the film is that divisions are not just outside of us, they're inside each of us. And that we all have a role to play and reuniting the country."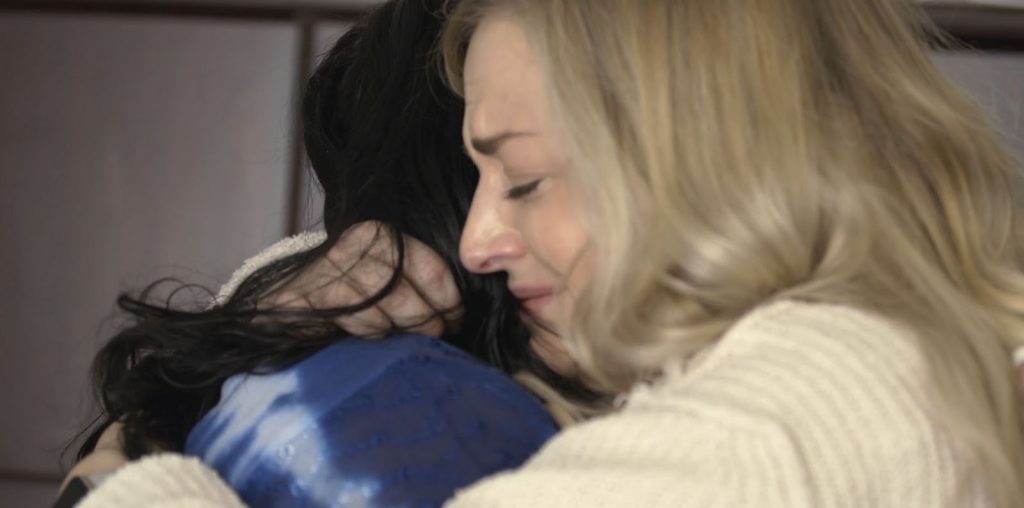 In one Reunited States story thread, independent politician Greg Orman undertakes a longshot run for governor of Kansas. In another, Steven Olikara tries to bridge the political divide with the organization he founded, the Millennial Action Project, uniting young people of all political persuasions. Finally, one-time Republican political operative David Leaverton and his wife Erin pack up their three kids in an RV and hit the road, seeking to listen to people with different life experiences from their own.
"Finding people who are on their feet, crisscrossing the country, trying to untangle our knots that was really important—and frankly, more cinematic," says Rekhi. "A family traveling to all 50 states in an RV, this white evangelical family going into Black communities and to Native reservations and border towns and realizing that their version of America is not the same lived experience as other people's versions of America."
Rekhi finished shooting this past January. The pandemic changed the trajectory of the documentary. Rekhi was in the middle of editing when the lockdown started in March. Originally he envision The Reunited States as a mix of the academic and the human stories he captured. But his thinking changed, and shifted focus to the latter, reckoning that that is what would resonate with people in this very uncertain time.
"People need hope in their lives," Rekhi says. "I think we're all craving that and we're all missing it right now in our lives. I just hope that this can be a small part of amplifying the movement.
"This isn't about government. This is about us. This is about us as America's one big dysfunctional family and divorce is not an option. We have to figure this out."
THE REUNITED STATES United Nations Association Film Festival. Sat/24 noon, $3. Event registration and more info here.