Nigel Sussman's complex, graphic murals are hard to miss. As East Bay pedestrians can confirm, his works encourage engagement, drawing the viewer in with intricate details and detailed interaction between characters and objects, strafed by colorful movement and meandering pathways. Walls become active narratives that render the attentive viewer a gamer in Sussman's large-scale level play.
Sussman has moved around from San Francisco to the East Bay, and has called Berkeley since 2014. He grew up in rural western Maryland, close to the Pennsylvania border, in a large farmhouse. Raised by creative parents, he and his two younger sisters were encouraged to embrace a DIY approach towards play which has served him well into adulthood. After attending the fine arts program at Carnegie Mellon University in Pittsburgh, he completed a BFA in illustration from California College of the Arts in Oakland.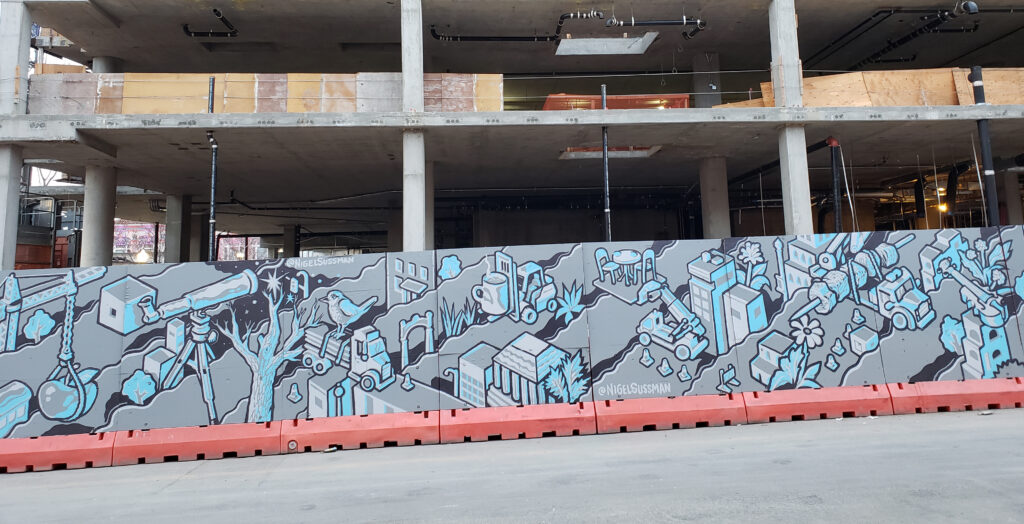 As an illustrator, Sussman creates art for Google, Adidas, and eBay, as well as numerous print publications including Popular Science magazine. Early in his career, he honed his illustration skills working for advertising agencies, which helped him develop an effective approach as he was able to observe how projects can change across a timeline.
His signature style uses a simple-but-bright color palette within a line art design structure. It's no surprise that his influences include Martin Hanford, the creator of the Where's Waldo? series, and artists M.C. Escher, R. Crumb, and illustrator Stephen Biesty. This is most evident in his Alphabet Compendium, a large-format alphabet book that is entertaining for both young and old alike. The book features full-page, hand-drawn illustrations for each of the 26 letters of the English alphabet with a playful hide-and-seek theme.
Sussman was already working from his home studio when the first COVID lockdown went into effect, but his workflow was greatly impacted. He was no longer receiving assignment to draw posters for NightLife at the California Academy of Sciences' myriad live events. With his youngster at home, his creative projects have diversified.
"I have been spending a fair amount of time building toys and costumes out of cardboard, drawing different construction vehicles and reading picture books," Sussman said.
His mural works are the link to his Bay Area community, having designed and painted more than 100—the vast majority of them locally—in the last five years.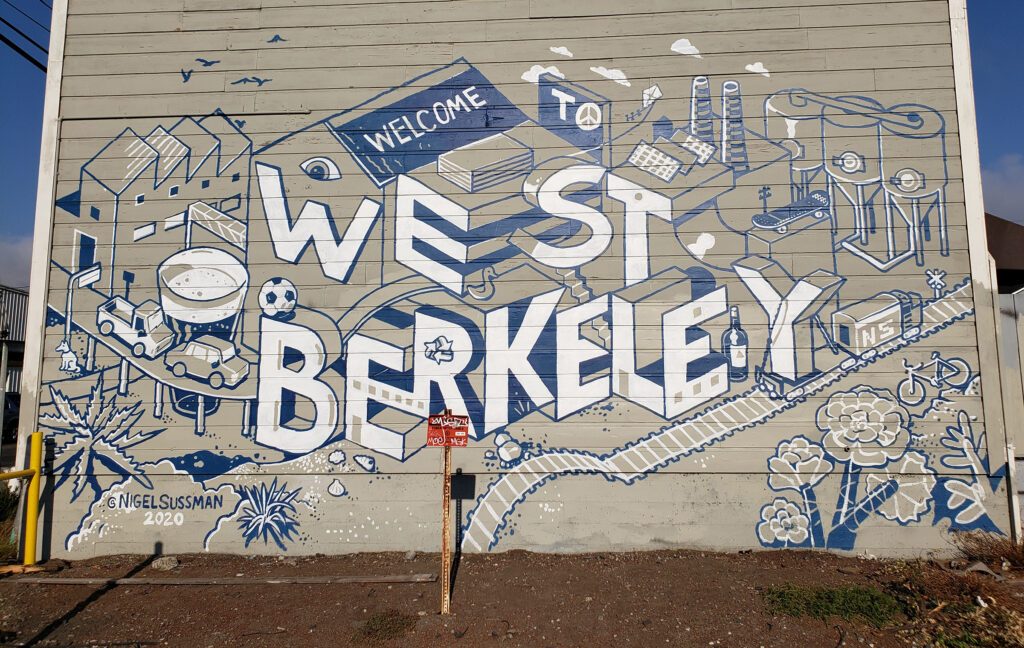 "Working on a public street is always fun—getting to interact with so many people as I work, getting feedback from passers-by and watching how people respond to the work in progress," he said. That interaction has also been limited by the COVID era—nowadays, people tend to keep their distance.
Sussman has duly morphed his street mural practice, now more akin to that he uses for paintings he creates for large indoor corporate commissions. He works alone after hours, out of the way of others. (View a time-lapse video of his process inside a large indoor site here.)
Sussman does most of his illustration, mural planning, and sketching on a tablet computer in his home studio. His murals are all planned digitally to-scale, then hand-painted using brushes and house paint. Subject matter is varied and Sussman accepts requests and commissions as long as the message is positive, universal, and appropriate, believing that what the world needs right now is more joy, color, and fun.
"The only consistent message I try to convey in my work is that everybody deserves happiness," he said.
The artist typically has at least 10 commissions in-process at any given time and, even though that workload has been somewhat lighter since the pandemic, he is still creating public art around the Bay Area.
He just completed a wrap-around mural for the entire exterior of Lanesplitter Pub & Pizza in Emeryville. Up next, he's creating a mural near 24th Street and Treat Avenue in the Mission in February and March, working in collaboration with the SF Arts Commission's "StreetSmARTS" initiative. Beyond that, he has several other murals in various stages of planning for different tech companies, developers, restaurants, and local businesses.
Sussman's most recent exhibit was at Berkeley's SHOH Gallery in March 2020 and his work is on display at Highwire Coffee in Berkeley at least through early summer. But the best way to see his work is on the street. As he continues to create public art, Sussman's ultimate goal is to give birth to work that makes himself and the people around him happy.
"Creating cheerful images has been a great way to stay focused and positive through these strange times," he said.
For more information, visit NigelSussman.com.