As if in perfectly timed response to the Vatican hating on gays again—the Pope approved a statement earlier this month that same-sex marriage is still a "sin," surprise—pop's queer czar Lil Nas X released the three-minute "Montero (Call Me By Your Name)" video over the weekend, a sensation-causing, special-effects overload full of subverted religious imagery that culminates in a sensuous gay lap-dance for Satan. Oh, and there is also a "Satan Shoe" tie-in made from appropriated Nikes, containing human blood.
All of this writhing snakes-in-the-CGI-garden may seem a bit sophomoric rebellion 101, and if it wasn't for the infectious prankster energy and hilarious social media comebacks the "Old Town Road" singer brings to it all, the familiar queer detournement of Biblical tropes could cause some older gay eyes to roll.
But not all of us have shaken off the shackles of religious oppression, or found a way to live with them. The Pope's anti-gay words can cause real damage. A friend who works for a suicide hotline said that the phones light up after statements like the Vatican's, with young people feeling worthless and trapped in their homes. The repurposing of religious imagery may be considered a healing act.
And in context, it's astonishing: Here is one of the biggest young pop stars in the world, with an unfathomable global platform, doing a fabulous pole dance in hell while sporting thigh high patent leather boots and fuchsia braids. As LGBTQ commentator Leo Herrera pointed out, "The Satan lap dance is going to mean the same for little gay boys today as the hallway walk in 'Justify My Love' did for us"—or for my generation, when Frankie said "Relax" on the radio and Boy George thanked the Grammys for honoring a drag queen.
The "Montero" video and song are the most uninhibited public celebration of sexuality since "WAP"—it's "QAP," if you will—although Lil Nas X infuses it with more pathos than the uproar suggests (more on that in a minute). And, yes, it immediately attracted the intended controversy, which Lil Nas X delightfully stoked. As everyone from crotchety wannabe-pundit Candace Owens to South Dakota Governor Kristi Noem clutched their pearls about the Lord and the children, Lil Nas X expertly and joyously batted back about hypocrisy and bad parenting, exposing just how far the country has slipped back into conservative religious clutches over the past few years.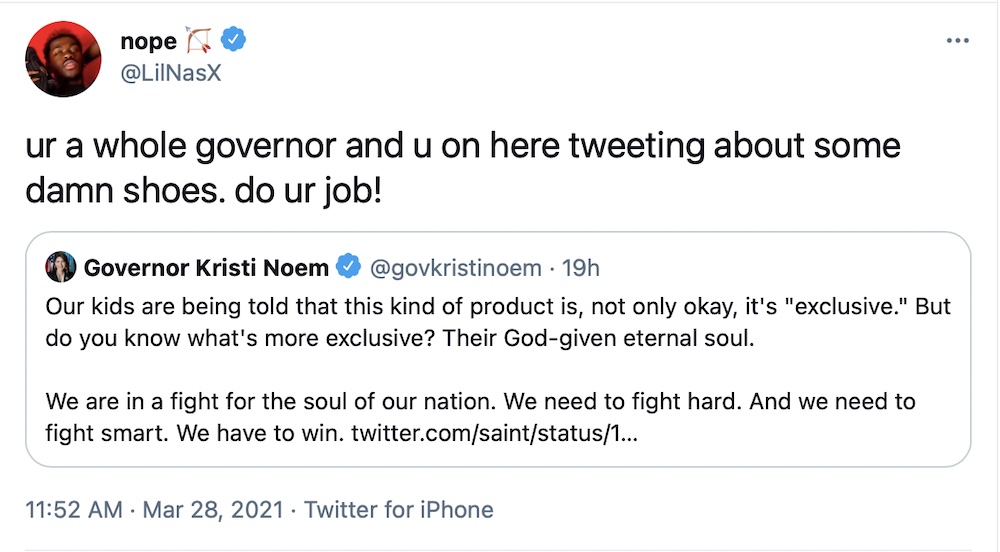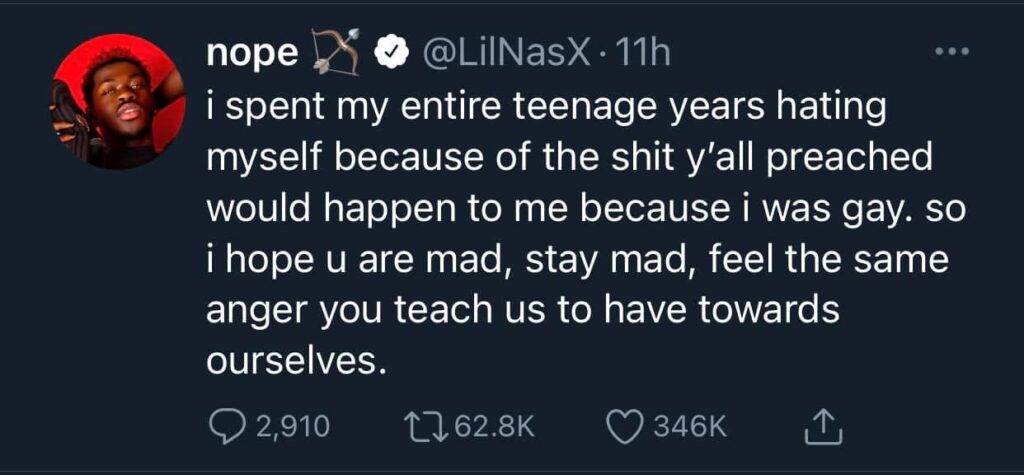 His entire Twitter feed as he battles back the knee-jerk sex-phobic and homophobic reactions is a delight. It's the kind of rush some of us needed as we gingerly dip our toes into public queer life again. (With its lyrics referencing too much cocaine and weed, it may also be a little reminder of overdoing it once we're out there.) For Lil Nas X, though, it's a literal coming out: Montero is his given name, and in a poignant short letter he wrote to his younger self and published a few days ago, he talks about the importance of embracing yourself and the many twists and turns "coming out" (a performance of its own) can take.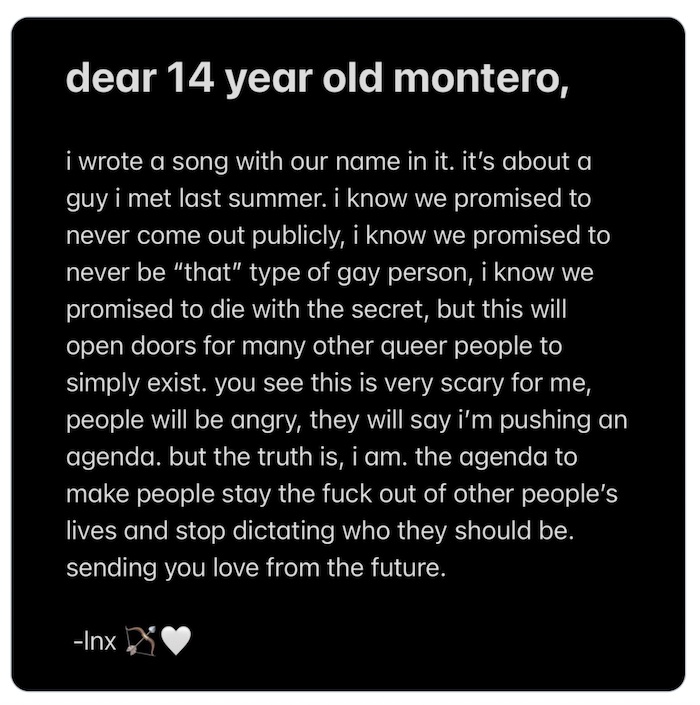 As for the song itself, it's catchy enough, with more energy and imagination than he's brought to recent releases, like corporate-lab-created holiday hit "Holiday." But while the tune and somewhat unfocused lyrics suggest that Lil Nas X is still divining his musical identity, by joyously putting his queerness at the forefront with "Montero," he seems to have found a new height of personal expression, love, and confidence. It's an affirmation we can all celebrate.