Some of his parents' friends remember Rob Bonta as an impish boy who plotted with his young siblings on ways to keep their childcare minders' attention away from their mischief. His mother, Cynthia, often needed fellow Filipino American activists to babysit her brood so she could go to movement meetings against the Marcos dictatorship in her homeland, or against racism here.
That wily tyke today is about to become California's next attorney general and now, at 48, he still never fails to cite his parents' progressive politics as the shaper of his own.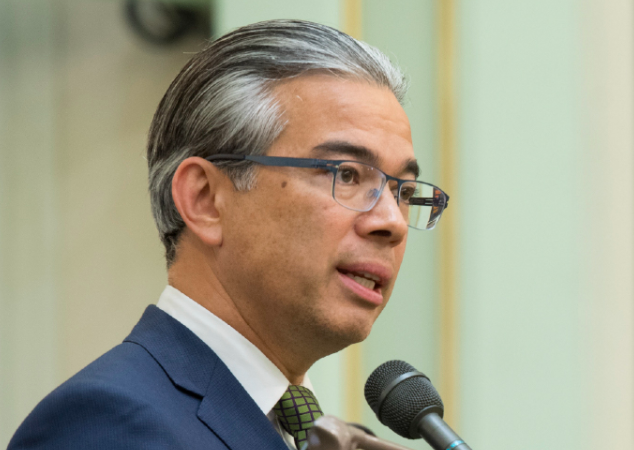 Since becoming the first Filipino American to be elected, in 2012, to the State Legislature in its 160-year history, representing Alameda, Oakland, and San Leandro, Bonta has charted a decidedly progressive trajectory – particularly on criminal-justice issues. He pushed for legislation that banned for-profit private prisons and immigration detention facilities in the state, overhauled sentencing laws for minor offenses, punished polluters, protected renters, bolstered hate crime prosecution, and offered protection from ICE abuses and unwarranted force by law enforcers.
This leftish predisposition has flowed naturally from his upbringing. His mother was on hand, beaming proudly as Newsom announced Bonta's appointment to fill the post of now US Health and Human Services Secretary Xavier Becerra. Flush with symbolism, the news conference was held at the historic site of the International Hotel in San Francisco, where Asian and Pacific Islander activists, Cynthia Bonta among them, organized and militantly demonstrated in 1977 to save the homes of elderly tenants.
Cynthia and her husband, Warren, had a lot of progressive politics to impart to their son. They were missionaries in the Philippines where Rob was born in 1972. They trained rural youth in community service. Earlier, as a student, Warren had joined Martin Luther King's civil rights organizing in Alabama.
The family left the Philippines in 1972, the year Ferdinand Marcos declared his dictatorship, and moved to a trailer in La Paz, near Bakersfield. The couple worked in the headquarters of the United Farm Workers, alongside Cesar Chavez, Dolores Huerta and Philip Veracruz. Warren helped set up health clinics, while Cynthia worked at the daycare center for farmworker families. Bonta grew up among field workers and organizers. In public speeches along his political career, Bonta would always recount how, during the UFW years, his parents taught him to speak out and act when anyone was being treated unjustly.
By the time Bonta was ready for college after graduating a valedictorian from Bella Vista High in Fair Oaks, where the family had moved, he had set his mind on a law career, "inspired by Atticus Finch in To Kill a Mockingbird," he said, to use the law for good causes. He went to Yale University, joining the soccer team and graduating cum laude in history. He spent a year of politics, economics, and philosophy at Oxford before returning to the US to earn his law degree at Yale Law School in 1998.
Bonta joined the San Francisco law firm Keker & Van Nest, where he practiced in a variety of areas, from civil rights and crime, to patent infringement, and legal malpractice. At Keker & Van Nest, he worked pro bono as part of an ACLU team led by the now renowned author Michelle Alexander on a case challenging racial profiling by the California Highway Patrol.
Bonta then spent nine years as a deputy city attorney in the San Francisco City Attorney's Office, before winning a City Council seat in Alameda. Shortly after, he was elected to the Assembly. After state Assembly and Senate confirmation, Bonta will be California's second Asian American attorney general, following Vice President Kamala Harris, who is of Jamaican and Indian ancestry.
Bonta and his wife, Mialisa Tania Villafane, met as first-year students at Yale University and were married in 1997. Mialisa founded the Literacy Lab in Oakland in 2014 to help disadvantaged children's education and remains its CEO. She is also the president of the Alameda School Board. They live in Alameda with their three kids.
Filipino and Asian American groups and leaders vigorously lobbied Newsom to tap Bonta for the AG post. Democrats who want criminal justice reform backed him as well. Bonta, however, will be tested in his new post by proponents of tough anti-crime laws. Like Newsom, he opposes the death penalty, which is still popular in the state, and he co-authored a new law that requires him as attorney general to seek an independent investigation of the deaths of unarmed civilians in the hands of law enforcers.
People who know Rob Bonta are confident he will keep his true North, just as his parents taught him.
Rene Ciria-Cruz is Bureau Chief of Inquirer.net, the Philippine Daily Inquirer's website.