Oakland musician and performer Tyler Holmes only half-jokingly calls Nightmare in Paradise (Ratskin Records) their "adult contemporary" album. Lush with quavering woodwinds and strings, deliberately soothing, it follows Holmes' lithe, multi-tracked voice as they gingerly wend their way through the process of healing from trauma, offering vulnerability as a spell for wholeness, universal in intent but evoking enough devastatingly specific detail to evoke Marianne Moore's eternal description of poetry as creating "imaginary gardens with real toads in them."
But for Holmes—whose often outrageous looks, abrasive electronic expressions, and surreal mutant drag collaborations have defined them for many on the local club scene as a gorgeously scary monster—the "sad piano gal" was inside all along. "People don't remember but I started on the drag scene playing emotional numbers on the piano to accompany the queens," they told me. "I love Tori Amos, Björk, Radiohead. I was obsessed with Cat Power when I was younger, and would lay on my back and listen to her for hours. But in high school I was also a total nu metal kid, I was into Slipknot, Korn, and these crazy, noisy sounds. My 20s were kind of like 'the exorcism of Tyler Holmes'—getting all that out.
"For this album, when I decided I was going to release on vinyl this time, I really started looking inward," they said. "The softer sound was essential to what was going on in my life." The seeds of this softness were there in previously released tracks like "Basic Beach" from 2019's "Devil EP" and "Donkey Dimension" from 2016's Invisible Island album. This time around, however, the softness is a deliberate strategy of emotional mending, of putting together, with lyrics that pivot from the florid ("engorged with hope and ripe petals blushing with perfume") to the candid ("I'm bout to cum"), sometimes in the same line. Queerness and analysis intermingle in utterances like "My memory will always serve your looks."
Nightmare in Paradise took almost two and a half years to make, evolving slowly from an initial solo-artist-with-keyboard concept ("Hole's MTV Unplugged performance remixed by Tricky," as Holmes puts it) into its fully fleshed-out, "electro-acoustic aquarium" final form. But the album is a specific response to a horrific incident—or rather, the traumas called up by that incident, which defined Holmes' life for a period. When Holmes was finishing a tour in Puerto Rico with musician San Cha, a few hours before they were scheduled to fly out, a bandmate was shot in a bizarre and random incident on the street. Holmes and San Cha stayed with the victim through their painful, extended recovery in a San Juan hospital. The experience triggered long-suppressed PTSD in Holmes.
"I've had a violent life. Starting at five I was exposed to dark, violent traumas," Holmes told me. "And I thought I had it all handled, I had gotten to this safe space where I was all, 'I'm out here, reckless in this safe space, out partying with the girls, hey saw you at the club, all that.' But this threw me back a lot. I think the thing about PTSD is that it's really difficult to work with, because it's not these phobias that come out of nowhere. It's learned trauma. Your body is telling you, 'be afraid of these things, they're scary.'"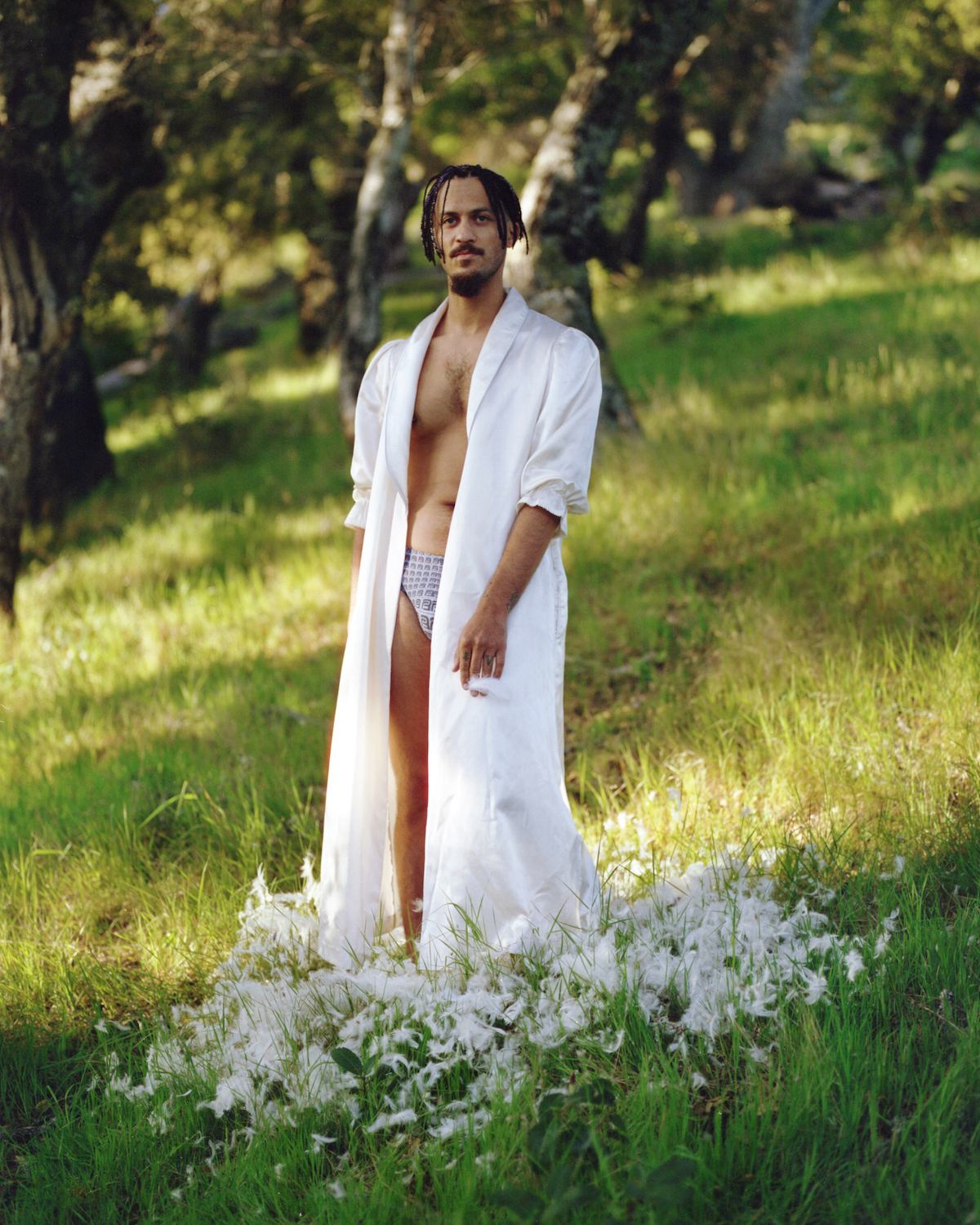 The symptoms came in the form of intense stomach pains, "crawling around on the floor crying and drooling with an intense feeling of dread." During bouts of semi-coherence, Holmes wrote poetry and songs on acoustic guitar, about how they were feeling. "It was therapeutic for me. The sound was grunge, but soft. That changed over the next two or so years as the songs transformed. It was part of the process. Whatever these songs needed to be, they became."
Drawing inspiration and equipment from other artists also helped. "I did EMDR therapy, I had a colonoscopy, I did doctor stuff and took this all seriously. But also I borrowed a synth from [fellow performer] Vain Hein aka Urheinous, the [Roland] JX-03—it gives you a lot of control over sounds. You feel like you're doing actual synthesis. One of my favorite songs on the new record is 'Concrete Balloon,' which is made entirely with that instrument. And there's this artist named RRUCCULLA from Spain, and I remember her describing her album as an aquarium, with colors that appear, and little fish that swim around and go away, and I remember wanting to recreate something like that for myself."
Another longtime influence is Sophie, the groundbreaking transgender electronic musician who died tragically earlier this year. Holmes covered classic track "Bipp" as a tribute. "I'd been following Sophie from the beginning," they said. "I listened to [breakout single production] Hey QT a million times when it came out. I loved the mystery behind her at first, and that she put out these abrasive sexually depressed party girl anthems. Then when she came out as transgender with the 'It's OK To Cry' video, I really was in tears. She touched so many genres and styles. Her death affected me deeply."
Working with so many people in the studio as the album's expansive tracks developed, and with so much going on in their life, how did Holmes decide when each song was "done"? "Songs like the first single 'Confuse Me' and 'Concrete Balloon' came out rather quickly, in a couple days, where I knew the vision and then just worked on perfecting the vocals. But other songs like 'The Girl You Knew' went through so many changes-this was the record where I did the most versions of songs. 'The Girl You Knew' was acoustic at first, then I had the whole Sister Mantos band play on it, so it really blew up.
"Lots of other tracks were like that, I had a real freedom to say 'I think this would sound good with a flute' and get a flutist. I was lucky I didn't have a deadline on the album from my label until later!"
Holmes got their start on the San Francisco scene going to drag legend Peaches Christ's infamous Midnight Mass movie shows, and later transformed their queer book club into a performance troupe. That led them to the underground drag scene and "dance community performance art stuff." Along with Van Hein and San Cha, they tore up the 2010s scene at clubs like Dark Room, Club Fist, and the Stud. "We were very much club kids, we dressed crazy, going out as much as possible.
"But along with that, which was what I loved to do, was this expanding vision of the music I wanted to make, and that whole other side of me that people haven't really known me for," they said. "I didn't know how much that would serve me later. It really allowed me to face this brutal experience and come through."
Find out more about Nightmare in Paradise here.