In Lenny Duncan's new memoir United States of Grace: A Memoir of Homelessness, Addiction, Incarceration, and Hope, he writes about growing up in Philadelphia, leaving the city and his family on a Greyhound bus at 13, living on the streets, doing sex work and dealing drugs, hearing the Jerry Garcia Band play and feeling he'd found home, and getting his GED in prison.
He also writes how grace saved him, and about the people he met around the country who were instruments of that grace—from the older woman at the Greyhound station who expressed concern for him being on his own; to the Black transwoman in San Francisco who got him a hotel room, brought him clothes, food, and money, and held him all night long; and the immigrant who picked him up when he was hitchhiking to a hospital, took him home to spend the night with his family, and gave him breakfast before dropping him off to get sober.
In Publisher's Weekly (which calls the book lyrical and passionate), the reviewer writes, "Duncan's narrative dwells not on the salacious details of what he terms "poverty porn," but instead on what his experiences say about the country that created his circumstances. He is fierce in both his criticism of America's institutions and his love for its people."
On a video call, Duncan said the book is "a defense of the Republic from the position of a citizen who's never had the rights or privileges of one."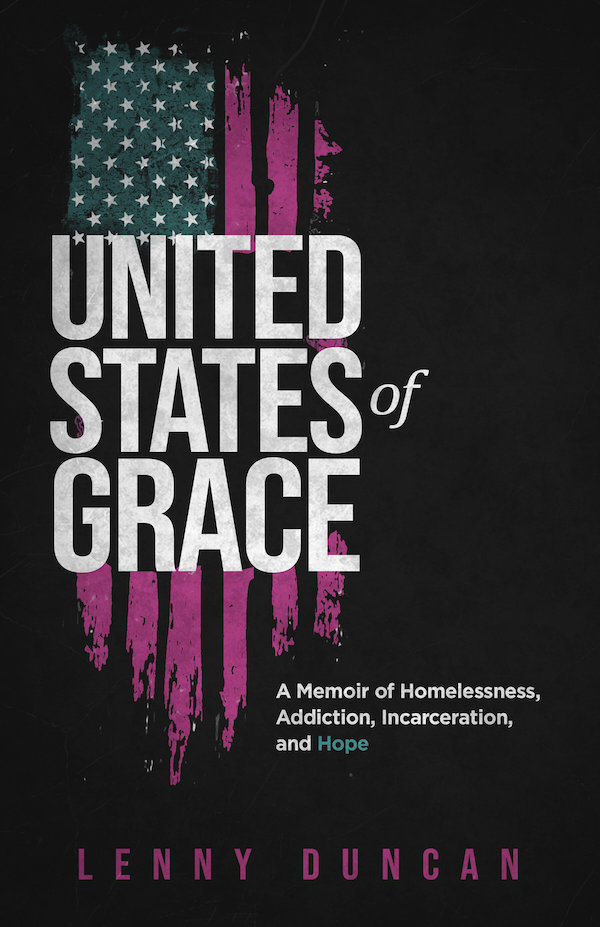 Now a pastor of the Jubilee Collective in Vancouver, Washington, and the author of Dear Church: A Love Letter from a Black Preacher to the Whitest Denomination in the US, Duncan will be in conversation about his new memoir with the dean of Grace Cathedral, Rev. Dr. Malcom Clemens Young at an online event on June 7.
In February 2020, when Duncan started writing his memoir, a book about hope in America seemed like a bad bet. Duncan says going to the protests in Portland, Oregon (where he lives) after George Floyd was murdered, he saw both how awful things were and some people who did whatever it took to help one another—like the rabbi who took off his own mask to give to him when police were tear gassing them.
Duncan wanted to write about people like that rabbi.
"What's amazing is how many people show up," Duncan said. "Who we are is revealed through that. And who we are is stunning. Who we are is giving. Who we are is loving. And sometimes we just need someone to give us permission to be like that. And the book is a lot about permission giving. It's like, 'It's OK to still love your country and have ideological differences while seeing its deep, deep fundamental flaws.' That doesn't change the fact this is the land where you met everyone you love and everything good you've done, you've done here."
Duncan, who believes revolution needs a spiritual component, is doing some PhD work at the Graduate Theological Union in Berkeley focused on new religious movements. He got in touch with Raymond Pickett, the director of the Pacific Lutheran Theological Seminary (PLTS) there to see if he could have a relationship with them.
They ended up getting a grant for $50,000 to create a program to address racism in the church and to develop a certificate program designed to deepen understanding of the theological perspectives of people of color. Along with Duncan, Dr. Donna Allen, a faculty member at PLTS and the Graduate Theological Union, a chaplain at Alta Bates Summit Medical Center, and the pastor of New Revelation Community Church, will work on the certificate program.
In the announcement about the certificate program, it says that both Allen and Duncan "have significant experience with creating spaces of belonging, especially for people from under-represented communities and people who have been marginalized by predominantly white institutions."
Asked how that happens, Duncan says it's what he's done at Jubilee Collective, and it starts with a few ideas: assuming that Jesus is as anti-racist as they are; that queer people in the church are tired of rejection and ready for radical affirmation; and that people need to be ready for the world outside of the church.
The best thing to do when trying to create a community like that, Duncan says, is just to state what you're doing from the beginning and not use vague words.
"The other thing we always say is we try and be Christians Jesus would actually want to hang out with," he said. "The first thing you've got to do is remember it's not a safe space, and it never will be. You don't treat it like a safe space. You treat it like a courageous space, like an anti-racist space. And anti-racism and queer ethics are a life-long journey."
Grace Spring Forum Online with Lenny Duncan
United States of Grace: Celebrate Pride
Monday, June 7, 6pm-7 pm
Tickets 0-$10
More information here