A sort-of, kind-of private organization that does neighborhood improvements in the Castro is meeting next week to decide whether to move forward with a plan for surveillance cameras that faces a lot of community opposition.
In fact, the plan – based on a grant from a tech mogul – brings up yet again the issue of why the city has given money and authority to so-called Community Benefits Districts that critics say are largely unaccountable.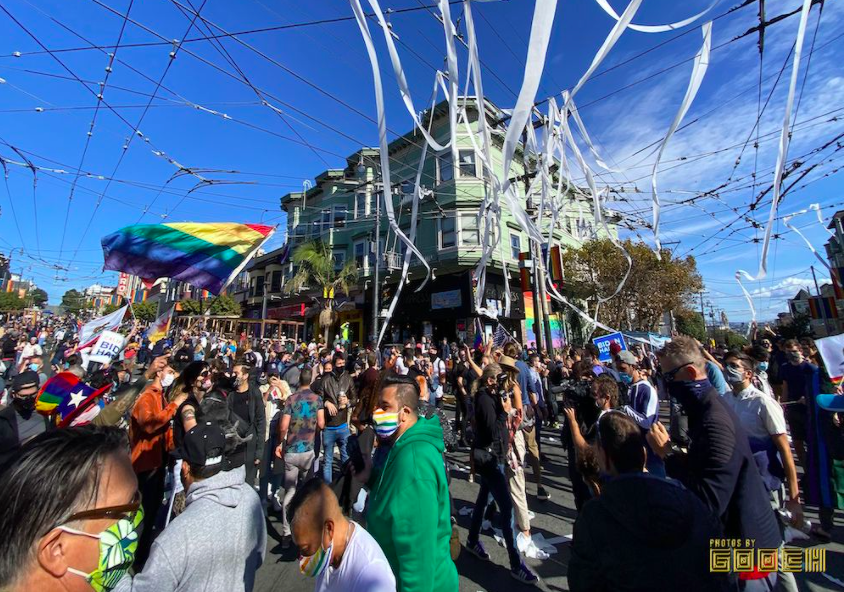 The Castro deal is part of a plan by Chris Larsen, a billionaire who founded Ripple and E-Loan, to install private cameras all over the city. He's a bit obsessed with property crimes and sees universal surveillance as a solution.
So he's put up millions to pay for high-tech cameras, more than 1,000 so far.
As the NY Times reports:
From Japantown's restaurants and nursing homes to the Union Square shopping district, business and homeowners have welcomed his cameras. Every neighborhood has sought to expand their program since installing. As proponents of Mr. Larsen's network see things, they get the safety of a surveillance state without the state.

"If you went to the Board of Supervisors and asked the members to approve this, you'd end up having a conversation about government and surveillance," said Simon Bertrang, the head of a community benefit district, a coalition of businesses, residents and property owners in the Tenderloin.
That, of course, is the exact problem: Larsen didn't go to the Board of Supervisors, which has imposed pretty strict limits on what public agencies can do in terms of surveillance.
Instead, he went to the CBDs.
These outfits are authorized by the supes. They can assess fees on property owners, but the also get public money. They use that cash, typically, for neighborhood improvements that the city hasn't found the time and interest to do.
They also, in many cases, make life harder for homeless people and promote gentrification.
Andrea Aiello, executive director of the Castro CBD, told me that the drive to create the camera network came for business owners and residents who saw the Larsen was offering, in essence, free money for the project.
"The problem is property crime, car break-ins, broken windows at small businesses," she said. "We first heard about it from residents and merhcants who said there was this grant."
She told me: "The idea is that video is an unbiased witness. It can be helpful in identifying the person committing the crime."
But in the Castro, the camera plan is getting some serious resistance. The Harvey Milk Club and the Alice B. Toklas Club, which don't always agree on policy or politics, both oppose the plan, as does the Castro LGBT Cultural District. In an Examiner oped, the groups note:
Our skepticism is heightened by the simple fact that scant evidence exists to support the notion that surveillance cameras actually deter crime. In reality, people who are desperate enough to commit property crimes will not be deterred even if they know they are being recorded. The individually-owned security cameras already in the Castro speak to this truth. Instead, we hear stories from small business owners about the reluctance on behalf of police to pursue leads, even when the footage exists. Instead of helping small businesses, we hear repeat stories of surveillance technology being abused to target immigrants, protesters and people experiencing homelessness, while disproportionately misidentifying Black, Brown and non-white people.
Lee Hepner, who lives on the edge of the Castro and is organizing against the proposal, said that the district is already full of private crime cameras. "They've been there a long time," he said, and their footage hasn't made much of a difference in deterring or prosecuting crime.
"If you are that desperate that you are going to break a store window, you aren't going to be deterred by the possibility of video surveillance," he said.
"It's a classic case of a quasi-public bureaucracy looking at a $700,000 grant and saying 'how could we possibly say no?'"
On the other hand, the surveillance has a serious downside. As opponents note:
Last year, the Mid-Market Community Benefit District – one of San Francisco's 17 property tax-funded business improvement districts — acknowledged that they had provided surveillance camera footage to the Trump Administration's racist deportation regime without so much as a warrant. In June 2020, an identical surveillance network of 400 cameras owned by the Union Square business improvement district was accessed by the San Francisco Police Department to target peaceful Black Lives Matter protesters in the wake of the murder of George Floyd. Earlier this year, numerous local and national news outlets reported on a wide-ranging security breach of surveillance camera networks installed throughout Bay Area public school districts.
And yes, even in 2021, there are people who may be at political or social events in the city's premier LGBT district who (for very good reasons) don't want their pictures taken.
"The harms are real, the risks are documented, and the benefits are illusory," Hepner told me.
Sup. Rafael Mandelman, who represents the Castro, said he isn't taking a strong position on the camera issue. "I think there are valid concerns on both sides," he said.
But he also noted that this entire discussion in taking place in the somewhat strange context of the existence of these CBDs.
"We are pretty far down this road," he told me. "But I still wonder, why isn't the government providing these services? Isn't security the most fundamental reason you have government in the first place? These groups are taking on public functions and it's because the city isn't doing what it should be."
And now it's gone way beyond putting flowers in planters and cleaning the streets. Now we're talking about private surveillance in public spaces.
Aeillo told me that the CBD has drafted some possible rules that would govern the use of the cameras – rules that would ensure that the data only goes to law enforcement (or, she pointed out, the Public Defender's Office) if there's an actual "documented incident or crime reported to SFPD."
Still: A bit shaky. The CBD would decide (not, for example, a judge reviewing a warrant application) when there's ground to release the footage?
Mandelman told me that he thinks there's a middle ground here, that the various sides can work together. Hepner is not optimistic: "I don't at this point see a path to resolving these issues," he said.
The June 7 meeting will consider two alternatives:
Vote to continue working with the community and researching the issues related to installing a public safety camera program in the Castro CBD footprint; OR
Vote No on moving forward with the implementation of the public safety camera program in the Castro CBD footprint, effectively ending the program.
It's from 6-7:30pm, and you can join (and comment) at this zoom link: