On May 28, 2021, 84-year-old San Francisco resident Jean Chang Kan Fung was reported missing after failing to return home from a walk. Fung's body washed up on a beach in Pacifica on June 10, though it was not officially identified until mid-August.
The case remains something of a mystery, at least to the public. But one detail stands out as particularly strange: On the day she went missing, a California Highway Patrol officer—for reasons that are largely unclear—picked Fung up on Route 1 and dropped her off at the Marina Safeway, miles away from her Inner Richmond home.
That was the last time she was known to be seen alive.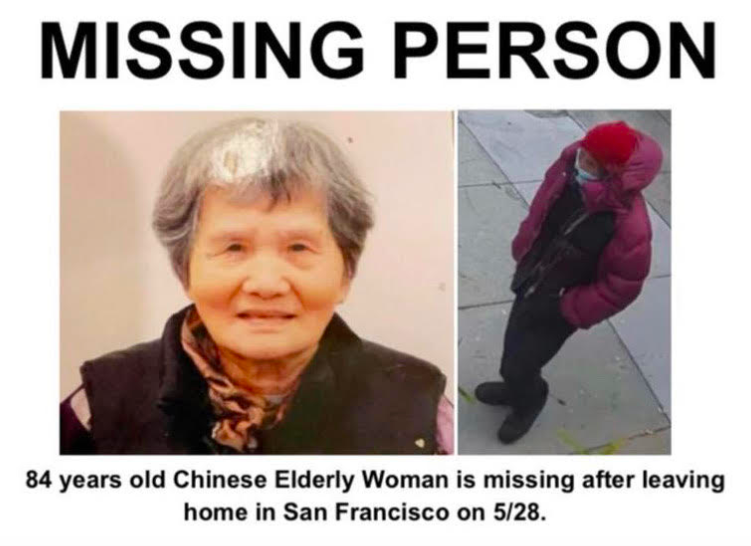 Fung's disappearance received a flurry of social media attention and news coverage in late May and early June. District Attorney Chesa Boudin and SFPD asked for the public's assistance in finding Fung. Volunteers organized search parties and posted flyers all over the city. Months passed without any updates—until a few weeks ago, when the San Mateo County Coroner's Office confirmed the identity of her body using a DNA test.
Although Fung's case has been widely publicized, few details about her puzzling interaction with CHP have been made public.
In a press conference hosted on June 2, SFPD Commander Raj Vaswani gave a rather evasive answer to KTSF's question about CHP's contact with Fung.
"CHP initially saw her near the MacArthur Tunnel. They approached her and she asked them—she did not appear to be disoriented, did not appear to have any kind of medical issues… CHP at the time, just as a courtesy, gave her a ride to the Marina Safeway, as they would do for any citizen," he said.
At this same press conference, DA Boudin suggested that there had been a "communication breakdown" between Fung and CHP due to language barriers and emphasized the importance of language access in government services. Fung spoke only Cantonese and Taishanese, and CHP reportedly communicated with her using a cell phone app.
"We don't know where the communication went wrong," Boudin said, "but we know she didn't get a ride home. She didn't get a ride close to her home… I think all of us feel that, had there been more language access, perhaps this devastating situation could have been avoided."
Though Vaswani did not explain why CHP "approached" Fung, SFPD Sergeant Michael Andraychak wrote in an email to 48 Hills that a CHP officer was in fact dispatched to Fung's location. Fung was not merely "near the MacArthur Tunnel" but walking on the highway leading to the tunnel.
"The CHP received a call regarding a pedestrian on the highway, on State Route 1, just north of Lake Street. A CHP officer responded and located an elderly Asian female walking north on the shoulder, approaching the MacArthur Tunnel. The officer communicated with the woman via a translation App and she was not injured or obviously despondent. The officer gave the woman a ride to a safe location off the freeway to the Marina District," Andraychak stated.
According to CHP dispatch logs obtained by 48 Hills, at least five drivers called 911 after seeing Fung walking on the highway. The first call was made at 3:44pm, and CHP Officer Alejandro Deleon located Fung at 3:53pm, noting that "A COUPLE [VEHICLES] ARE STOPPED WITH HER." At 3:58pm, Officer Deleon indicated that the situation was under control; by 4:03pm, he had taken Fung to Safeway.
Questions abound: Why would an officer take an elderly person who had been walking on a busy highway to a grocery store several miles from where she lived? Why wasn't she taken home or to a hospital? How could the officer evaluate whether she was "disoriented" or "despondent" if he could not even speak with her? What translation app did he use? Relatively few translation apps can translate spoken Cantonese (or Taishanese) to English; Google Translate and Apple's iOS Translate app can translate only Mandarin Chinese.
"This is most definitely not the result we were hoping for during our search for Grandma Fung," said District 1 Supervisor Connie Chan. "[I]n the coming months, I will continue to examine and question our city departments, especially our local and state first responders, in their protocols in tackling situations that require language and cultural competency."
Eira Kien, founder of the student-led art and activist group CCSF Collective, believes that Fung's fate reflects a broader failure on the part of the criminal justice system.
"We want to center the family and respect their wishes and their time of healing at this moment while also recognizing that the Highway Patrol needs to take some accountability for really losing a life… CCSF Collective is a [prison-industrial complex] abolitionist group. We recognize that safety really comes from our community."
In a tribute shared on Instagram, one of Fung's grandsons commemorated his grandmother's life and thanked those who had supported Fung's family during her disappearance.
"Some of my favorite memories of her were when she made Zong Zi (traditional Chinese bamboo wrapped rice dish), bought fruits and snacks, took me back and forth to summer school, and would occasionally sneak me $20. She was a very kind and loving person who did everything for the people she loved. We love and miss her very much. We hope she is in a better place and continues to watch over us. She will forever be in our hearts."