It's Election Day Tuesday/19. I know it's unusual to have an election in April, just as it was unusual to have an election in February. But this is an important race—David Campos and Sup. Matt Haney are competing for a seat in the state Assembly.
There are so many local and national implications; Campos would be, I believe, the first person who arrived in the US as an undocumented immigrant to get elected to the state Assembly. The District 17 seat has long been an LGBTQ seat (until the election of David Chiu) — Carole Migden, Mark Leno, Tom Ammiano, and almost Harvey Milk.
If Haney wins, his seat on the Board of Supes will be vacated, and Mayor London Breed will get an appointment, changing the balance of power on the board.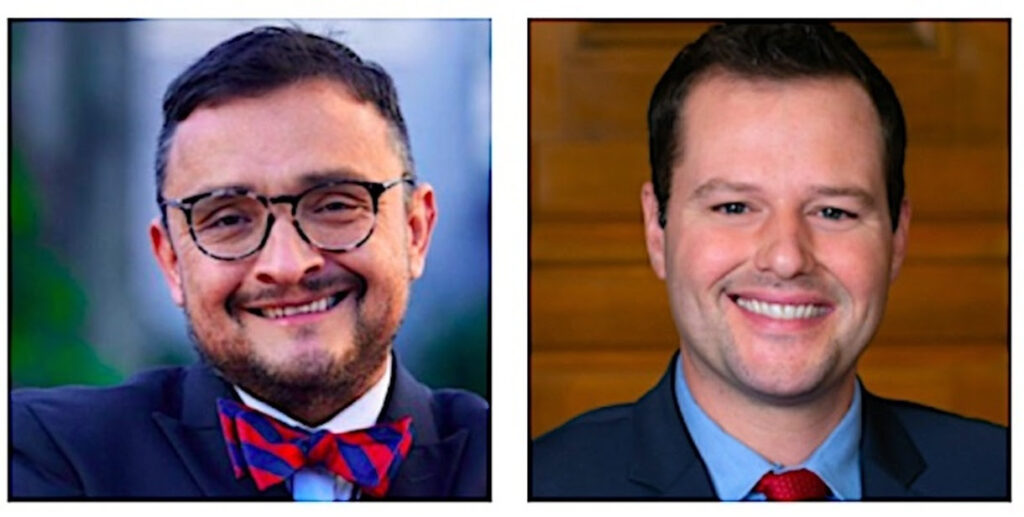 Haney is running as a Yimby, attacking Campos for not supporting more market-rate housing (even when Haney in the past took the same stand). Campos is arguing that more density doesn't necessarily mean more affordability.
The California Association of Realtors is pouring more than $500,000 into attacks on Campos. The National Union of Healthcare workers has a much smaller independent-expenditure effort supporting Campos.
According to the Department of Elections, about 19 percent of the vote-by-mail ballots have been returned. That's 56,000 people, in a district that includes 289,000 voters.
In the last election, almost everyone who voted put a ballot in the mail. So this is not an encouraging figure.
It's not too late to vote. We don't endorse candidates at 48hills, but we do endorse voting. You can drop a ballot in the mailbox, drop it off at City Hall, drop it at any of the secure deposit boxes here, or drop it at your polling place (or vote there in the old-fashioned way) Tuesday.
We will have live coverage on Election Night.
The new lines for the Board of Supes are still very much up in the air. The Redistricting Task Force, in one of its last late-night meetings, rejected a highly gerrymandered map and voted, 5-4, to move forward with a version that community groups say is a step in the right direction. But this is by no means over—the Mayor's Office and the real-estate industry have been working hard behind the scenes to push for a map that would limit progressive power.
The next meeting is Thursday/21, and we will see at that point if anything has changed.
Sup. Hillary Ronen wants to know why the cops aren't responding to calls and are, by many accounts, telling residents that they won't make arrests because the district attorney isn't prosecuting criminals.
As she noted in a Feb. 15 letter to Chief Bill Scott:
My staff and I have witnessed several captains and officers tell our constituents that there is no point in investigating or arresting perpetrators of crime because the District Attorney will not prosecute. Not only is that patently false, in 2021, the District Attorney brought charges in 66.94% of the cases your Department has presented to him, the highest charging rate since 2018. It is absolutely unacceptable for police officers to just stop doing their jobs because they don't like the way another department is doing its job.
More:
The San Francisco Police Department's clearance-rate dashboard also paints a troubling picture that the Department is not doing the job it claims to. Clearance rates have declined from 2020-2021. In 2021, clearance rates were down for robberies 14 percent, for burglaries 9 percent, for car theft almost 16 percent, and for larceny 36 percent. Unfortunately, the facts show that the problem is getting worse. According to San Francisco Police Department's own published arrest data, only 8.1 percent of reported crimes in 2021 led to an arrest. This is the San Francisco Police Department's lowest arrest rate in 10 years. Further, only 3.5 percent of property crimes in 2021 led to an arrest.
The cops keep saying they are understaffed, and are asking for more money. But as Ronen notes:
Last year, the Board of Supervisors and Mayor increased your budget by $28 Million for a total budget of $683 Million. At the same time, the Board of Supervisor and Mayor's Office created 10 street response teams to address homelessness and people living with mental illness and drug addiction to more effectively address a poverty and public health crisis. These ten street teams made up of doctors, social workers, peer advocates, and community paramedics, are supposed to respond to the majority of B and C level calls for service on the streets. You have championed these street teams and agree that police should not be the first responders to poverty and health issues. However, despite the increase in budget and decrease in work responsibilities for the Department, you are currently seeking additional funds from the Board of Supervisors. I will be hard pressed to vote for additional funding until I see proof that increased policing solves the problems and needs of the residents and businesses of San Francisco.
All of this will be coming up in public hearings Wednesday/20. The Budget and Appropriations Committee will hold a
Hearing on the City-Wide Street teams and effectiveness on street conditions, homelessness, and people with mental illness or addiction that are having crises in the streets; reporting if the goal is to remove work from the Police Department and transfer those responsibilities to health and peer advocates to allow the Police Department to focus on deterring, investigating, and stopping crime has been accomplished, including the analysis of the number of calls the Police Department receives per year, prior to and after the increase and creation of numerous City-Wide Street teams; and requesting the Budget & Legislative Analyst's Office, Police Department, Fire Department, Department of Emergency Management, and Department of Public Health to report.
That meeting starts at 1pm.
Then at 5:30pm, the Police Commission will also hold a hearing on Ronen's letter and the chief's response (which you can read here.)
There is so much going on here—the mayor's efforts in the Tenderloin (where she admits she wants more arrests), the role of mental-health professionals and cops, the money Chief Scott says he needs, the role of the SF Police Officers Association in attacking the DA …. It's all on the table.