After a couple years' semi-hibernation, SFFILM (formerly known as San Francisco International Film Festival) is back in full in-person-event form, albeit with streaming options for those who, like Melville's Bartleby, would prefer not to. Because the Kabuki is no longer hosting festivals and the Castro has limited availability during its controversial renovation, the fest is particularly spread out among venues this year, encompassing SF's Vogue, Roxie, and Victoria theaters, plus a full schedule (running Fri/22-May 1) at Berkeley's BAMPFA.
There are nonetheless a number of "Big Nights" and other starry happenings at the Castro, starting with the official opening night selection this Thu/21. It's a somewhat unusual choice for what's normally a fun night (and which comes complete with an afterparty at SF Mint), being a rather serious drama about a heavyweight topic.
Jamie Sisley's narrative debut feature Stay Awake takes place in an unspecified US heartland small town where two sons are shackled to a never-ending crisis at home: Their mother (This Is Us' Chrissy Metz as Michelle) is an opioid addict who veers between seemingly deliberate overdoses and pretending she doesn't have a problem.
Derek (Fin Argus) has already been sacrificing his aspirations as an actor to this cycle, working at the local bowling alley and forever riding to mom's rescue. But younger bro Ethan (Wyatt Oleff), a high school senior, isn't willing to let her issues limit his future—he's applied to a college far away, and pushes Michelle to seriously clean up for once. Despite her own ample guilt and shame, however, it's questionable whether she's capable of that. Not as much of a complete downer as that may sound, Stay Awake is both tough and empathetic, a unsensationalized, realistic look at the difficulties of recovery in a society that frowns upon addiction, but doesn't do much to help addicts become ex-addicts.
Other major Castro events during the festival include a tribute to Hong Kong cinema superstar Michelle Yeoh (currently in the sleeper hit Everything Everywhere All At Once) on the 29th, preceded by a screening on the 25th of Ang Lee's 2000 period wuxia epic Crouching Tiger, Hidden Dragon. There's another tribute on Fri/22 to comedian Jenny Slate (in conversation with Sandra Oh), featuring Marcel the Shell With Shoes On, a new feature expansion of the stop-motion animated short series she wrote and voiced.
There's also a free Thu/28 screening (with live musical performance) of Jon Else's Land of Gold, which chronicles famed Bay Area composer John Adams and stage director Peter Sellars' SF Opera mounting of Puccini's California Gold Rush-themed Girl of the Golden West. On Sun/24 there's SFFILM's most ambitious multimedia event this year, former local resident Sam Green's "immersive documentary" 32 Sounds, which deploys film, graphics, live performance, and music (composed by JD Samson of Le Tigre) to explore the role of sound in everyday life. Among other Castro programs are the fest's "Centerpiece" film, fact-inspired drama 892 (see below) on Wed/27, and the closing nighter, Sundance multiple prize-winner Cha Cha Real Good.
It's hard to pick highlights among some 130 films from 56 countries, including features, shorts, and a special section for "Mid-Length" titles. There are documentaries US and international, including several with a local focus like Reid Davenport's Sundance award winner I Didn't See You There and Debora Sousa Silva's world premiere Black Mothers Love & Resist, both Oakland-themed. Narrative works feature plenty of new talent, as well as the latest from such established favorites as Terence Davies (Benediction), Claire Denis (Both Sides of the Blade), Zhang Yi (Fire on the Plain), Ron Howard (We Feed People) and Romania's Radu Muntean (Intregalde).
Further nationalities represented onscreen run a gamut from the usual suspects to such relative cinematic outliers as Ecuador, Somalia, Lebanon, and Kosovo. And many directors will be present at screenings, sometimes with additional collaborators. You can get even more insight into the creative process from an array of virtual talks and in-person workshops whose themes range from "Archival Footage in Documentary Filmmaking" to "Movie Magic: How the Music Gets Made."

Below are a few recommended picks from the first half of SFFILM's schedule—we'll preview the second half early next week. Check the festival website for showtimes and locations.
Utama
Part of a special Cine Latino sidebar this year, Alejandro Loayza Grisi's first feature is about an elderly Quechua couple living in the Bolivian highlands, where their way of life seems to be dying out before their lives get the chance to. Though probably in their 80s, Virginio (Jose Calcina) and Sisa (Luisa Quispe) must still do everything for themselves—and their llama herd—including hauling increasingly scarce water. There's been no rain hereabouts for a year. Others still living in this remote place are considering giving up and moving to the city, as their children already did long ago. This quiet, handsome, mournful movie may sometimes be low-key to a fault, but it is lovely nonetheless.
Fire of Love
When soon-to-be-married French citizens Katia and Maurice Krafft met, they soon realized they had a lot in common—she was a chemist, he a geologist, territories that would overlap in a mutually obsessive career pursuit as volcanologists. It was a dangerous (and finally lethal) profession that took them from Iceland to Indonesia, from Oregon to Colombia. A hit at Sundance earlier this year, Sara Dosa's documentary is flawed by the choice of groggily monotone Miranda July as English-language narrator. But this unique scientific love story rivets with its ample footage of active lava flows, and charms with interludes of collage animation.
Klondike
Another time-tested pastoral existence is ending in Maryna Er Gorbach's striking drama, not with a whisper but a scream: The very pregnant Irka (Oksana Cherkashyna) and husband Tolik (Serhi Shadrin) live in an inherited family home that has the misfortune to be located in eastern Ukraine's Donetsk region, near the Russian border. It is mid-2014, and already the neighboring superpower, local separatists, mercenaries, and others are using their vicinity as a staging area for military incursions. In the opening scene, the couple's domestic banter is interrupted by a bomb that destroys one exterior wall to their house—and things only get worse from there. Suffice it to say, this is not a movie Putin would like you to see just now, which is just one reason why it should indeed be seen.
Navalny
Speaking of Vlad, I'm sure he would also prefer you miss this excellent portrait of Russian oligarch turned opposition leader who after several years abroad returned to Mother Russia—and was promptly thrown into prison on dubious charges by you-know-who. Daniel Roher's documentary follows the wealthy exile whose outspoken criticism of the current Kremlin regime has gotten him near-fatally poisoned (which put him in a coma), had his offices raided, his assets seized, his supporters arrested, and so forth. Granted fly-on-the-wall access, the film has a jaw-dropping sequence in which Alexey Navalny prank-calls his own attackers, getting them to fully confess their assassination attempt by posing as a high-ranking Putin ally. His efforts at corruption exposure continue even now, as he faces up to 20 years in Russian prison. The day after its SFFILM screening (Sat/23), Navalny will premiere on CNN and streaming platform CNN+; it also plays the DocLands festival at Smith Rafael Film Center on May 6.
Neptune Frost
Afrofuturist to the nth degree, this directorial debut feature from US rapper Saul Williams and Rwandan writer Anisia Uzeyman is a heady, eye- and ear-filling brew that evokes everything from Born in Flames to Max Headroom to Jesus Christ Superstar, while very much carving out its own singular niche. Its parabolic story has an androgynous runaway (played by both Elvis Ngabo and Cheryl Isheja) fleeing abuse to join a tribalist hacker collective bent on overturning the stubborn remnants of colonialist exploitation. Trading in revolutionary mysticism, musical numbers, and design elements that put an African spin on steampunk, this inventive sensory overload is a DIY fabulist spectacle worth of comparison to Jodorowsky.
Riotsville, USA
Oppression and rebellion take more prosaic forms in this documentary flashback to the late 1960s, when rising popular opposition to the war in Vietnam and socioeconomic injustice at home made some (other) Americans feel such unrest "must be dealt with forcefully and swiftly," as President Johnson put it. The title of Sierra Pettengill's film refers to the "model town" that was built as a result in 1967, using Virginia's Fort Belvoir to train military and police forces to "respond to domestic civic disorder." Archival footage shows these grunts in street clothes pretending to loot and vandalize the "main street" set, their "riots" looking like Fraternity Rush week run amuck, then getting dragged off to the paddy wagon—all watched by crowds of dignitaries in the stands. That "skill set" was applied full-force to the protestors outside the 1968 Democratic Convention, which became a "televised feast of brutality." Worried about incipient American fascism, Sinclair Lewis mocked the complacent view that "It Can't Happen Here." As this film shows, it already has—and could again.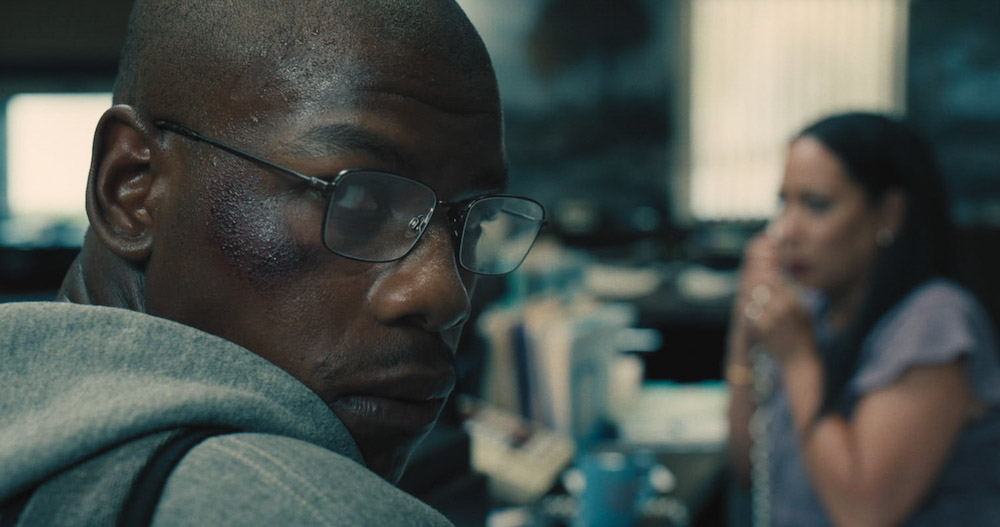 892
In mid-2017, a distraught 33-year-old man named Brian Brown-Easley entered a suburban Atlanta Wells Fargo and handed a teller a note saying "I have a bomb." He didn't want to rob the place: An ex-Marine suffering PTSD from service in Iraq, he'd been driven to this extreme act by a belief that it was the only way he could get the VA to cough up a measly sum already owed, and keep himself from becoming homeless. This film from director Abi Damaris Corbin and writer Kwame Kwei-Armah builds a powerful Dog Day Afternoon-type drama from that incident, with strong performances from John Boyega (in the main role) and others including Nicole Beharie, Selenis Leyva, Connie Britton and the late Michael K. Williams.
SFFILM runs Thurs/21-May 1 at various venues and online. More info here.