When community advocates are organized, and a district supervisor works with them, the result can be good news, even in difficult circumstances.
Take the MLK-Marcus Garvey Apartments in the Western Addition.
The complex is an affordable housing co-op with 211 units. People who live there pay 30 percent of their income as rent, and over time, collect some equity they can cash in if they leave.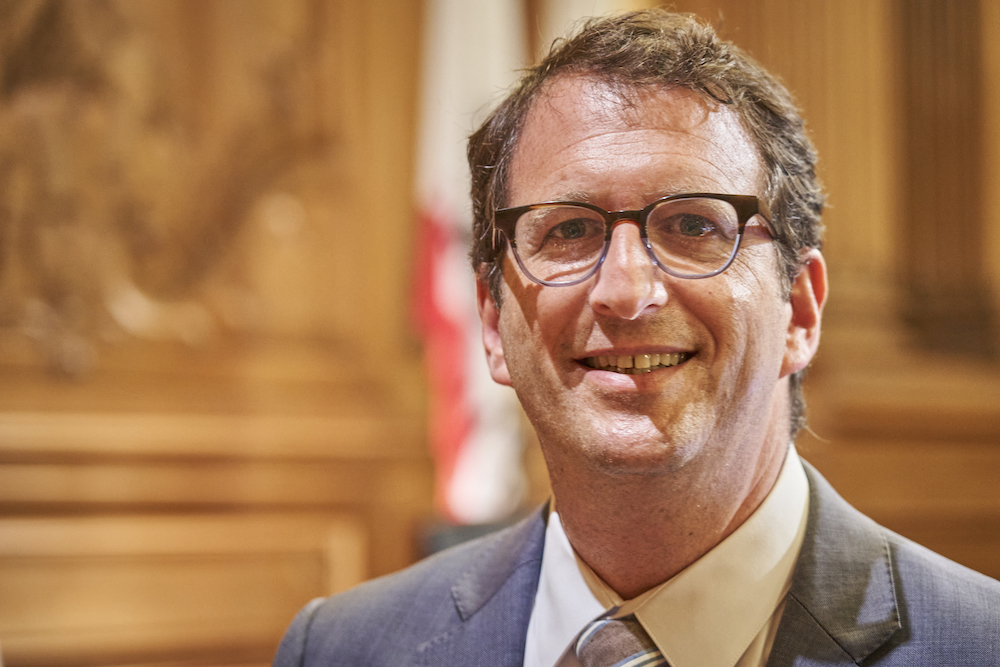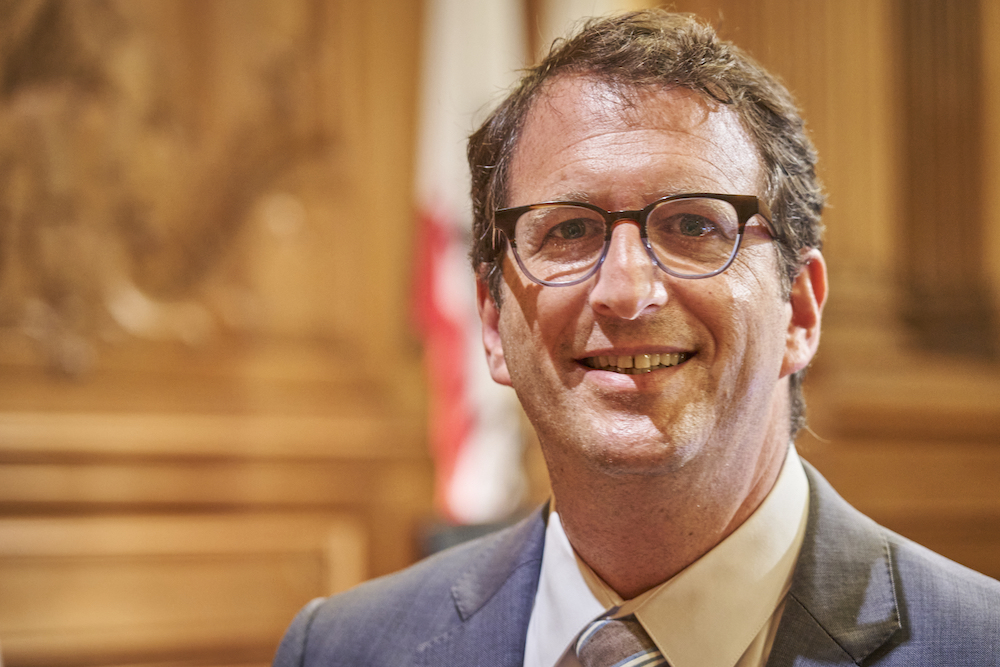 It's collectively owned by the residents, but the federal Department of Housing and Urban Development provides subsidies to a private management company that oversees day-to-day operations.
And this summer, that company, Kalco, send out a bunch of eviction notices to residents. The evictions had nothing to do with failure to pay rent or lease violations; they were just technical issues that had to do with residence requirements. In the most prominent case, a 61-year-old local chef who had lived in the building for 54 years, was going to be tossed out because his mother, the original tenant, had died.
These are fixable problems; HUD rules allow people like Richard Henegan to keep their homes after a relative dies. But there are rules to be followed, and forms to fill out, and when your mother dies, that isn't always the top of your agenda.
So Henegan and others were facing homelessness. But Sup. Dean Preston, a former tenant lawyer, quickly got involved, and put pressure on HUD and Kalco—and now, Preston announced August 12, the efforts of community organizers and his office have convinced Kalco to hold off on the evictions. From his press release:
"The eviction machine is not set up to stop," said Preston, a 20 year tenant attorney prior to his 2019 election. "But community members came together with my office and other elected leaders to bring this severe injustice to a halt. We look forward to working creatively to find a solution that does not involve displacement."
For the record, Preston told me that his office contacted the mayor, who used to represent the district and grew up in public housing, to seek her support, but she did absolutely nothing to help stop the evictions.
The SF Berniecrats are raising money to print the group's voter guide in Chinese, Spanish, and English, and there's an art fundraiser Saturday/21. Among the featured local artists: Claire Lau, Heidi Alletzhauser, Hugo Kobayashi, Shrey Purohit, Suzanne Cowan, Winnie Porter, and Raven Osborne. Most of the art will be under $200. Artists will get 50 percent of sales, with the other 50 percent going towards SF Berniecrats multilingual voter guides.
The fundraiser is as at 2-4pm at 518 Valencia: The Eric Quezada Center for Culture and Politics. You can RSVP here.
Here's an example of some of Lau's work, which she is donating for the fundraiser: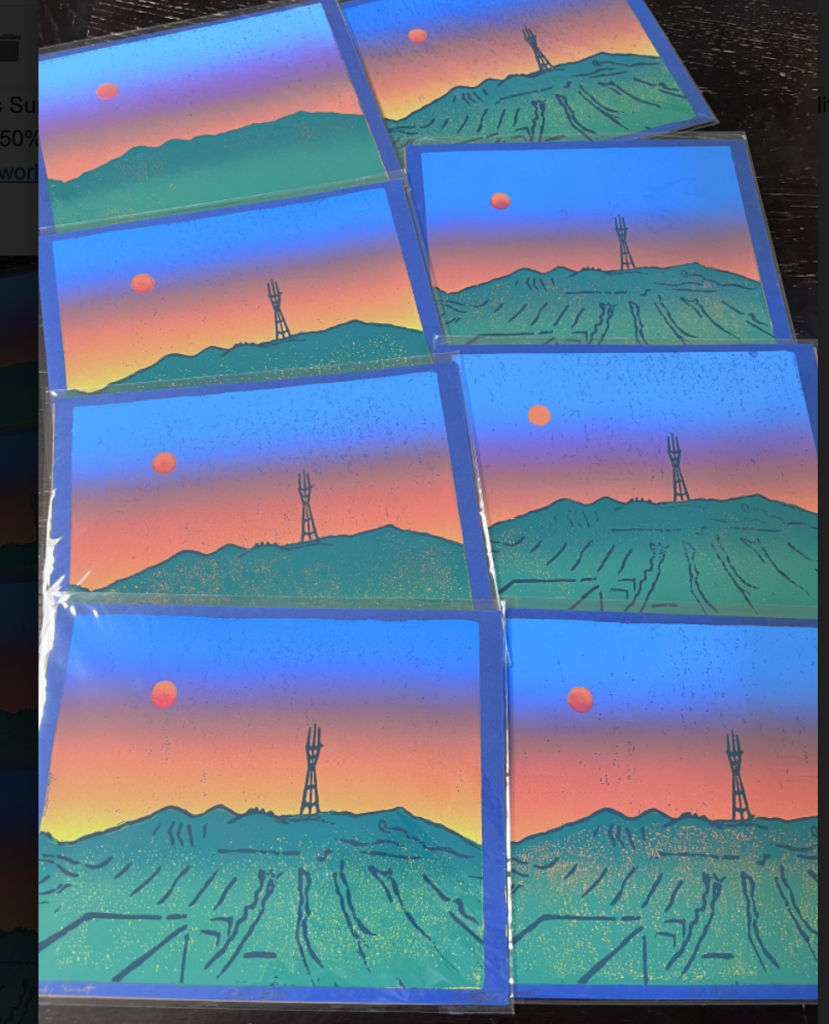 Perhaps Heather Knight, the Chron columnist, was really scrambling for a story this week, because she used a tiny empty lot in the Tenderloin to try to argue that city bureaucracy is slowing down housing development—when pretty much everyone in the development world was telling her that's not the problem here.
Her story focused on a developer who paid $1.1 million for a lot on Polk Street that's mostly used for parking, and who wants to build housing—"100 percent affordable housing is his dream"—but can get the project off the ground.
There is, on the other hand, a bit of a real problem with the lot: It's too small to make sense as an affordable-housing project.
Knight:
It's well-documented that bureaucrats and elected officials over the decades have created a system that makes it inordinately expensive and time-consuming to build housing and has nearly ground construction of new units to a halt. It's also a system with a marked pattern of delays and denials of new housing and one in which nosy neighbors get an unusual amount of say in what can be built near them.
Check the links in her story. A careful, accurate reporter, J.K. Dineen, notes in the first link that high land and construction prices and supply-chain problems are causing market-rate developers to slow production. His story says little about bureaucratic delays. Dineen also quotes developers saying that affordable-housing fees are too high; even if that were true, it would have nothing to do with this particular Tenderloin project.
John Elberling, who runs TODCO, which has built and manages numerous affordable housing projects, points out the problem in a Facebook post:

OH! ANOTHER HEATHER HEADACHE!

Actually Knowing What You Are Talking About Is Not Required.

It is impossible to build cost effectively on a tiny 2900 ft lot. Anyone can tell you that who knows the housing business. Even Sam Moss told her.

A small developer, like the RBA [Residential Builders Association] guys, would build 6 floors with just 23 units (the limit for just 12% Inclusionary Housing required) here, not a much more expensive tall building. But no affordable housing nonprofit does small projects like that, period.

TODCO did build one 24 -nit project, all 2BR, the Leland Apartments on Howard Street, back in the '90's. Nice place. But that was only possible thanks to a long-gone HUD program, Section 811, for housing for disabled. And the lot was much bigger.

This guy paid just $1.1 million for the site, which makes sense. Because that would be just under 50k per unit for a 23-unit building. Which is a realistic number these days for market housing feasibility.

All the other whining in this story is beside that point. The site is simply too small to work. Affordable housing developers look for sites that are 10,000 ft or more in area for that reason, more than 3x its size.

But if you just want to write propaganda …
In other words: There are lots of issues with affordable housing in San Francisco. In this case, city "red tape" is not one of them. At all.
But it makes a good headline.
The Chron has been slow to weigh in on the question of what happens when Rep. Nancy Pelosi decides to retire from Congress, but The New York Times just ran a piece looking at the possible local candidates to take that (lifetime) seat.
The Times looks at two people: Christine Pelosi, Nancy's daughter and a Democratic Party activist, and State Sen. Scott Wiener, who has been plotting his move to this seat for many years.
That, some progressives say, wouldn't be much of a race:
Jen Snyder, a San Francisco-based strategist who works with progressives, could summon little enthusiasm for a Pelosi-Wiener contest.
"It will be Mothra versus Godzilla," Ms. Snyder said. "I guess I will be on the sidelines eating popcorn."
It would be a challenging race for both of them: Christine Pelosi has about zero record in local politics, as did her mother when she defeated Harry Britt, who back then would have been the first openly gay member of Congress. Wiener has very little support on the San Francisco left, and as far as I can tell, not that much in the way of policy differences with Christine Pelosi.
It all depends on what happens in November.
If the GOP takes the House, Pelosi might possibly stick around as minority leader, but it's not a job she loves. If the Dems keep control, she will have to either revoke her promise to step down as speaker after 2022 (which allowed some conservative Dems to support her for another term) or accept a lower role, which she's not going to do.
So the most likely outcome is that Pelosi resigns—after the election—and triggers a madcap 150-day scramble for one of the most attractive jobs in American politics.
That's not a great way to choose the next person who will almost certainly represent San Francisco in Congress until I am long dead. Pelosi could have honestly decided not to run this fall, and we could have had a real primary and election.
But that's not how she thinks or how this works. If she resigns, it will be with a clear picture of a successor who will continue her alliance with neo-liberal politics, with fundraising from Wall Street and the real-estate industry as a priority, with political power as the goal and no effort to address economic inequality.
Both Christine Pelosi and Scott Wiener fit that bill. It would be interesting to see where the big money goes, since either of them would likely be just fine with the corporate power structure in SF.
Former Sup. Jane Kim says she's not "ruling out" a run. There may be others. This is still a progressive city, and when there's a once-in-a-lifetime opportunity like this, it would be surprising if the progressives had nobody to vote for.