The oldest film festival in the Western Hemisphere, SFFILM, née San Francisco International Film Festival (Thu/13-23), continues to evolve in ways both explicable and otherwise. Its 66th edition is somewhat smaller in scale than most prior ones, and sports a surprising first: This traditional annual highlight on SF's cinematic calendar will celebrate its opening night in… Oakland.
That choice is apt at least for the film in question, Stephen Curry: Underrated, as its director Peter Nicks has already made a fine documentary trilogy (The Waiting Room, The Force, Homeroom) about the city's embattled public institutions. Producer Ryan Coogler is another native East Bay resident who started his own subsequently high-profile career (Creed, Black Panther) dramatizing a notorious local incident in Fruitvale Station. And needless to say, the new film's NBA All-Star subject is a Bay Area (as well as national) hero for his record-setting career with the Golden State Warriors. Nicks and Coogler are expected to attend Underrated's two Thurs/13 shows at the Grand Lake Theatre, which follow a well-received world premiere at the Sundance Festival.
Curry is not the only real-life celebrity being celebrated onscreen: Also in the festival program are self-explanatory nonfiction portraits Being Mary Tyler Moore, Joan Baez: I Am A Noise and STILL: A Michael J. Fox Movie, plus Invisible Beauty (about pioneering African-American fashion model Bethann Hardison). Nor is his film the only one of particular Bay Area interest, others including Savanah Leaf's Earth Mama (a drama set within Oakland's foster care system), Babak Jalali's Fremont (about a young Afghan translator for the US military who's relocated there), and Adamu Chan's What These Walls Won't Hold (examining COVID's impact at San Quentin State Prison).
Closing night on Sun/23 continues the Oaktown theme with the first four episodes of musician Boots Riley's first major screen project since 2018's much-loved fantasy/satire Sorry to Bother You: The first four episodes of Amazon Prime series I'm A Virgo, whose protagonist (Jharrel Jerome from Moonlight) has more than the usual growing pains fitting into society and adulthood, given that he's 13 feet tall. Riley is expected to attend the screening at SF's CGV Cinemas—which, yes, closed a few weeks ago. But SFFILM apparently was able to insist they re-open to honor their contract as a hosting venue, so that is where a majority of this year's programming will be shown.
Other spotlit selections include acclaimed playwright Celine Song's feature film directorial debut Past Lives, a romance sprawling from the U.S. to South Korea; Kelly Fremon Craig's adaptation of classic Judy Blume YA novel Are You There God? It's Me, Margaret, offered as a free community screening; Matt Johnson's dramatized smartphone rise-and-fall saga BlackBerry; and Sophia Barnes' The Pod Generation, a Stepford Wives-like satire about bio-engineered parenting in the near future.
While "international" may no longer be part of its promotional monicker, that certainly remains core to SFFilm's programming mission, which this year encompasses features from Ukraine (Luxembourg, Luxembourg), South Korea (Peafowl), Belgium (I Have Electric Dreams), Colombia (La Bonga), Estonia (Smoke Sauna Sisterhood), Italy (L'Immensita), Nicaragua (Daughter of Rage), Malaysia (Stone Turtle), France (The Gravity), Mexico (Love & Mathematics, Martinez), Cuba (Vincenta B.) Canada (Something You Said Last Night) and more.
While several feature documentaries this year acknowledge the pressing issue of climate change by assuming an environmentalist focus of one sort or another—whether it's Appalachian King Coal or Against the Tide, about a fishing crisis in the Arabian Sea—others cast their nets elsewhere. There are films about freediving (The Deepest Breath), apartheid (Milisuthando), youth activism in Texas (Hummingbirds), and war in Ukraine—the director of Mariupolis 2 was actually killed by Russian soldiers, his film completed posthumously by colleagues.
There are also shorts programs, one full-length cartoon (Ernest & Celestine: A Trip to Gibbertia), a section for mid-length (30-60 minutes) works, an all-ages animation workshop at the Walt Disney Family Museum with veteran character specialist Andreas Deja (who's drawn everyone from Mickey Mouse to Tigger to Lilo), and yet more.
Though they just scratch the surface, we've culled a few particularly recommendable programs from those that were available for preview: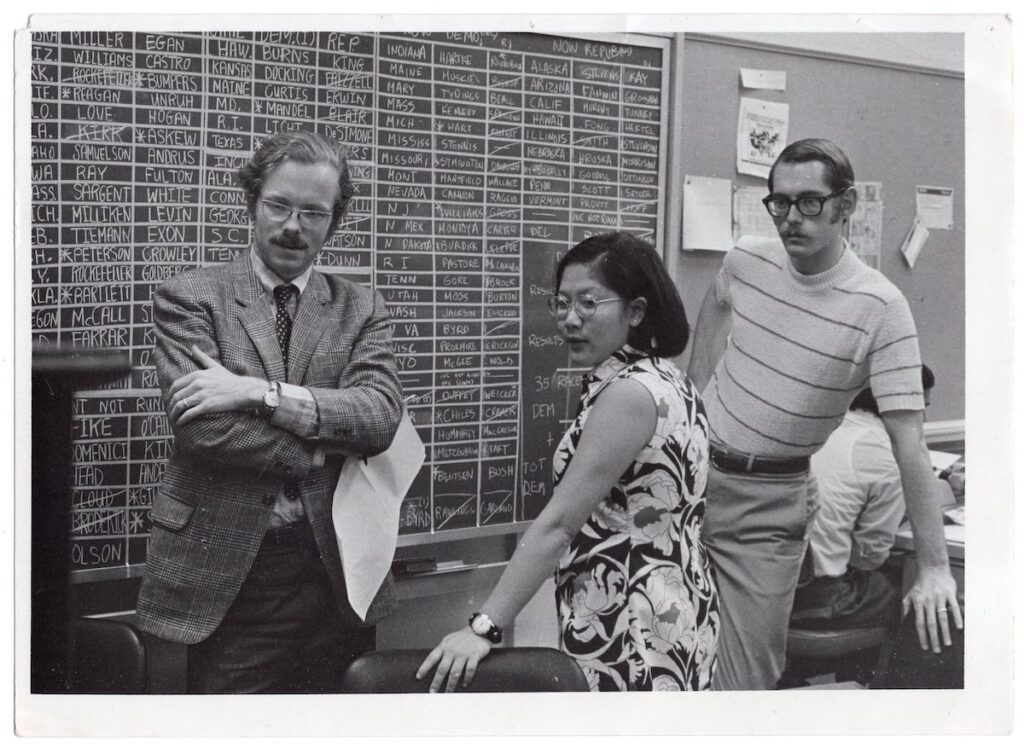 Rally
For better or worse, few things were more deeply San Franciscan than "unofficial mayor of Chinatown" Rose Pak—even though she was born in China, raised in Macao, and didn't become a US citizen until the "secret" of her residency status became a scandal decades later. After studying journalism at Columbia, she wound up at the San Francisco Chronicle, then quickly realized she wanted to be a part of local politics rather than just reporting on them.
She fast became a city kingmaker, first as part of the "Brown-Burton machine," then an ally of Art Agnos (until they fell out), then Ed Lee (ditto), and so forth. She passed away in 2016, years before the completion of her most conspicuous "legacy": The Central Subway, an endless, outrageously expensive ($1.6 billion) project that even now, having finally opened, seems only necessary as a tribute to Pak's monumental, arm-twisting will.
She's still called "Auntie Rose" by many loyalists, who have a rote tendency to dismiss any criticism of her methods as "racism." Others (notably ex-supervisor Chris Daly here) accuse her of unethical, possibly illegal influence peddling, riding roughshod over accepted process to place her favorites in office, even being an agent for the Chinese Communist Party. (Some US intelligence personnel evidently believed as much, though the charge is only mentioned in passing here.)
She's called a bully who'd "stab in the back" anyone who provided an obstacle, and did not refrain from yelling abuse at disliked personages through a bullhorn during the Chinese New Year Parade. Yet in infrequent interview footage here, she strikes a pose as grandmotherly community benefactor, too harmless and modest to be more than a mere "grain of sand on the beach." She remains an enigma—did she even have a "personal life"? We'll probably never know.
Those who loathed Pak as a vindictive, destructive power broker may find much of Rally (esp. Willie Brown's ample input) too softball, while those who gratefully admired her undeniable energy and industry may judge it too harsh. Well, it's apt enough that even a film about her should be "divisive" in itself. It's certainly an absorbing portrait of a complicated, highly impactful personality. Also of major local interest is another world premiere documentary, Kevin Duncan Wong's Home Is a Hotel, which looks at a diverse sample of the 20,000 or so San Franciscans who live in the city's problematic SRO (Single Room Occupancy) housing.
Animalia
What with global warming, rising fascist movements, escalating income inequality et al. raising humanity's tensions towards a boiling point, apocalyptic screen fiction is no longer a terrain limited to sci-fi genre exercises. This striking allegory, a Morocco-Qatar co-production that's writer-director Sofia Alaoui's first feature, is a bit like the brutal 2021 Mexican New Order—a jarring docudrama-style imagining of what might happen to the elite class in a violent popular revolt. But it's also a little bit Hitchcock's The Birds, plus a dash of cosmic mysticism.
The very pregnant wife of a wealthy family's prized son, Itto (Oumaima Barid) is treated as little more than a servant by her controlling mother-in-law, while her husband is too often away on business to notice. Taking an opportunity to spend a day by herself while the rest of the family is gone, Itto soon finds they can't return because of military roadblocks, and the vague crisis triggering that causes all the actual servants to run away. A driver is hired to take her to her in-laws, but in an atmosphere of general chaos, he ditches Itto, leaving her alone and vulnerable as a lone woman in a strange village. Things get more fantastical, albeit without explanation, yet Animalia remains psychologically grounded in the real world—even as our heroine's presence mysteriously seems to drive the animal kingdom nuts wherever she goes.
An increasingly surreal, even psychedelic journey with strong elements of socioeconomic and religious critique, this very accomplished movie packs a lot into just 90 minutes—it is, in every sense, a trip.
Snow and the Bear
Another young woman in hostile territory provides the center in Turkish writer-director Selcen Ergun's own impressive first feature. Raised in the capital, middle-class med school graduate Asli (Merve Dizder) accepts a post to a remote mountain village as her compulsory national service. Thanks to "this unending winter," she barely makes it there; the doctor she's supposed to assist at the local clinic is stranded elsewhere, never managing to get through near-impassable roads.
This leaves her alone to deal with locals who don't trust authority in a woman's form—and god knows they don't treat their own women especially well. When one belligerent local lout disappears, suspicions run wild: Was he killed by the bear residents feared to have woken hungry from hibernation? Did he run off to a rumored city mistress? Or did he have a lethal fight with Samet (Saygin Soysal), the odd job who's appointed himself Asli's protector and possible suitor?
Full of wintry landscape beauty, Ergun's film is part suspense thriller part culture-clash drama, part meditative weighing of a place still rooted enough in the past to be swayed by superstition and fear of outsiders. It's an arthouse movie that's also a bit of a "page-turner," and as such very engaging.
Bad Press
One of the best documentaries at Sundance this year, though not among the most attention-getting, was Rebecca Lansberry-Baker and Joe Peeler's up-close look at politics within the Muscogee Nation—where the general vibe may appear laid-back, but the behind-scenes mechanizations can be just as cutthroat as they'd be if a Rose Pak were pulling the strings.
The federally recognized tribe's government seat is in Okmulgee, Oklahoma. Unbound by the US Constitution, very few such tribes guarantee freedom of the press. The Muskogee are an exception—until the legislative National Council abruptly repeals its own Free Press Act, without public debate or notice. At immediate stake is the journalistic independence of Myskoke Media, who have been critical of (sometimes scandal-plagued) tribal leaders, but also depend on the funding those leaders control.
It's a messy case of quite blatant corruption and news-muzzling that only gets more colorful when the next election draws out a record number of candidates. All of them campaign on a "reformist" platform—though many have even worse conflicts of interest than the incumbents. Meanwhile, the community's media personnel wonder whether their jobs will survive, or be eliminated as a matter of political convenience.
A fascinating saga with plenty of twists and turns, right up to the end. It's also an arresting, somewhat surprising microcosm of where larger US politics have been heading lately—Constitution be damned, mainstream figures like Florida's DeSantis are doing their best to stifle (or label as "fake news") any reportage that doesn't flatter them or their allies.
Daliland
Though she's worked largely in television in recent years, Mary Harron was one of the outstanding breakout talents of the 1990s Amerindie boom, first with edgy fact-based I Shot Andy Warhol, then drawing something witty and pointed from the literary sewage of Bret Eaton Ellis' American Psycho. She subsequently made intriguing films about various infamous figures including Bettie Page, Anna Nicole Smith, and the Manson "family."
Her latest is another such juicy flashback, with Christopher Briney as an NYC art-scene wannabe whose androgynous good looks get him swept into the decadent mid-1970s inner circle of flamboyantly self-promoting painter Salvador Dali (Ben Kingsley) and his gorgon-like wife Gala (Barbara Sukowa). He experiences a crash course in many things—artistic genius, excess, exploitation, and disillusionment.
Herron will be present for her tribute and the film's screening on Fri/14. Other major honorees during SFFilm's course this year include (on Sat/15) Mel Novikoff Award winner Stanley Nelson, the veteran Bay Area-based documentarian whose chronicling of African-American history will be represented by 2015's The Black Panthers: Vanguards of the Revolution. And on Thurs/20 at Berkeley's BAMPFA, the Persistence of Vision Award will go to British film historian Mark Cousins, whose own documentaries are very personal essays on diverse subjects—as evidenced by his two latest, The March On Rome (about first-wave Italian fascism's rise), which screens that night, and the self-explanatory My Name Is Alfred Hitchcock, showing separately the next night.
For full program, ticket and venue information on this year's SFFilm (April 13-23), go to www.sffilm.org