Police Chief Bill Scott weighed in Wednesday night on the killing of Banko Brown, the assaults on homeless people in the Marina, and the role of the CHP and National Guard in the Tenderloin, and thanks to some good questions for Police Commission members, we learned the following:
­—Brown was indeed unarmed, and at the very worst, might have spit at the security guard who killed him over about $14 worth of possibly shoplifted candy.
—The cops are still investigating the case, despite the unusual decision of the district attorney to announce there will be no charges before that inquiry is complete, suggesting that SFPD is not entirely in agreement with DA Brooke Jenkins decision.
—The SFPD is supposed to regulate private armed security guards, under a 1972 law, but hasn't done any of that, and a report on what role local government should have in controlling private parties with lethal weapons is at least a year overdue.
—The security guard, Michael Earl-Wayne Anthony, may have pulled his weapon out of the holster during what was only a verbal confrontation, which Commissioner Max Carter-Oberstone suggested might violate a provision of the city's Police Code.
—The police didn't see a series of attacks on unhoused people in the Marina as serious enough to alert the district supervisor or the public.
—The high-profile move by the governor and the mayor to bring the California Highway Patrol and the National Guard to the Tenderloin is pretty much what it looked like: Political posturing with no real impact.
Let us examine these in more detail.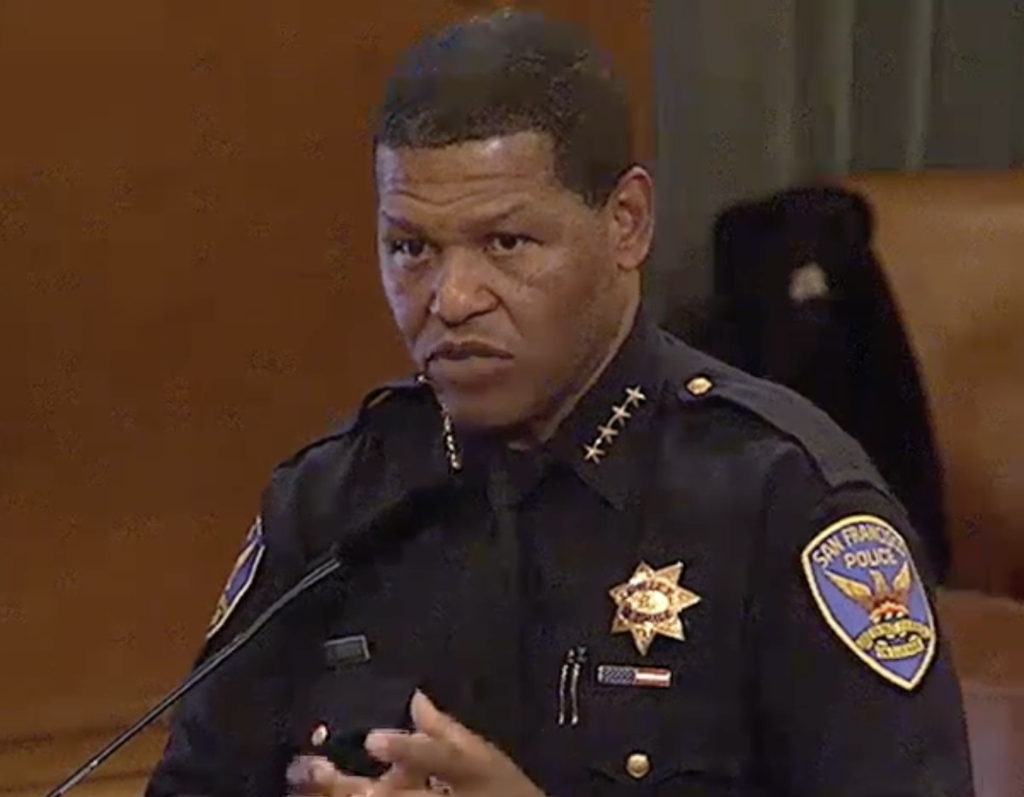 According to Chief Scott, Anthony was "attempting to detail a suspected shoplifter," when a "physical altercation" took place. But there's no evidence Brown had any type of weapon (a direct contraction to earlier DA and media reports). In fact, Scott said, Brown was leaving the story when he spit at the guard and raised his hand.
"I have never seen a situation where a sitting DA announces no charges will be filed while there is still an active investigation," Carter Oberstone said.
""There are things our command staff thinks should be done," Scott replied.
This is looking worse and worse for Jenkins.
More than 50 years ago, the supes passed a law requiring SFPD to license and monitor armed private security. But if that's ever happened, it's been ignored for years; "most of us have never heard of that," Scott said.
Two years ago, Sup. Catherine Stefani asked for an update on that law; the cops and the Controller's Office were supposed to produce a report in six months. It still is incomplete—meaning the only real oversight of armed people who are not trained as cops is with the state Department of Consumer Affairs.
Carter Oberstone noted that Anthony reportedly unholstered and brandished his gun during or before the altercation. He pointed to Police Code Section 1750.2, which states:
It shall be unlawful for any person, corporation, partnership, or association which employs or utilizes armed guards to require, allow or permit any such guard, while in any place in the City and County of San Francisco, to draw or exhibit other than in a holster any handgun except in lawful response to an actual and specific threat to person and/or property. In any prosecution for violation of this Section proof that such person, corporation, partnership, or association did not, at the time a guard unlawfully drew or exhibited a handgun, have a written rule prohibiting such acts, shall be prima facie evidence that such person, corporation, partnership or association required, allowed or permitted such conduct.
Brown's family has hired John Burris, a legendary lawyer who has handled many police-abuse cases. He will, I am sure, subpoena the video, if the supes don't get Jenkins to release it first.
The cops turned over to the Public Defenders Office a list of eight incidents in which someone assaulted unhoused people, mostly in the Marina District, as part of the case of Don Carmignani, who was allegedly assaulted by a homeless person.
Carter Oberstone asked Scott whether those eight incidents, which allegedly included someone spraying the unhoused with a toxic chemical that may have been bear spray, had risen to the level where the police would have alerted at least the neighborhood supervisor, if not the public.
Scott said the incidents "were not even on my radar."
Which says something. Imagine if someone were walking around the Marina bear-spraying rich white people. I suspect that would have been on the chief's radar pretty fast.
And now to the Gavin Newsom and London Breed Tenderloin plan.
We have seen national news on this, saying that the crime situation in San Francisco is so bad that the governor has called out the National Guard.
But well …. not really.
Under questioning, Scott noted that the CHP is not responding to service calls. Exactly six officers have been assigned to the Tenderloin, and all they are doing is monitoring traffic (and of course, if they see "a crime in progress" they respond).
They are not walking beats. They are riding in their cars.
There is no Memorandum of Understanding with the CHP over that agency's role in the city; it's all pretty ad hoc. And the CHP doesn't have to work under the carefully crafted rules that the SFPD is supposed to follow.
"Wouldn't it be better," Commissioner Jim Byrne asked, "if the CHP was assigned to patrol more quiet areas," and SFPD officers, who actually know the Tenderloin, could move there?
"You may not have control over the central orders of the governor," he said.
Which is exactly true: The CHP is not trained to deal with local issues, has no experience with the Tenderloin, and is, according to the chief, only doing traffic enforcement.
The National Guard, despite all the hype, is doing pretty much noting. "There are no boots on the ground," Scott said. "There are no soldiers in the streets of San Francisco."
There is a governor who wants to make political points over a flawed and dangerous media narrative of crime in San Francisco. What he is doing, with the support of the mayor, appears even to the chief of police not to be terribly helpful.