Their subject had a complaint when filmmakers Christopher Sharp and Moses Bwayo showed him their documentary, Bobi Wine: The People's President. Wine, born Robert Kyagulanyi Ssentamu, a musician turned politician and the leader of Uganda's political opposition, wanted to know why the pair made the country's autocratic president, Yoweri Museveni, "look so good." They had not, but Wine was expecting a film that would nakedly reveal the extent of the violence that Museveni rains down on political opponents and everyday Ugandans.
"When Bobi watched the film, he was expecting to see a complete horror show," Sharp says in a Zoom call from Los Angeles a few days in advance of his, Bwayo, Wine, and Wine's wife Barbie Kyagulanyi's appearance at San Francisco Opera Plaza Cinema on Bobi Wine: The People's President Fri/4 opening day. "But there's a sort of maximum amount of violence that you can put in a film before it just becomes overwhelming. And you sort of lose your ability to follow the story if it's just constant mayhem and death."
The seeds of the film were planted in 2017 when Sharp, who grew up in Uganda but now makes his home in London, met Bobi and Barbie. He was blown away by the couple and by Wine's story. A product of Kampala's ghetto, he rose out of his meager circumstances to forge two successful careers and raise four children. And he's never forgotten where he came from, endearing him to a nation where the average age is 16 and 85% of the population is under 35. In 2017, Wine was elected to Uganda's parliament but he had larger ambitions.
"He was willing to set his course on something which was obviously going to be very dangerous," Sharp says. "Ultimately, it was very hard to see how it could be successful because even though Uganda professes to be a democracy, it's obviously not a democracy. We knew that anyone who tried to go up against Museveni, it hadn't gone well. Lots of people had died. Lots of people had been tortured. Yet, there was Bobi, this very optimistic hopeful man with his wife, and he said, 'Yeah, we're going to go for it.'"
Among the people who resoundingly received Wine's message was Bwayo, who admits that he had never voted in any of Uganda's national elections. Then along came Bobi Wine.
"Bobi was in parliament and he was speaking to my heart," Bwayo says. "He was really speaking to people my age. The Ugandan youth has been alienated from politics but this guy is asking all of us to be involved in the goings on in the country. It was just compelling.
"It was just a moment in the history of our country where we were hopeful that there might be change. This charismatic leader might lead to something big. So, when Christopher reached out, I was like, wow, this is great, we have to do this."
Bwayo served as the documentary's director of photography as well as director, shooting much of the footage himself. The situation grew ever more tense for Wine, his supporters, and Bwayo and his crew once Wine entered the 2021 presidential race. Museveni, who has led the country since 1985 and has changed Uganda's constitution twice with the help of a compliant majority in Parliament to retain his grip on power, was not one to take the opposition of a young, charismatic leader lightly. Bwayo and his team were on the ground to capture harassment, beatings, and arrests, including Wine's.
Torture, disappearances, and rapes were not off the menu of the military and security apparatus that follows Wine everywhere and patrols the grounds outside his home. At first, the presence of the film crew and journalists following Wine's campaign was tolerated. But the situation became more and more dangerous as Wine's safety became more precarious. In 2020, Bwayo was arrested for unlawful assembly as he was shooting and denied access to a lawyer while he was in jail. Then, three days after Wine's nomination, Bwayo was shot in the face.
"The story was much stronger than myself," Bwayo says of his decision to stay with the project. "The story is the story of a nation. It's a story of many African nations and other countries internationally, as well, that are seeing their democracies derailed by totalitarian tendencies and regimes."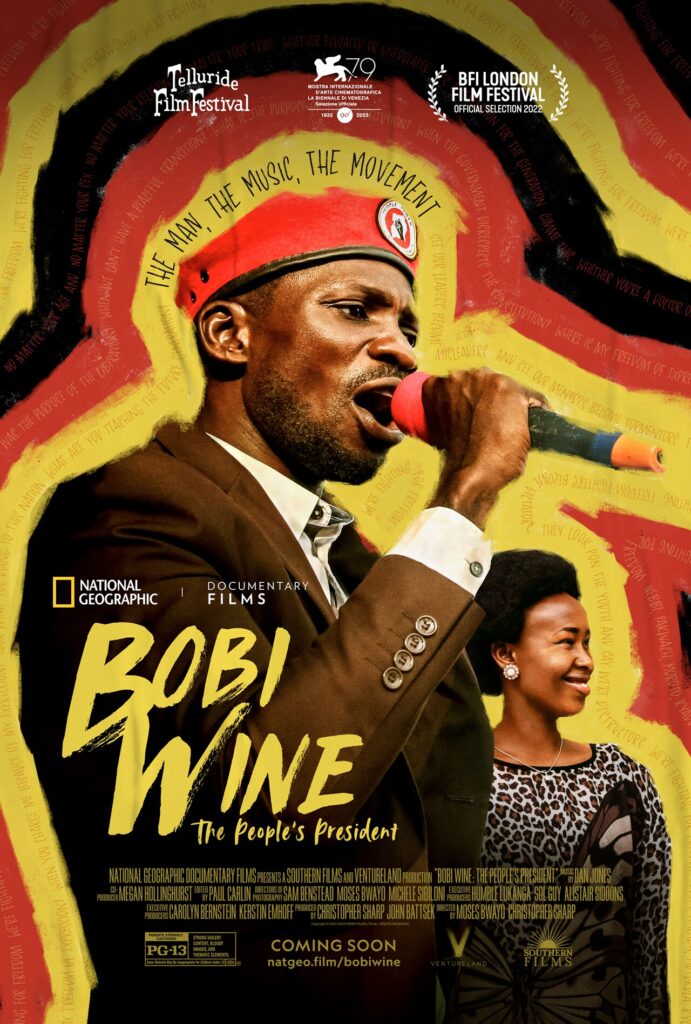 "They were panicking. They knew Museveni's time was gone," Sharp adds. "The only thing they could do was inflict violence because they knew otherwise it was going to end with them being removed from power."
Along with Wine's enthusiastic and optimistic rallies and the political violence that accompanied the campaign, the documentary's cameras also caught rampant ballot stuffing and other forms of voter fraud on election day, as well as the more intimate story of the political couple at the center. When it came time to edit the film, there was 4000 hours of footage to sift through and winnow down into a film that would clock in at just under two hours.
"The question was what story were we going to tell?" says Sharp. "We'd filmed lots of people who had been tortured, people who'd lost loved ones and everyone was deserving of having their story told, but we decided that we were going to tell the story as concisely as possible.
"We wanted to see it through Bobi and Barbie's eyes. We kind of knew that if we showed people what had happened through them, it would feel much more poignant, it feel much more. It would feel much more real."
In the aftermath of the 2021 election, Museveni remains in power. Wine remains the leader of the opposition, still preaching a message of nonviolence as the country lives forever on edge. His supporters remain endangered with white vans plucking people off the street, disappearing, sometimes turning up later in prison, disfigured, or dead. Bwayo and his family fled the country. He has applied for asylum in the US and now makes his home in Los Angeles. The Ugandan security forces are a constant presence in Wine's life even as he has become an international figure.
Yoweri Museveni is 78. The 2021 election might have represented the last opportunity for a peaceful transition to a true democracy under Bobi Wine. Instead, Bwayo fears what awaits at the end of the current regime.
"Museveni's a tyrant who's ruled by the gun very violently, but if he died tomorrow, as much as he's done all these crimes, we would be in a terrible place for Uganda," Bwayo says. "There's a big division in the army; one headed by his son and the other is the national army, so we risk falling into the same place that Sudan is right now. If Museveni is out of the picture, there'll be a big problem but this is because they've closed all avenues of peaceful change. There's been opportunities that, you know, Ugandans could have elected a new president. They actually did elect a new president. But you know, Bobi was not given a chance to rule the country. He was not declared the winner. He actually won the election hands down."
Bobi Wine: The People's President opens in Bay Area theaters on Fri/4. Filmmakers Christopher Sharp and Moses Bwayo and subjects Bobi Wine and Barbie Kyagulanyi will take part in a Q&A at the Opera Plaza Cinema after the 7pm, Fri/4 screening.