Thousands of readers voted in our Best of the Bay 2023 Readers Poll, honoring dozens of wonderful local businesses and cultural forces. Now it's our editors' and writers' turn to highlight specific people and places we've been loving about the Bay Area. Join us to celebrate Best of the Bay and more at our 10th Annual 48 Hills Gala at Bissap Baobab on 10/26, and help keep this 49-year-old tradition alive.
You don't need me to tell you how painful it's been to lose both EXIT Theatre and PianoFight, essential independent performance venues, within the span of a few months. Not just because I've said so many times before, but because you could just as easily ask the members of the SF Neo-Futurists, who often performed at EXIT and were a resident company at PianoFight. The performance artist troupe (a Best of the Bay-winning off-shoot of the original Chicago collective) were some of the earliest to see the writing on the wall, and disembarked from PianoFight a short time before their closure was announced.
This, of course, begged the question as to where the SF Neos—nay, all the troupes, performers, and diverse indie artists who called PianoFight home—would go now. Where else would they find a venue that 1) welcomed to creators with wacky sensibilities, 2) had a large enough space to give performers plenty space without cramping the audience, and 3 – was close enough to reach by public transit?
They found their answer at 447 Minna.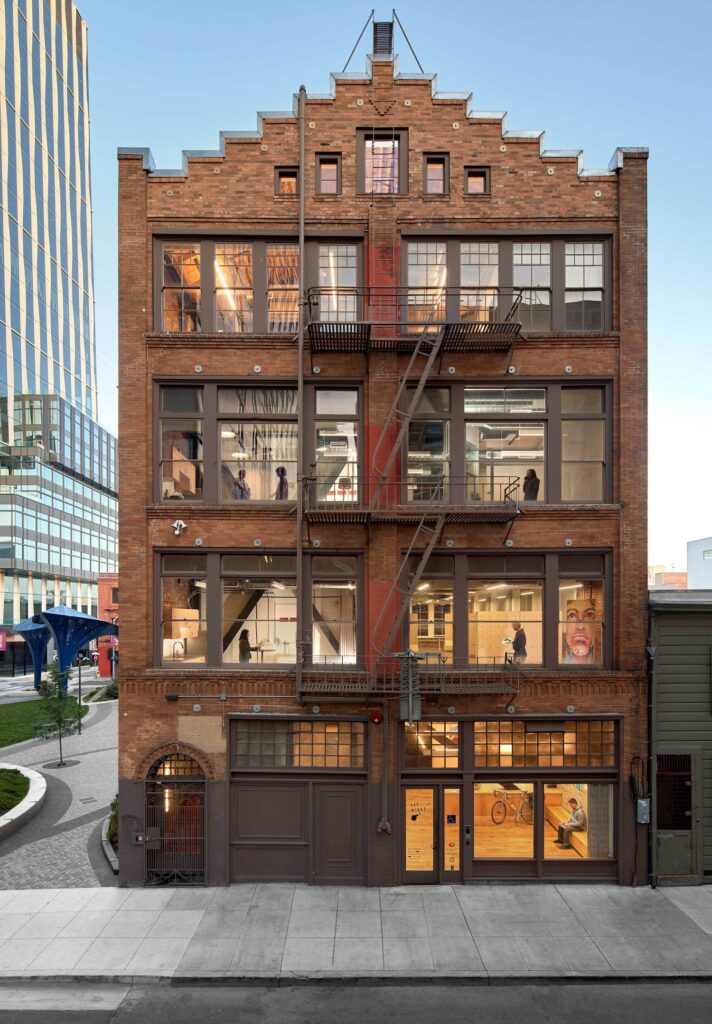 The SoMa brownstone, built in 1907, served as a longtime printing facility before being bought out by the Hearst Corp, owners of the nearby Chronicle HQ. The building was donated to CAST (the Community Arts Stabilization Trust) in 2019, leading to a multi-million-dollar fundraiser for renovation, but an opening that was delayed by the still-ongoing pandemic. The building finally opened its doors in March 2022, with its spiffy new interior that matches the Minna courtyard that used to serve as parking lot.
Since then, the location has served as a regular venue for companies like the aforementioned SF Neos (who are currently alternating between here and Stage Werx, itself in a transition of ownership), BIPoC dance troupe PUSH Dance, and "nomad" companies, like fellow PianoFight refugees Killing My Lobster. Not only does the space provide a much-needed black box venue in an area now short on them, but their (relatively) affordable "community" and "non-profit" rates make them appealing for artists who concern themselves with budgets as much as vision. (Which tends to be every artist in SF.)
For those of us who've been working in SF indie theatre long enough, it's hard to visit the new venue and not think of 965 Mission just a few steps away. That building also served as an artistic hub for a great many performers, including PianoFight, before they opened their own venue. Only time will tell if 447 Minna leaves a similar lasting impact. Until then, there's comfort in knowing that we broke artists have a new play space offered to us when so many have already been taken away.