Noise Pop, the Bay Area's premier independent music festival for 31 years and running, has just announced the first phase of its 2024 lineup, with tickets for the February 22-March 3 installment on sale now. 'Tis the gourmet, to-go assortment of buzz and bedlam that festival lovers have come to expect. It is here that local and international talent go mashin' about SF and Oakland's spectral venues for over a week.
Did I mention Noise Pop looks to make its 2024 debut with intimate concerts starting from the likes of The Mountain Goats and Reverend Kristin Michael Hayter at the ever-harmonious Grace Cathedral?
That's what's up.
2024's gigs will include indie darling headliner and singer-songwriter Snail Mail at Great American Music Hall, lo-fi garage rocker Cherry Glazerr at August Hall, all-encompassing retro soul bard Kendra Morris at Bottom of The Hill, and the rising Peruvian-born and Berlin-based house music producer Sofia Kourtesis bumping that bass at 1015 Folsom.
But hold-up boppers, this multi-venue music event is also known for showcasing the most amazing local talent.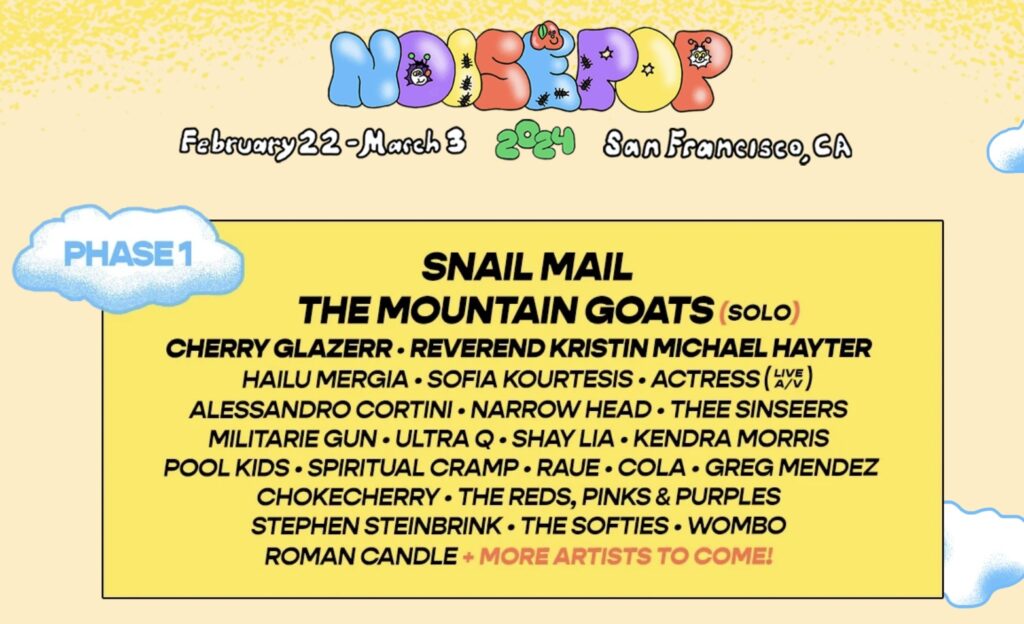 For 31 years, Noise Pop has remained committed to the city's deep-reaching musical roots. In terms of venues, the festival is tapping the likes of Great American Music Hall, Bottom of the Hill, The Chapel, Rickshaw Stop, Joe Henderson Lab at SFJAZZ, August Hall, Gray Area, Kilowatt, Bender's Bar and Grill, and 1015 Folsom, among other venues that will host showcases. That love affair with small to mid-sized venues is part of what has kept the week-long event at the top of the taste-maker mountain.
And in continuance of their butts in seat calculus (an algorithm festival organizers have perfected), Noise Pop will also host performances by local indie rock staple The Reds, Pinks & Purples, upstart SF punk rockers Spiritual Cramp, Oakland alt-rockers Ultra Q, shoe-gaze SF band Chokecherry, and indie rock artist Stephen Steinbrink from Oakland.
That's the stuff—not a damn doom loop narrative—that has drawn concertgoers from around the world to Cloud City, bolting their way out of SFO, ever so geeked to partake in the all-inclusive, crosstown, downtown, around-town, weeklong music party that reads vast and feels personal.
Let's check out some artists coming to the stage in 2024.
THE REDS, PINKS & PURPLES AT GREAT AMERICAN MUSIC HALL, MARCH 2
Glenn Donaldson, also known as The Reds, Pinks & Purples, presents each new release with sleek cover art and sharp lines that capture the vibrant essence of San Francisco. These picturesque views of city life are not typical tourist shots, but rather familiar places you encounter while navigating the streets. The combination of classic cars and '70s-inspired architecture, both in need of a fresh coat of paint, adds to the charm. The visual style of The Reds, Pinks and Purples cannot be contained. It exudes an unfussy tenderness, providing an insider's perspective on the workings of this bustling city during both good and bad times.
This atmosphere permeate Donaldson's sound, which evokes a sense of familiarity and uncertainty. His approach and delivery are geared towards telling stories with a hint of cherry blossoms wafting through. This has earned him a special place in San Francisco's jangle-band community, who appreciate and respect the scars that come with these arrangements.
The Reds, Pinks & Purples will open for Snail Mail.
KENDRA MORRIS AT BOTTOM OF THE HILL, MARCH 2
I had no idea what to expect while waiting for Kendra Morris to perform at The Independent a couple of years ago. Her 2022 comeback-of-sorts album Nine Lives on Karma Chief Records (a subsidiary of the experimental soul-funk imprint Colemine, home to Ghost Funk Orchestra, Black Pumas, and a starting ground for Neil Francis), was far beyond impressive. And her list of previous collaborators involves the likes of DJ Premier, 9th Wonder, Ghostface Killah, Dennis Coffey, and David Sitek—she's legit.
But was she gonna cut it live?
Listen, the way Morris opened the show, with a strong contingent of Kendra-heads talk-shouting "you sing-it girl" and "I know of what you speak," in support (and in my ear), cheer-yapping along to many of the lyrics on her Nine Lives comeback/evolution record? The response caught the artist in such a humble and grateful way that she got pumped up, telling the audience, "San Francisco, you never let me down," discarding her shawl, and dominating the anthemic "Who We Are." It sent Morris' adoring throng of devotees into fits as she unfurled that ginormous voice from such a deceptively minute frame.
I became an instant fan. Those pipes are glorious, but there is charisma, realness, and gratitude running through that frame, and maybe that's what's taking over her new output of throwback soul and modern R&B.
Her plucky new album I Am What I'm Waiting For feels deconstructed in all the right ways. Morris is a veteran who can sing soul into Soundgarden with those spectacles eye-fucking you in the front row, as if to say, "Oh, you didn't know?" This new record capitalizes on that breadth of vast musical knowledge, so much so that she picked the guitar back up.
Bottom of The Hill on March 2, such a perfect venue for an artist so full of warmth. This show has all the makings of turning the entire venue into a throng of Kendra-heads shout-yapping to really good music on a Saturday night.
Kendra Morris will play in a showcase with other artists TBA.
NOISE POP 2024 runs Februrary 22 to March 3. Various Bay Area venues. For tickets and more information go here.