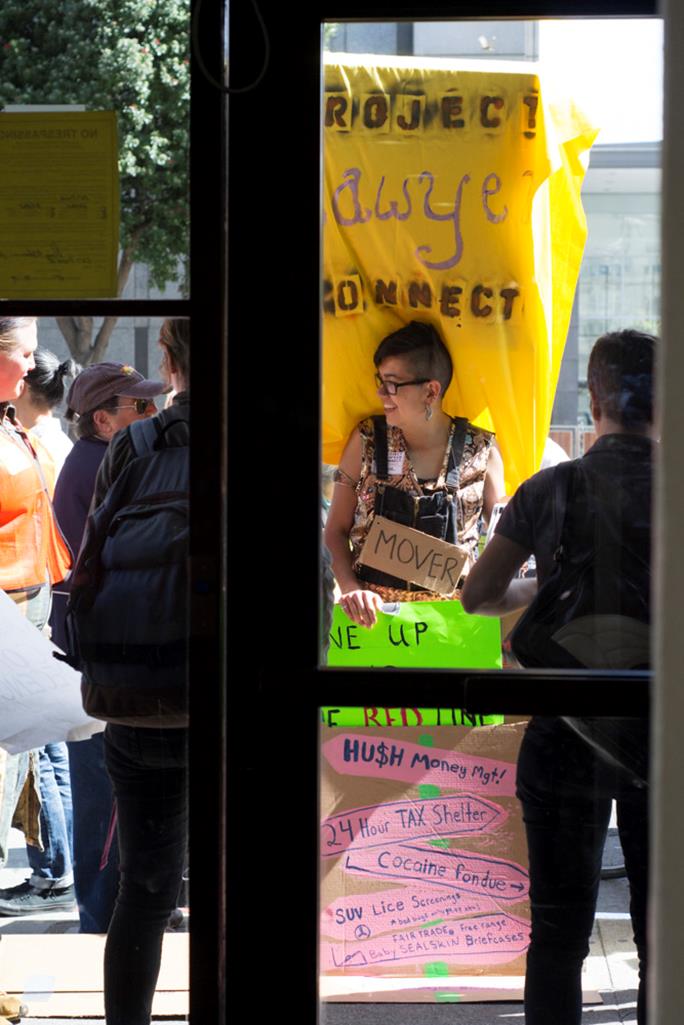 Time to go: Activists serve and eviction notice and offer services to a prominent landlord law firm.


By Sara Bloomberg

March 21, 2014 — A bit of street theater brought some levity to the anti-eviction movement today when a group of activists delivered an eviction notice to a prominent landlord law firm than offered financial support and access to services for the "lawyers in need."

The lawyers targeted by the parody are the partners at Bornstein & Bornstein, a law firm based in San Francisco that specializes in real estate and civil litigation and has practiced law in the Bay Area for over 20 years, according to its website.

Although the firm isn't included in the Anti-eviction Mapping Project's "Dirty Dozen" landlords who are directly responsible for the majority of no-fault evictions in San Francisco, Bornstein & Bornstein lawyers work behind the scenes training many local landlords on how to legally and successfully evict tenants, organizers said.


A quick glance through the firm's YouTube channel shows brief tutorials for property owners on a variety of issues, including tenant selection, tenant buyouts and evictions.

Founding partner Daniel Bornstein uses a metaphor about untying a knot to explain the firm's philosophy regarding "tenant landlord dispute resolution" in a December 2013 video.

"We have a knot. The knot is a tangled dispute with someone that is impacting the marketability of your property or the cash flow arising from your property. Our goal is to untether or untie the knot by resolving the dispute as prudently as possible," Bornstein said in the video.

They also offer free public workshops for property owners and claim affiliations with nearly a dozen local, state and national organizers related to real estate and property management.

Their appeal to property owners is apparent and tenants are fed up with their tactics, which are technically legal and are being used to squeeze poor people out of the city, they said.

"It's like going into a battle where they have the canons and machine guns and the bombs and we have squirt guns," Tony Robles of Poor magazine said. "But what we do have is… people power here and we're pushing back."

Around two dozen people joined the protest on March 21 outside of the firm's San Francisco office, located near City Hall. They chanted things like, "What do we want? Stop the evictions. When do we want it? Now," and carried signs declaring that the law firm is on notice for eviction.

A handful of protestors entered the building in an attempt to reach the firm's suite but were asked to leave, which they did. The demonstration was lively and remained non-violent but five police officers arrived shortly thereafter to prevent any protestors from entering again.

A spokesperson for a satirical organization called Project Lawyer Connect — "a network for lawyers in need," according to a flier — claimed to be authorized to speak on the firm's behalf and declared that they felt "deeply ashamed and hideously embarrassed" for their behavior.

"They are unwilling to come out and show their faces accordingly but they do understand what's going on and they're going to be working with Project Lawyer Connect to step down from their positions and reintegrate into civilian society," said a woman who identified herself as Priscilla Anderson, the executive director of Project Lawyer Connect.

Fake file boxes and a cardboard information booth about available "social services" such as "24 hour tax shelters" and "SUV lice screenings" were among the props used during the demonstration.

The law firm's next public workshop is scheduled for April 17 on the topic of how to deal with San Francisco rent control policies as a property owner or manager. More information can be found on their website: http://bornsteinlawyers.com