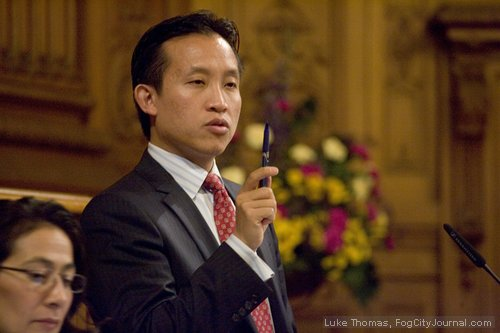 By Tim Redmond
APRIL 29, 2014 – The politics of the reappointment of Police Commission member Angela Chan are getting awfully weird.
Sup. David Chiu, who could be one of the swing votes, is holding out, not telling anyone what he's planning to do. But if he votes against Chan, he will be voting along with Rose Pak – who is supporting his opponent, David Campos, in the race for the 17th Assembly District seat.
Of course, Campos is strongly supporting Chan, who is popular among immigrant communities around the city. Pak is supporting Campos, but he clearly doesn't do her bidding.
And there's really no credible reason for anyone to oppose Chan – except for the political power play by Pak and other allies of Mayor Ed Lee (who Chiu aggressively challenged for mayor). Could Chiu wind up going along with that?
Then there's this truly bizarre report in the Chinese-language World Journal.
An April 23 article by Portia Li, a longtime reporter for the paper, notes that some Chinese community leaders oppose Chan because of her work with Latinos and undocumented immigrants.
According to a translation provided to 48hills, the article states:
"Chinese community leaders also said Chan spends too much time working on Latino and undocumented immigrant issues rather than Chinese or Asian community."
Li doesn't name the "community leaders," but she later quotes Malcolm Yeung, who is working with Pak to get rid of Chan.
The thing is, Chan has always tried to work with multi-racial coalitions. "I've tried very hard to work with all the diverse groups of San Francisco," she told me. "That's why I went to law school, and why I became a civil rights lawyer."
It's odd in San Francisco in 2014 to attack someone for working with more than one ethnic community. And it's odd for Chinese community leaders to blast a civil rights lawyer for "working on undocumented immigrant issues," particularly since the majority of the people Chan serves as the Asian Law Caucus are Asian.
And this afternoon, at the Board of Supervisors, we will find out if these sorts of attacks on Chan are enough to sway six votes.