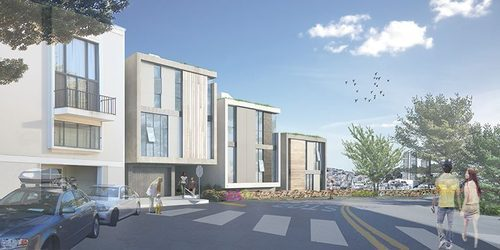 By Tim Redmond
NOVEMBER 19, 2014 – The press gallery and the chambers of the Board of Supervisors were packed all afternoon yesterday as we waited for the vote on the next board president. But before that happened, the board heard an appeal of a proposed three-unit luxury condo project at 115 Telegraph Hill Boulevard.
The site is the former home of the legendary labor leader Bill Bailey, whose historic cottage was moved years ago. The developer wants to build units of roughly 4,000 square feet with a 3,700-square-foot garage; the neighbors say the construction is too big, will require too much excavation on an unstable hillside – and will wind up blocking a popular view corridor from the top of the hill.
The project will also have an impact on nearby Garfield Elementary School, about 100 feet away down a very steep slope; construction equipment will be staged nearby, and School Board member Sandra Fewer spoke in opposition, "We were not aware of this staging location, we were not consulted," she said.
But among the most interesting elements of the case was a presentation by Susan Brandt Hawley, an environmental lawyer hired by the Telegraph Hill Dwellers. The city, she said, is out of compliance with state law in the way it considers environmental review.
The California Environmental Quality Act mandates a full environmental review for any project that could have a significant impact on the environment. Only if the city determines that no such impact is possible can it issue what's known as a "categorical exception," or CADEX.
In this case, Hawley said, city planners took a different approach. "They are saying, yes there are impacts, but don't worry – we'll mitigate then," she noted. "CEQA doesn't work like that."
Help us save local journalism!
Every tax-deductible donation helps us grow to cover the issues that mean the most to our community. Become a 48 Hills Hero and support the only daily progressive news source in the Bay Area.
Mitigation is often a part of the planning process: Developers will note that, for example, that a new condo complex will add to traffic and parking problems at a site, but then will offer to build a new parking structure and pay for traffic calming measures.
But as Hawley points out, mitigations are supposed to come after (or as part of) an environmental impact report. If the city admits there are problems, that automatically triggers an EIR.
"The mitigation," she noted, "might fail."
Sarah Jones, director of the Planning Department's Environmental Review Office, said that there were no environmental impacts. "There are construction mitigation measures," she said. "But those aren't mitigations. We would have approved the project even without them."
The project is exceptionally ugly and looks a lot like the hillside development in Daly City that spurred the song "little boxes."
The city does protect the view from public vistas, but this project would only block views from the street; although tourists on the way to Coit Tower stop to admire the views, they don't count when it comes to city planning law.
The project sponsor Jeremy Ricks, and his representatives said that there are already building codes to protect Telegraph Hill and prevent any problems. He promised to meet with the School District to work out any issues involving construction.
But as Hawley noted: "Mitigation triggers CEQA review."
After more than two hours of testimony, Chiu said that he loves Telegraph Hill and that he knows this project won't do anything for the affordable housing crisis. But he said that he was going to support the CADEX anyway.
The appeal was rejected and the project approved by a vote of 7-3, with Sup. John Avalos, Jane Kim, and Eric Mar voting with the neighborhood.