UnderCover returns January 24 with its rapturous tribute to Sly & the Family Stone's landmark 1969 album 'Stand!'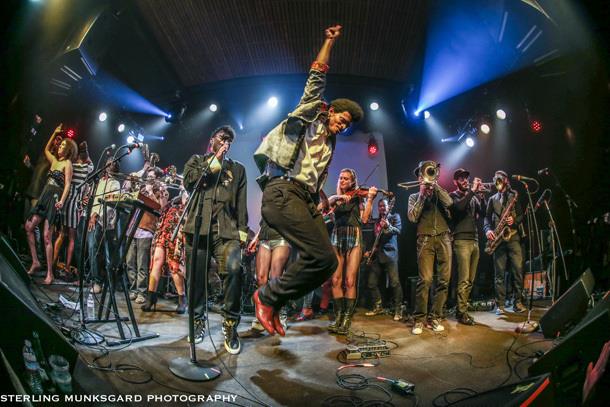 By Marke B. 
ALL EARS Last year kicked off with one of the biggest, baddest Bay Area live music family vibes in a long time. Over the course of three nights, 1800 people were treated to an extravaganza of local bands celebrating Sly & the Family Stone's still-very-relevant 1969 political funk album Stand! The UnderCover project, which brings together local musicians to cover legendary albums, really turned it out with this one, celebrating a hometown hero's legacy and bringing this necessary music to a new generation.
"Everyday People," "Stand!," "I Want to Take You Higher," "Don't Call Me Nigger, Whitey," "Somebody's Watching You," "You Can Make It If You Try" — the whole album is stamped on this country's musical memory, and the album's potent mix of political message and funky celebration broke ground for decades of followers.
Now, the Stand! tribute returns January 24 to Oakland's Fox Theatre. (I'm telling you about it now because it will sell out.) The premise is simple, although the execution is tricky: Get nine large bands, containing more than 175 musicians, to cover the album's songs — one immediately after the other. It's almost like a musical magic trick, and of course everyone ends up on stage in a huge group hug at the end. Great players like hip-hop/classical act Ensemble Mik Nawooj, trumpeter Will Magid, jazz legend Marcus Shelby, the sharp-suited Jazz Mafia, funksters Bayonics, fabulous singer Zakiya Harris, soulful operators Con Brio, and many more burn up the stage. (Catch the full lineup here.)
This time, five members of Sly & the Family Stone, including founding members Cynthia Robinson, Freddie Stone, Greg Errico, and Jerry Martini will also be in attendance, and may even take the stage. Oh, and the whole thing is preceded by the first ever Sly & the Family Stone convention, Love City, takes place right before the event.
I spoke with UnderCover's Lyz Luke, who's producing the event with partner Yosh! of Faultline, about taking on this musical landmark — and how the heck you fit all those people on stage.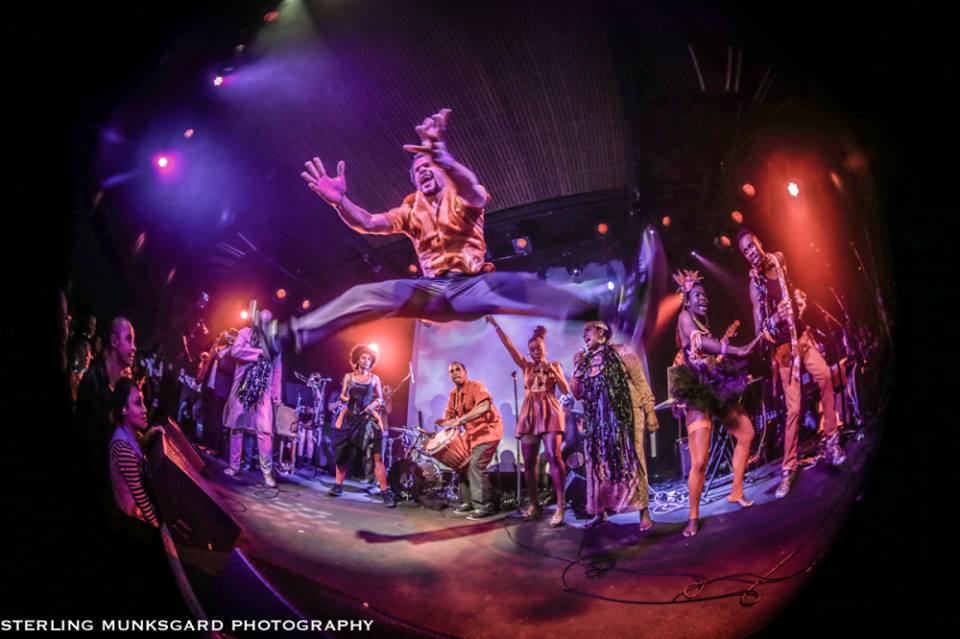 48 HILLS Besides the rapturous response to last year's series of shows, what inspired you to present this show again? "Stand!" is such a landmark of celebratory music with a political statement, it can't help but seem topical in these tumultuous times. 
LYZ LUKE UnderCover has had dozens of incredible and sold out shows. However, there was something… spiritual… about "Stand!" that I've never experienced at any of our other shows. There are a lot of possible explanations for this. The fact that the Bay Area is [Sly & the Family Stand's] home. The fact that they were the first multi-racial and multi-gendered group to make it big on the rock scene and blend borders at a time where the lines were more defined.
However, the biggest reason is the sense of community that everyone felt. David Möschler, our guest music director, curated the entire lineup based on bands that had a family dynamic internally. This family vibe was very evident on the stage and seeped its way into the audience. We were pulling total strangers on stage to hug them and asked them to dance. We had the audience holding hands. I saw dozens of people breaking down in tears because they haven't felt so connected to a total stranger before. At the end of the night, I always try to stand by the exit or at the edge of the stage to talk to the audience. I had a line of people who just wanted a hug. One man bought me a shot of whiskey, collapsed in my arms, and started crying uncontrollably. He just need to be held and to allow himself to feel everything. That's the power of music.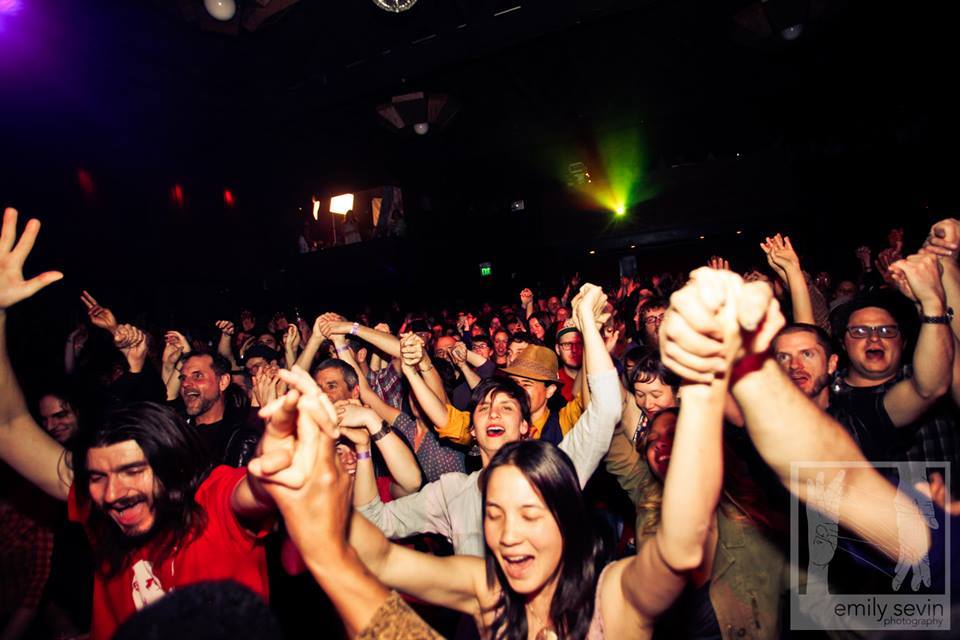 48H Last year, you had three members of Sly & the Family Stone in attendance, and I hear even more will be there, yes? 
LL Yes, five former members of Sly & The Family Stone will be there. We'll have Rustee Allen (bassist, replaced Larry Graham), Greg Errico (founder, drummer), Jerry Martini (founder, saxophonist), Cynthia Robinson (founder, trumpeter), Freddie Stone (founder, guitarist, backing vocals). We are hoping that the original members will be joining some of our 9 bands in their sets and will have all involved with the encore.
It has been quite an amazing experience getting to know all of them through this process. They are all genuinely great people. Every one of them stress the values of The Family that the band embraced. Jerry and Cynthia act like they are brother and sister, every action of Jerry's is always with Cynthia's best interest in mind. It's beautiful to see people who have cared about each other so much through thick and thin.
We are also really excited for our first ever show in Oakland. I moved to Oakland about a year and a half ago from San Francisco, and it means a lot to have it in my own backyard.
48H This is such an enormous undertaking — 9 bands, over 175 musicians! — how do you manage to fit all that in one evening? Are there any special technical considerations or innovations you've instituted?
LL We have been planning this show since January 2014… before we even finished the premiere of the show. My background is in event production and PR and my co-producer is Yosh!. Yosh! is the owner of Faultline Studios and he handles all of the sound needs. We intentionally placed the orchestra first to make this possible. We have dozens of production meeting with different parts of the production crew as well as the musicians. We get every detail we can on the sound needs, instrumentation, aesthetic, and any other elements such as dancers or whatever else they might throw at us.
By planning so far out, we are able to make more happen. We have a minute by minute schedule of everything with charts and "game plans" for every transition. Yosh! and I like a good challenge, to say the least. We also REALLY love what we do and every artist that we work with. We make a point to only work with people we genuinely adore as both musicians as well as humans.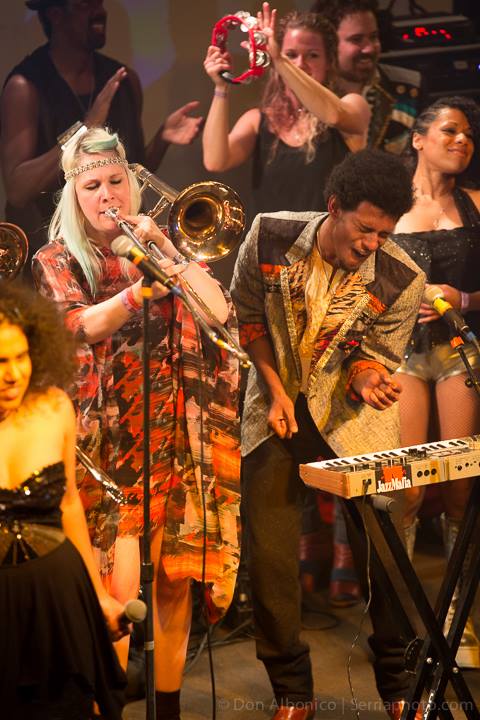 48H I love that this year the first ever dedicated Sly & the Family Stone convention,  called Love City, is taking place right before the event. Can you tell me a little bit about that?
LL Basically, three superfans are getting together and gathering four original members of Sly & The Family Stone, and several experts on The Family through various stages. They have a former manager of their's, musicians who have played with them recently, funk historians, Jeff Kallis who wrote the only authorized biography on S&TFS, and many more.
The panel is 5 hours, and will take place just prior to the show. It's a rare occasion to get this much history into one room. I highly recommend getting tickets to all who are fans of Sly & The Family Stone.
UNDERCOVER AND FAULTLINE PRESENT SLY & THE FAMILY STONE'S STAND!
Saturday, January 24
Fox Theatre
1807 Telegraph Ave, Oakland
Facebook invite
Tickets and more info here
ALL EARS is Marke B.'s music column on 48 Hills. This entry was posted January 9, 2015.