Bucolic witches, splendid cemeteries, awkward Chinese futures, little sisters, swell lobsters, and more from TIFF 40. Read part 1 here and part 2 here.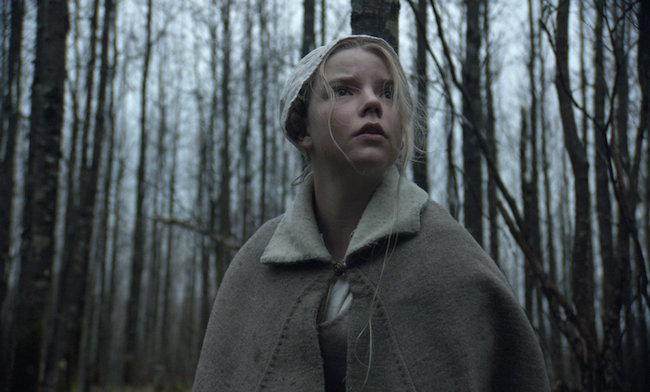 SCREEN GRABS Everything you've perhaps overheard about Robert Eggers' feature debut The Witch is true. Presented in pre-widescreen (square) format 1.66 and set in 1630s New England, this pagan pageant (based on real writings from this pre-Salem witch-burning era) knows how to make the most out of very little. Quiet, thoughtful pacing enhances the meticulous costume and set design, punctuated by truly terrifying moments of shrieking horror.
Nicely wedged between Carl Theodor Dreyer's Day of Wrath (1943) and M. Night Shyamalan's savagely misunderstood The Village (2004), Eggers has created the perfect calling card to Hollywood's streamlined reboot factory. He is slated to direct the remake of Nosferatu, and whether it will be continuation of F.W. Murnau's 1922 classic and/or Werner Herzog's revisionist take in 1979 with Klaus Kinski, know that The Witch is the subdued horror flick that has a lot of people rooting for him, including me.
Apichatpong "Joe" Weerasethakul has delivered yet another exquisite odyssey with his contemplative sixth feature, Cemetery of Splendour. Like his films before, it's fruitless to talk too much about it. As Cemetery floats between characters in and around a hospital, the daily functions of human beings quietly collide with the surrounding natural and spirit world.
The lasting effects are as dreamy as his best (Blissfully Yours, Uncle Boonmee Who Can Recall His Past Lives) making Cemetery of Splendour a monumental starting place for an audience member who may have either been bewildered or intimidated by his more abstract entries (Tropical Malady, Syndromes and a Century) or who have never heard of this predominant Thai filmmaker.
South Korean festival favorite Hong Sang-soo continues his feverish hilarity with Right Now, Wrong Then, an exploration of a semi-famous South Korean filmmaker who drinks too much alcohol and ends up most evenings looking for love in all the wrong places. Winning the Golden Leopard at the Locarno International Film Festival, Hong has delivered another variation on his personal (pitiful) pitfalls and yet again, it feels as if he's uncovered something even more profound than the last. His mastery of experimentation in linear storytelling increases with each entry and when you take the time to stumble through his stunning body of recent work — including In Another Country (2012), Our Sunhi (2013), Hill of Freedom (2014) — it might be Right Now, Wrong Then just might be the pinnacle.
Greek filmmaker Yorgos Lanthimos has been transgressively shocking audiences since his arrival with Dogtooth (2009) steadily followed by Attenberg (2010) and Alps (2011). His first English language film The Lobster, which won the Jury Prize at this year's Cannes Film Festival, is an epic surrealist black comedy that had me laughing out loud for its lengthy 118 minutes. With shades of early Roman Polanski (The Fearless Vampire Killers) combined with an overall Luis Buñuel philosophy, the film may be a bit troublesome for many.
Either way, it is a rare treat to watch Colin Farrell, John C. Reilly, and Rachel Weisz flaunt some seriously hilarious comic timing while Lanthimos captures the spirit of the existentialists without having to mimic it to death. In fact, an hour into the screening, when the digital projection suddenly went dead, restarted and looped back 20 minutes into the film, I immediately found myself laughing at the same jokes all over again and later, seriously pondering if it was all "accidentally" planned like that.
Jia Zhang-ke found himself branching out of his native tongue with the half-century-spanning Mountains May Depart. Zhao Tao (Jia's longstanding partner in crime on and off the camera) plays Shen Tao, a dance instructor who grows up within the ever-changing small town of Fenyang (the filmmaker's hometown.)
Jia's continued interest in exploring China's dramatically changing (Capitalist!) landscape is taken to new heights by his habitual cinematographer Yu Lik-wai, who presents each segment in expanding aspect ratios. While paralleling Hou Hsiao-Hsien's technique in Three Times (2009), beginning in 1999, continuing in 2014, and concluding in 2025, modern contradictions are utilized to masterful degrees, such as pitting the Pet Shop Boys synth anthem "Go West" against Sally Yeh's Hong Kong pop classic "Take Care."
As the remarkable first two acts played out smacking the ecstatic hopes of the young directly into the lost dreams of the middle aged, it took me a good fifteen minutes of squinching my toes during the futuristic (English speaking) third act before realizing that perhaps the future is suppose to be awkward. Even if you view the film as a bit clunkier when compared to his career-achieving masterpiece A Touch of Sin (2013), it should not diminish the grandiose scope of his universal concerns that ultimately builds to one of the year's most emotionally powerful climaxes.
Taiwanese grandmaster Hou Hsiao-hsien has created one of his most difficult films with The Assassin, which proved to be even too restrained for the majority of TIFF audiences. But this is the case with the best of Hou's movies (The Puppetmaster, Flowers of Shanghai); his work provokes hard work that many, understandably, do not care to make.
Following Nie Yinniang (Shu Ki), a young warrior whose internal struggle of choosing love or individual purpose stifles her, often leaving the viewer as lost as she. Hou, who won Best Director at Cannes this year, has not made a film in six years, since his French language gem Flight of the Red Balloon (2008), and this could be him commenting on his own path of life. What do you do after mastering your own skill? Luckily for those that stay alert and attuned to the very end, you might be overwhelmed with the smaller details, like the ephemeral life that each and every flower on earth goes through.
Hirokazu Kore-eda's Our Little Sister, by way of Yasujiro Ozu, tells the tale of three twenty-something sisters who attempt to embrace their pre-teen, half sister after their father passes away. Remarkably nuanced performances dig deep within the women's most personal infrastructures, leaving me gasping for familial air and soaked in melancholic tears. Hiokazu seems to consistently understand that we do not mean to become who we are. Our coping mechanisms become as valued as the pain that produced them. Add this to Hirokazu's inclusive family portraits: Nobody Knows (2006), I Wish (2011), and Like Father, Like Son (2013) and you have a career defined by emotional safe places, especially when the world around you may feel like it is falling apart.
https://www.youtube.com/watch?v=fDP3TZilWHc
Winner of the Grand Prix at Cannes this year, László Nemes' debut feature Son of Saul crisps and crackles with hypnotic terror as it suffocatingly follows the title character (Géza Röhrig) within the Auschwitz concentration camp. Shot in 1.37 (square) on 35mm film and captured entirely in hand-held close-ups, the blurry, smeared backgrounds force you to latch onto this desperate, manic journey in a way that only the Dardenne Brothers have fully achieved.
TIFF also screened a stunning new 2K restoration of Hungarian pioneer Miklós Jancsó's The Round Up (1966), which was a major influence on Nemes' Son of Saul (as well as Sergio Leone and Bela Tarr). With Jancso passing away last year at the age of 93 and Nemes (38 years old) arriving with this dramatic 35mm debut, a cinematic arch between an old Hungarian cinema and the new has been perfectly built. Only through being open and available to sitting down and actually watching these two films can audiences have this kind of conversation about what an illustious era it is to be watching cinema.
Jesse Hawthorne Ficks' Picks of TIFF40
1. The Exquisite Corpus (Peter Tscherkassky, Austria)
2. Cemetery of Splendour (Apichatpong Weerasethakul, Thailand / UK / France / Germany / Malaysia)
3. Anomalisa (Charlie Kaufman, US)
4. (tie) No Home Movie (Chantal Akerman, France) & Heart of the Dog (Laurie Anerson, US)
5. Sunset Song (Terence Davies, UK / Luxembourg)
6. Our Little Sister (Hirokazu Kore-eda, Japan)
7. Mountains May Depart Jia Zhang-ke (China)
8. Right Now, Wrong Then Hong Sang-soo (South Korea)
9. Love (Gaspar Noe, France)
10. The Lobster (Yorgos Lanthimos, Ireland / UK / Greece / France / Netherlands
11. The Assassin (Hou Hsiao-hsien, Taiwan)
12. Son of Saul (László Nemes, Hungary)
Jesse Hawthorne Ficks is the Film History Coordinator at the Academy of Art University in San Francisco and curates/hosts the MiDNiTES FOR MANiACS series at the Castro Movie Theatre. The series emphasizes 16mm and 35mm prints around North America exploring underrated & overlooked cinema in a neo-sincere manner.