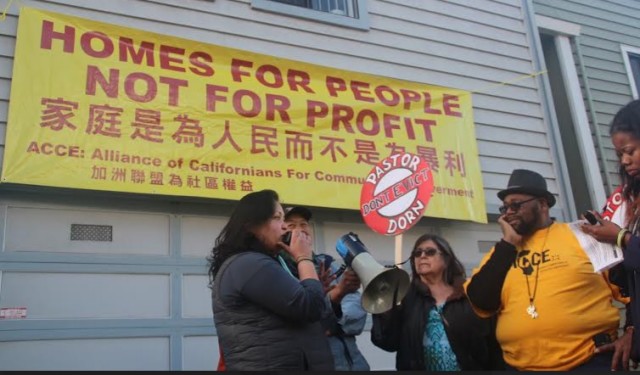 JANUARY 13, 2016 — A group of 20 people are gathered in front of the garage of 3 Las Villas Court, in the Bayview. It's 8:30am, but everyone is wide awake and strategizing.
Word is that the sheriffs will arrive this morning to evict the residents, Pastor Yul Dorn and his family. It's a story that's been repeated too many times in San Francisco's Black community, and organizers are fighting back.
Grace Martinez, a staff member with the Alliance of Californians for Community Empowerment (ACCE), puts up a white cardboard banner with a cell phone number scribbled on it, and everyone huddles up in the corner. Instructions are clear: The number belongs to Quan He, who bought the property six months ago and has been looking to force the Dorn family out. Volunteers get to work carefully drafting text messages to Mr. He and demanding he postpone the eviction.
Dorn is a long time community leader, anti-violence advocate, chaplain at the San Francisco Sheriff's Department, and a pastor of Emanuel Church Of God In Christ.  Dorn's world spun upside down when he received an eviction notice on December 22nd, three days before Christmas; he was given 14 days to leave his home.
"You hear these stories but you can never imagine it would be this rough," he tells me. "This is nothing but economic terrorism against low-hanging fruits, the African American community that is being selectively wiped out of the city's neighborhoods." His wife Teresa holds his hand as they sit on the stairway to their home.
Teresa, who works part time as a crossing guard at a local school, George Washington Carver Elementary, tells me the house is everything they have. "I pulled out of my retirement fund just to be able to pay for this house, I have worked 21 and a half years to be able to make this home for my family." Clutched tightly in her hand is a photo album containing pictures of the day, 20 years ago, when they bought this house. The crowd is now 40 people strong.
In the background, ACCE volunteer Michelle Batte announces that Quan He has answered her call and is on his way over to the residence. The crowd breaks out in small applause and then regroups again to plan a strategy for his arrival.
Batte is an African American in her mid-30s, yet she knows what's it like to worry about losing one's home. "We are victims of predatory lending," she says. "We were nearly evicted from our home, with my father sick. It was one of the worst times. But with persistence and with the help of ACCE we won, Well Fargo sold us our house back." Batte is passionate, blunt, and determined to help others.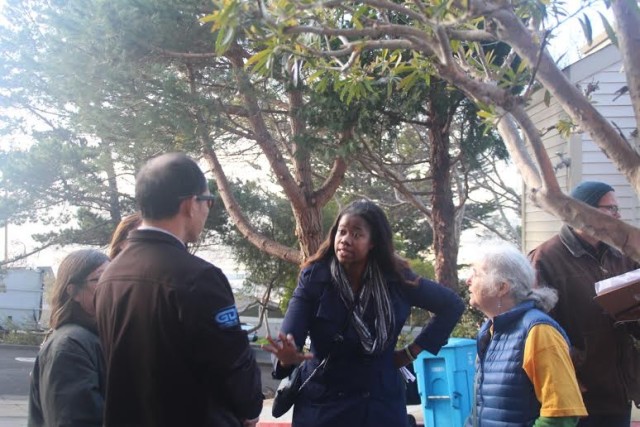 In 2008, Pastor Dorn says, he learned that Chase Bank put his home into default because of a misapplication of his payment. It's a sadly familiar story. Over the years, he says, the bank refused to acknowledge its mistake despite a paper trail, and eventually sold the house. In January, 2015, a Bear Sterns subsidiary bought it, and sold it to Quan He in June, property records show.
Quan He, who owns or has bought and sold a significant amount of property in the city, including several other houses in Bayview, knew that there were people living in the place: "I was told that the house has people living in it but they are tenants. I bought the property I paid over $400,000 for it and I need to take possession," a visibly flustered He announces to a few volunteers who walk up to speak to him as he enters the street.
John Eller, ACCE staff member, is meticulous and calm as he speaks to He. "Everyone that has gathered here to support Pastor Dorn is angry at the bank for bungling up his case. They are not blaming you and you have the opportunity to be a hero here. Give the family a 180 days to hold the bank accountable and bring in an investor to make you whole again. Only you can help them by postponing the eviction. Please call the sheriff."
Batte interjects: "Take it from me, I have been through this, the bank will pay back your money or an investor will. You will get your money back and some more but you won't get anything out of evicting a family, this has happened with our family and we were able to get our home back."
He nods in disagreement. "Sue the bank then," he argues back. A group of five volunteers begin reasoning with the landlord, as the conversation goes from a passionate argument to a mellow negotiation.
A soft spoken Christie Hakim, a Caucasian woman in her 70s, talks politely but defiantly. "What would it take for you to agree to a 180 days for the family, Mr. He?" Hakim went through a foreclosure in 2009, the same year she lost her husband. "I did not even know about the auction until people arrived at my home, frantic I ran to city hall to try and get help but it was too late."
Nearly everyone in the crowd has a similar story to tell. Quan He, on the other hand is adamant: He keeps coming back with one reason to another but the demand remains the same — he wants possession of the house and he wants it immediately.
Vivian Richardson stands at a distance alongside Pastor Dorn. In 2011, Richardson faced a similar situation; she was about to be evicted. She contacted ACCE, and the emails, phone calls and press conferences that followed eventually saved her home. "It wasn't just my home, it was 11 homes in my block at Quesada Avenue and I stood in front of each house and held a press conference. Eventually, all but three homes were saved, the three choose to walk away." She says.
Gliddys Dewit's story is different from the rest. She has been trying to save her home by requesting a mortgage refinance. "I have never missed one payment, not one payment, when I started paying my mortgage ten years ago it was $1,100 a month and now I pay $2,500 despite that I never missed any payments. They won't grant my application for refinancing. The fact is that they don't want people of color living in the neighborhoods anymore, they are just looking for the wealthy. There's no room for people who were born here, who have lived here all their lives, there is no room for me here." Dewitt, a retired nurse, said she feels the city is closing in on her.
In the corner, volunteers are still busy trying to explain the situation to He. "Do you understand that if you evict these people today they will have nowhere to go, where do you think they will go?" I ask him.
"To a hotel? I don't know, of course they have somewhere to go" he responds back blankly.
Batte who until now was explaining the situation to He calmly, gets clearly agitated "Do you not get it? do you not understand? There is an eight-month-old baby in there who is going to lose his home, you said yourself you have kids." He interrupts her: "Don't bring my children in this, you guys you are portraying me as some kind of an evil person I am not, this is my house."
At this point there have been a few suggestions from He and the crowd to resolve the situation, so Eller goes back to speak to Pastor Dorn in an attempt to chart down a deal.
After a brief but clear discussion with Dorn, Eller walks back to He. I can hear Eller patiently explain a possible deal.
Quan He continues to object. "What about the cost of the eviction? It will cost me more once again." Eller tries to ask He how much he thinks it would cost him but Hai keeps throwing figures at him, it's $10,000 USD one minute and $15,000 in another.
"All right" says Eller "What if we can get a bond as a guarantee?"
"No, but I want the possession of the property first" says He.
"You are not getting the possession, not today, not tomorrow, not the day after," Eller says. "We have six supervisors that support the campaign, there are many examples of people reclaiming their property even after being evicted, and you will only lose more and more money. Give us time to go after the bank, to help with the loans, the family has agreed to pay a certain amount in rent to cover your cost."
But He is having none of it. "I will wait for the sheriffs to come."
"They are not coming" says Eller "Even if they do, you cannot win this, you are not going to win this." Eller's determination has little impact on He, who mutters that he will still wait for the sheriffs and will speak to his attorney.
Eller makes his last attempt of the day before walking away: "Call your attorney, ask him about our written guarantee, we will be here every day and we want to negotiate so the family can get the time they need to fight back." Quan He walks away.
Eller's colleague Martinez is busy planning the activities for the afternoon. As the crowd thins out, everyone is determined for the long haul. They'll be coming back each day from 8am to noon until an agreement is reached. Their yellow badges saying "We Wont Go" shine strongly.