No, they didn't drag the mayor out in handcuffs. No, there were no elected-official perp walks. To the perhaps disappointment of the pack of news media responding to an invitation to press conference today on official corruption, District Attorney George Gascon announced felony charges against three much lower-level political players.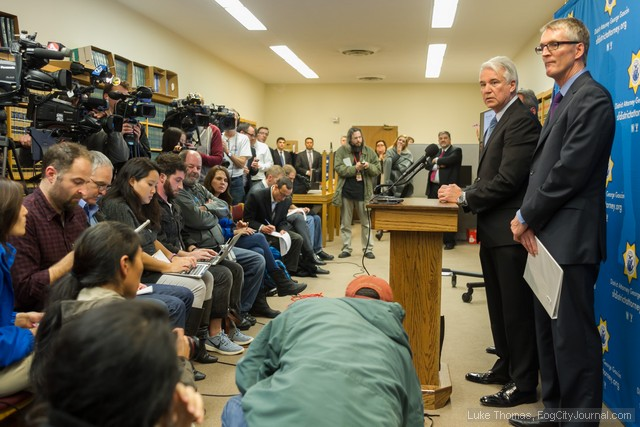 But the investigation into what he called "irregularities at City Hall" is still ongoing, and we have no idea who, if anyone, will be implicated next.
"This is just the beginning," one political insider told me.
Former Human Rights Commissioner Nazly Mohajer, former HRC employee Zula Jones, and political consultant Keith Jackson face felony bribery and money-laundering charges. At press time, they had not surrendered, but "we don't consider them a flight risk," Gascon said.
Jackson has already pleaded guilty to other charges that came out of the now-famous Shrimp Boy case.
The Examiner published a story yesterday noting the connections between Jones and Mohajer and campaign of Mayor Ed Lee. Jones was also close to former Mayor Willie Brown.
Gascon, who appeared with City Attorney Dennis Herrera and David Johnson, special agent in charge of the San Francisco office of the FBI, provided few details on the charges, saying the entire case is under a federal protective order.
He declined to say if there were more charges coming, if anyone in the Mayor's Office had been interviewed, or if any other political figures might be involved, simply noting that the investigation is still open.
Two things come to mind:
This is almost certainly not the end; we know that there's more corruption at City Hall. So far, there have been no charges of any sort against any of the elected officials who have been named or in any way connected to the Shrimp Boy case, including Mayor Lee.
But Jones and Mohajer are now facing as much as seven years in state prison. If there are higher-ups involved, at some point one of the defendants might decide to cut a deal and talk.
The other interesting aspect was how many of the reporters in the hallway before the press conference were talking about the prospect that Mayor Lee might be one of the people facing charges.
I knew that wasn't going to happen – but the idea that his name was on the rumor mill is at least some indication that there's a perception his administration is not entirely trustworthy.
After the event, I ran into Herrera in the hallway and asked him: If you were the mayor of San Francisco, would you be nervous right now? The city attorney had no comment.