ONSTAGE The premise is ingenious: an evening of vignettes — recalling Vaudeville or the chitlin' circuit or, farther back, Commedia dell'arte — that send up, satirize, and celebrate black stereotypes, a sometimes raucous, sometimes challenging, always thought-provoking parade of Sassy Mammys, Angry Black Men, Afrocentric Sisters, Tipsy Snap Queens, Cosmic Mothers, and many more.
Playwright George C. Wolfe, who later went on to become one of theater's biggest directors, published "The Colored Museum" in 1986 (now playing through March 6 at Buriel Clay Theatre), and it was a real groundbreaker, contemporaneous with filmmaker Spike Lee in creating new ways to represent the contemporary black experience while also blowing that experience up into something much larger than life.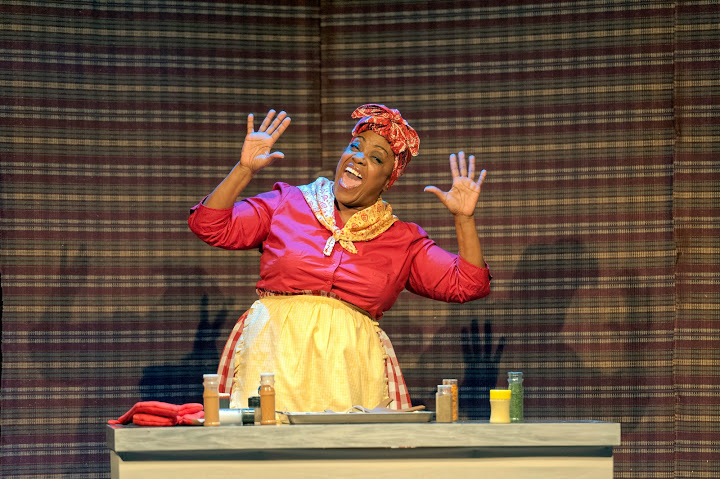 Our wonderful African American Shakespeare Company dives into the play with a wealth of talent and energy, and although the direction (shared by Velina Brown, L. Peter Callender, Edris Cooper-Anifowoshe, and Michael Gene Sullivan) is a little fuzzy at times — the players' sheer charisma occasionally overwhelms the material — "The Colored Museum" feels essential, even in our current time of Ferguson and Black Lives Matter.
A combination of incisive comedy and ambitious drama, "The Colored Museum" casts a wide enough net to transcend Mad TV sketchiness and launch into something greater and spookier. Yes, Wolfe nails the long-lingering stereotypes of the 1980s. His blisteringly hilarious takedown of "A Raisin in the Sun" (beleaguered breadwinner, Holy Roller mama, poetry-spouting sister) in the vignette called "The Last Mama-on-the-Couch Play" is justly a classic. And another classic, often performed on the drag scene, called "The Hairpiece" lets us listen in on two foul-mouthed wigs (one long and lustrous, the other Afro-kinked) fighting over which one should be worn to a dramatic relationship break-up.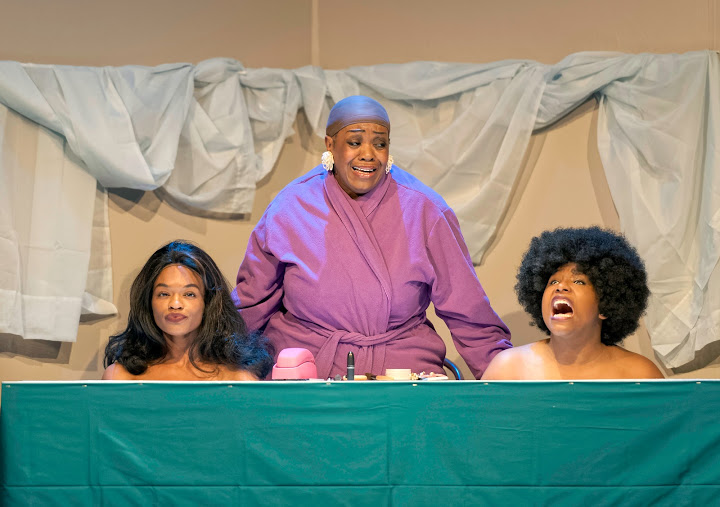 But Wolfe obviously felt enough confidence (and enough love for his characters) to suffuse his play with a surreal and sometimes WTF poetry, from the chill-inducing tale, told by a veteran's ghost, of the fate of an army company in combat, to "The Gospel According to Miss Roj," which pictures a transgender floozy in a gay bar snapping her way to fierce, too-fierce self-empowerment (and hiding a possible patricide).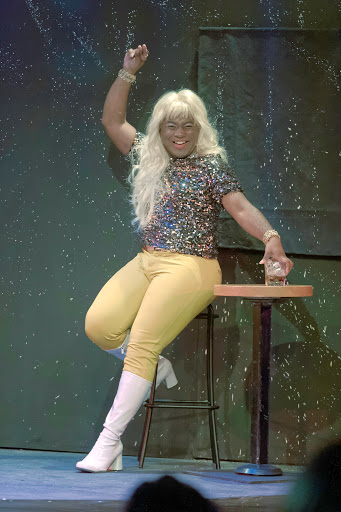 When all the elements come together, as in the opening vignette "Git On Board," which imagines slave vessels as luxury airliners ("Celebrity Slaveships") that travel through both space and time, the night takes off into the stratosphere. A very few times, however, the tone veers somewhere headscratching (did we really need a seven-year-old to appear in a mawkish Michael Jackson-like ode to motherhood? And what was up with the Color Purple-meets-giant-alien-egg segment?) — which at least leaves you with some open-ended questions at the end of the evening.
The ferociously skilled cast of five — Paige Mayes, Clara McDaniel, Todd Risby, Aejay Mitchell, and Tavia Percia — handles showy musical numbers (the live band also deserves kudos), tearjerking moments of tragedy, and physical comedy with aplomb. I could watch all of them just stand on stage for a while and be entertained, and sometimes I felt the directors could, too — a few of the numbers ran long, but I was too swept up in these actors' power to realize that nothing was really happening dramatically.
Other than a reference to Ferguson added to the "Last Mama-on-the-Couch play," nothing was explicitly contemporary — what I wouldn't give for an update for our #BLM moment. Although if one thing lingered in my mind after the play was over, it was that, compared to the overripe satirical fruit of three decades ago (not even the crack epidemic or AIDS, let alone Cosby Show assimilation, make it into "The Colored Museum"), our times are very serious indeed.
"THE COLORED MUSEUM"
Runs through March 6
Buriel Clay Theater
Tickets and more info here