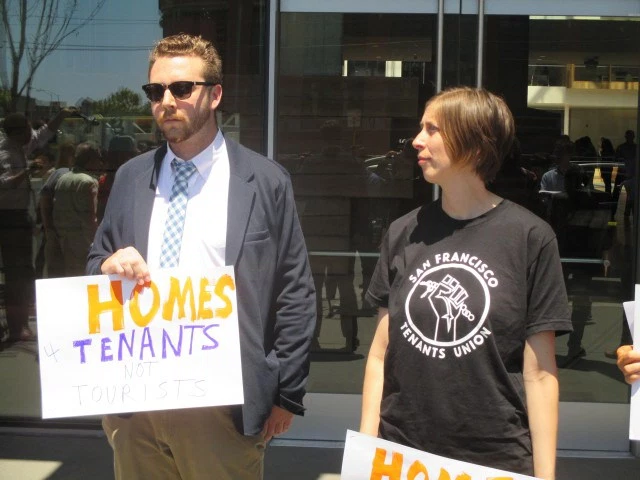 The San Francisco Tenants Union fully supports and helped craft the long-needed fix to our short-term rental regulations that Supervisors David Campos and Aaron Peskin have sponsored. This legislation creates a very simple mechanism for ensuring that either only registered units are listed or the hosting platforms themselves face penalties. It adds no additional penalties for hosts who violate the rules.
In fact, the only new penalties are for the hosting platforms.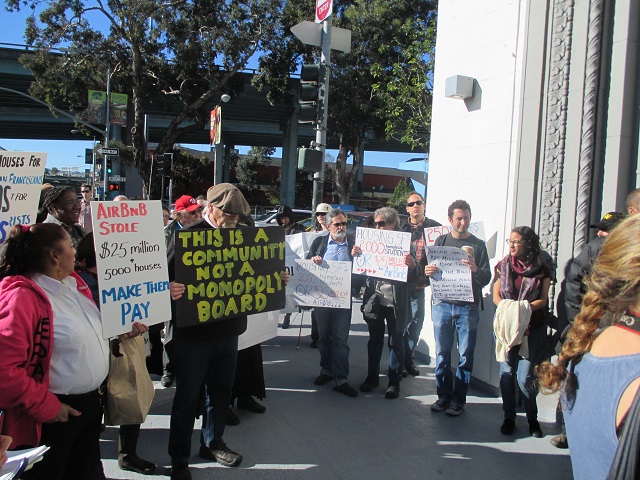 In order for "homesharers" to object to this legislation, they must twist themselves into illogical knots as they argue that corporations should neither be held accountable nor follow the same rules that apply to everyday citizens. Absurdity is their strong suit, however, and the silly tweets have already begun: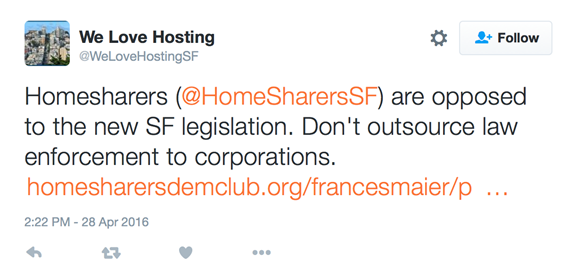 In essence, they argue that taxpayers should pay for the Planning Department to investigate, notify, and penalize violators — as opposed to implementing a far more efficient policy of prohibiting unregistered listings from appearing on the platforms in the first place. Last year, when the Tenants Union contacted Airbnb asking the company to de-list a city-managed Below Market Rate unit, Airbnb's top staff refused our request. Instead, the Mayor's Office of Housing had to spend its own staff time investigating and contacting the host to argue with her to stop listing as it violated terms of the housing program. This email exchange shows she did not take the threat very seriously either: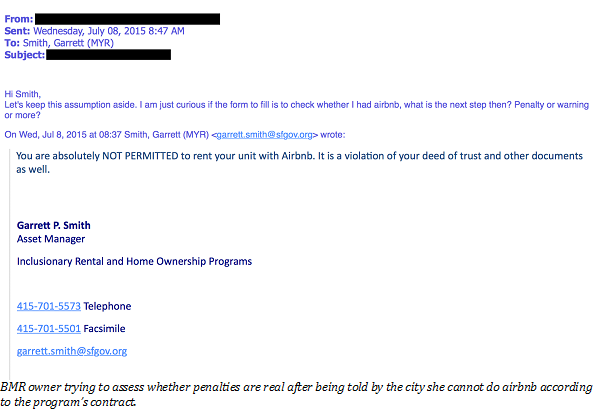 Companies like Airbnb flout the requirements that honest hosts are encouraged to adhere to. A large percentage of the company's profits come from units that will never qualify for registration requirements because they are not the owner's primary residences, which is why they want to protect these illegal rentals.
Airbnb has revealed its true colors and betrayed tenants by donating to Mary Jung, the head of the San Francisco Association of Realtors and other sympathizers in the DCCC. SFAR beat back Ellis Act reform in Sacramento and helped defeat legislation aimed to help underwater homeowners and expand rent control for tenants statewide. The donations come from the absurdly named "Committee to Expand the Middle Class, Supported by Airbnb, Inc," which should be include the addendum: Tenants, you are not the middle class we aim to help.
Airbnb has funded someone who would like nothing more than to make it easier to remove tenants from rent-controlled homes and turn them into condos.
Now is the time for elected officials to stop listening to the lies about helping the undefined "middle class" and to stand up to the forces that have caused tenant displacement by passing this common sense legislation. Airbnb became a multi-billion-dollar corporation by flouting local law, ignoring community complaints, and funneling profits into international; there is little to commend. Our legislation asks the platforms for nothing more than to follow the same rules that hosts must.
Jennifer Fieber works for the San Francisco Tenants Union.