Police Chief Greg Suhr will be stepping down in a matter of weeks.
That's my prediction, based on the fact that he has lost the support of four supervisors (and maybe more to come), that his department has been slammed by an outside investigation, and that, as many people (including those close to him) have told me, the chief has become "a distraction."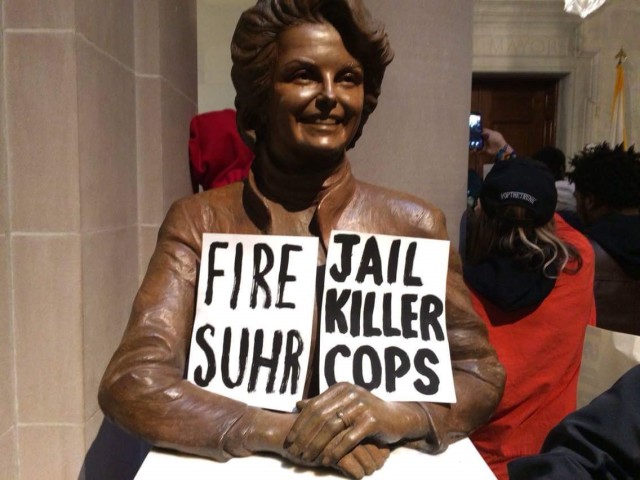 Suhr, who is a personable, often charming guy with exceptional political skills, has somehow weathered a long list of problems. (Among other things, the Office of Citizen Complaints found him guilty of neglect of duty in the 1996 death of Mark Garcia. The incident has been forgotten by a lot of news media, but at the time it was a huge issue in the city. Suhr was the lieutenant in charge when died in custody after being pepper sprayed and forced to lie face-down in a vehicle.)
So it's not as if Suhr has a stellar, unblemished record: Many officers who have been demoted and cited for neglect of duty would have found their careers stalled. He got where he is by building connections with political leaders.
And now that those political leaders are starting to abandon him, he's in serious trouble.
Suhr's best argument for keeping his job (and one that Mayor Lee is essentially endorsing) is that there's  is nobody else in the command staff who would be any better. In fact, Suhr has done the ultimate in personal preservation: He has failed to groom a successor who would be anything other than a huge step backward.
The blue-ribbon panel on police accountability noted that one of the biggest problems in the department is the outsized role the Police Officers Association, which has been able to influence not only policy but hiring and promotion.
So if Suhr goes and another SFPD officer takes his place, the POA will still be running the show.
But all over the city, people who once supported the chief are looking at the mess in the department and saying: Someone has to be held accountable. If he stays on, it says to the next chief that the department can fall into a mess and nothing will happen.
Suhr is going to retire pretty soon anyway, but according to a lot of sources, he is waiting for some element of his pension to vest. The chief's retirement – and he will get about $270,000 a year for the rest of his life – should in no way be a factor in law-enforcement policy in San Francisco.
Mayor Ed Lee will never publicly pressure the chief, because he's gone way too far in his support, despite all of the signs that things at SFPD are out of control and that someone has to be accountable.
The majority of the Police Commission is appointed by Lee, and will do what the mayor says.
But the mayor has to know that the chief has become the lightening rod, and that the community will never accept any reforms as long as Suhr is in charge.
I can see Suhr announcing that he will step down in a few months, whatever he needs to save face and make his pension work, and will work with the mayor on an orderly transition, etc. etc.
Then comes the real huge issue: Will Lee really do a national search, and be willing to go outside the department to find a leader who can change the culture at SFPD?
The local cops are a tight bunch, generally, and they hate outsiders. But it's going to take someone who is not currently in the command staff and not part of the culture to fix the problems.
So let's see if the administration has any courage, which of late has been in very short supply.