SCREEN GRABS Netflix's eight-part mini-series Stranger Things has a lot more to say than just referencing Stephen King novels and Steven Spielberg films. Taking the country by storm with its otherworldly plotline and retro hooks, this homage to 1980s Middle America has been rightly celebrated for its spot-on recreations of the era's killer language, pulsating synth music, and childhood bedrooms immersed in wood paneling. In fact, it may take an extra viewing and/or some psychological undertaking to reel in its mastering of the genre as well as achieving the respect to be placed right alongside its influences.
Both the adult and child characters are drawn directly from Richard Donner's The Goonies (1985) and Rob Reiner's Stand By Me (1986) as well as Steven Spielberg's Close Encounters of the 3rd Kind (1978). Throw in some low budget, network TV special effects, straight out of the earliest The X-Files (1993) episodes and start cross-referencing the character names — Lucas, Will, Nancy, Barbara — and you've got yourself a queue of older films to seek out.
The mini-series truly excels due to the inclusion of the character Eleven (Millie Bobby Brown). Oddly enough, some backlash has been noted about the lack of Eleven being a fully fleshed-out, female character. An argument should be made that the creators have not only done this on purpose, perhaps it is quite presumptuous of viewers to assume Eleven is a female. If you would allow me to dig deeper into The Duffer Brothers' story as opposed to projecting your own issues onto someone else's tale, you may uncover just as many rewards, sitting right in front of you.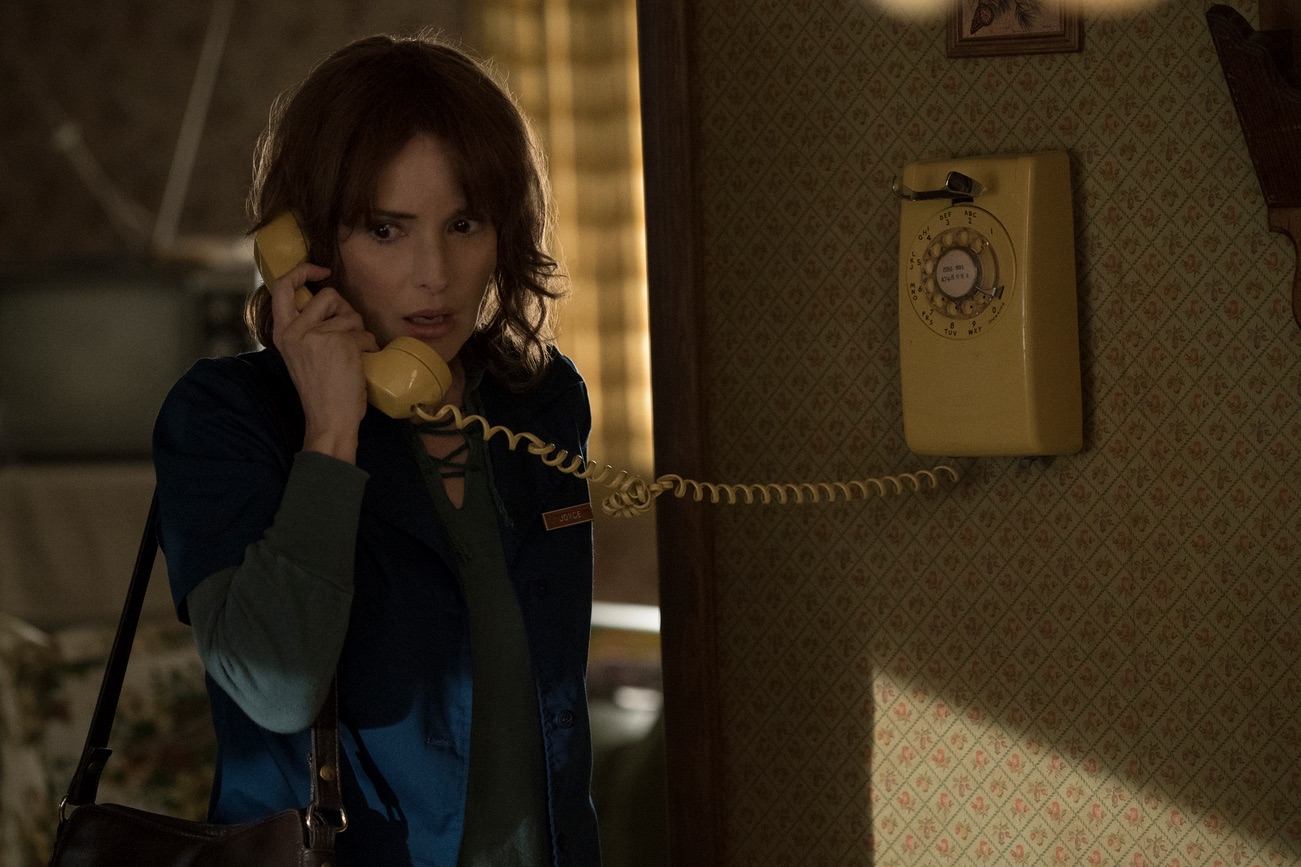 SPOiLERS AHEAD
With Eleven's shaved head and ambiguous clothing, many characters are confused with this glaring gender neutrality. Eleven looks like and even acts like Joan of Arc, in particular to Renée Jeanne Falconetti's landmark performance in Carl Theodor Dreyer's La Passion de Jeanne d'Arc (1928). She also can be compared to Charlize Theron's Furiosa in George Miller's Mad Max: Fury Road (2015) and Sigourney Weaver's Ripley in David Fincher's underrated Alien³ (1992). All of which lay the weight of the world on their main character's martyring shoulders.
Add to that the unstoppable homages to strong female characters throughout the entire eight episodes ranging from Heather Langencamp's Nancy in Wes Craven's A Nightmare on Elm Street (1984) to Drew Barrymore's Charlie in Mark L. Lester's Firestarter (1984), I am, in fact, more drawn to the comparison of another Drew Barrymore vehicle, Steven Spielberg's E.T. – The Extraterrestrial (1982).
Forget all the bike riding and contamination suit references; Let's look at the scene where Barrymore's Gertie dresses E.T. up as a female. This scene is mirrored in Stranger Things when Mike, Dustin and Lucas do the same dress-up to Eleven. The involuntary nature to the main parties involved is key to understanding the disconnection that our "aliens" are experiencing in the modern world.
In E.T., Elliott has just had his first kiss with a girl at school when he arrives home to find E.T. in drag. Mike on the other hand begins having his first "non-gross" feelings towards girls upon seeing Eleven in drag. It is very important to note that E.T. is never defined as a boy or girl, and in the first draft was defined as a plant. The same goes for Eleven, who was stolen from the womb, in utero. Allowing Eleven to transcend gender is an element that proves Stranger Things is practicing exactly what it's preaching. Paving new ground within the genre that it is most comfortable in. But that's not all it has in store for us.
Why don't Mike's parents ever find Eleven hiding in the basement? This is the same in E.Tand I find it just as relevant. What if Eleven is not real but a figment of each character's subconscious? This most definitely is a nod to Stephen King's 1986 novel It, but I want to also refer to Spielberg protégé Joe Dante's career, whose allegorical storytelling in Gremlins (1984), Explorers (1985) and The Hole (2009) seems highly relevant here.
Mike, Dustin, and Lucas are constantly comparing their lives to their favorite obsession, Dungeons & Dragons. According to numerologists, the figure eleven is a "master number" that has a secret lesson. Eleven is also the sum total of a ten-sided dice. So it seems quite important to note that their newly found friend is not accidentally tattooed eleven. In Numerology, "eleven symbolizes the potential to push the limitations of the human experience into the stratosphere of the highest spiritual perception; the link between the mortal and the immortal; between man and spirit; between darkness and light; ignorance and enlightenment."
If we create a who's who guide for all of the characters who decide to "believe" in Eleven as a supernatural being, we can start to uncover the deeper and symbolic power behind the lessons that come from using a "fireball" on your Demigorgon, instead of just running away.
Mike (Finn Wolfhard), Lucas (Caleb McLaughlin) and Dustin (Gaten Matarazzo) are on the verge of losing their adolescent gang due to the disappearance of Will. Mike is extremely interested in Eleven while Lucas is struggling with accepting Eleven into the gang as well as attempting to locate Will by way of a John Rambo-type anger. (The hints that someone in his household fought and even died in the Vietnam War are fascinating.) Meanwhile, Dustin may have the biggest challenge of all, a front-toothless child who is desperately attempting to keep the whole gang together (and just enjoy some pudding snacks.) With Eleven's sacrifice (choosing to exist in "The Upside Down" dimension), the three are able to find their friend and keep their game alive.
Chief Jim Hopper (David Harbour) lost his wife (who has started a new family) due to their daughter dying from cancer. Filling his life with sex, drugs, and alcohol has left him in a broken state until he decides to commit himself to doing whatever it takes to find Will. His flashbacks to the loss of his dying child, is perhaps the most literal to Eleven, who even looks like a fighter of cancer.
Joyce Byers (Winona Ryder) has also lost her marriage (her husband Lonnie has a new girlfriend) and is attempting to raise her two sons all on her own. She literally starts to lose her mind when her youngest, Will disappears. She is able to power through the depression of her divorce and not only find her youngest son Will alive, she reconnects with her oldest, Jonathan, who has been drifting away from her for quite sometime.
Jonathan Byers (Charlie Heaton) is a teen-age misanthrope who has not only lost his little brother, but has resorted to sitting back and watching life through the lens of a camera. It is no coincidence that once Steve and Nancy catch him with peeping-tom photos, he loses his perspective on life when Steve breaks his camera. And through his diligence of fighting to find his brother, he finally reconnects with his estranged father, confused mother and most importantly breaks his cynical perspective on 99% of humans being middle class clichés.
Lastly, Nancy (Natalia Dyer) perhaps changes the most by not just sharing her virginity with Steve Harrington (Joe Keery), but also losing her best friend Barb-ara (Shannon Purser) completely. Not only did Nancy give Jonathan a brand new perspective (a camera) at the end of the series, she helped Steve do his very own "upside down" and — by way of her creators The Duffer Brothers — has opened the eyes of the rest of us along the way.
Jesse Hawthorne Ficks is the Film History Coordinator at the Academy of Art University in San Francisco and curates/hosts the MiDNiTES FOR MANiACS series at the Castro & Roxie Theater. He is part of the San Francisco Critics Circle and writes film festival reviews for 48hills and Fandor.