Iris Canada's story has been in the media a lot in the past six months, ever since that afternoon in March when her niece, Iris Merriouns, walked into the office of the Housing Rights Committee for help.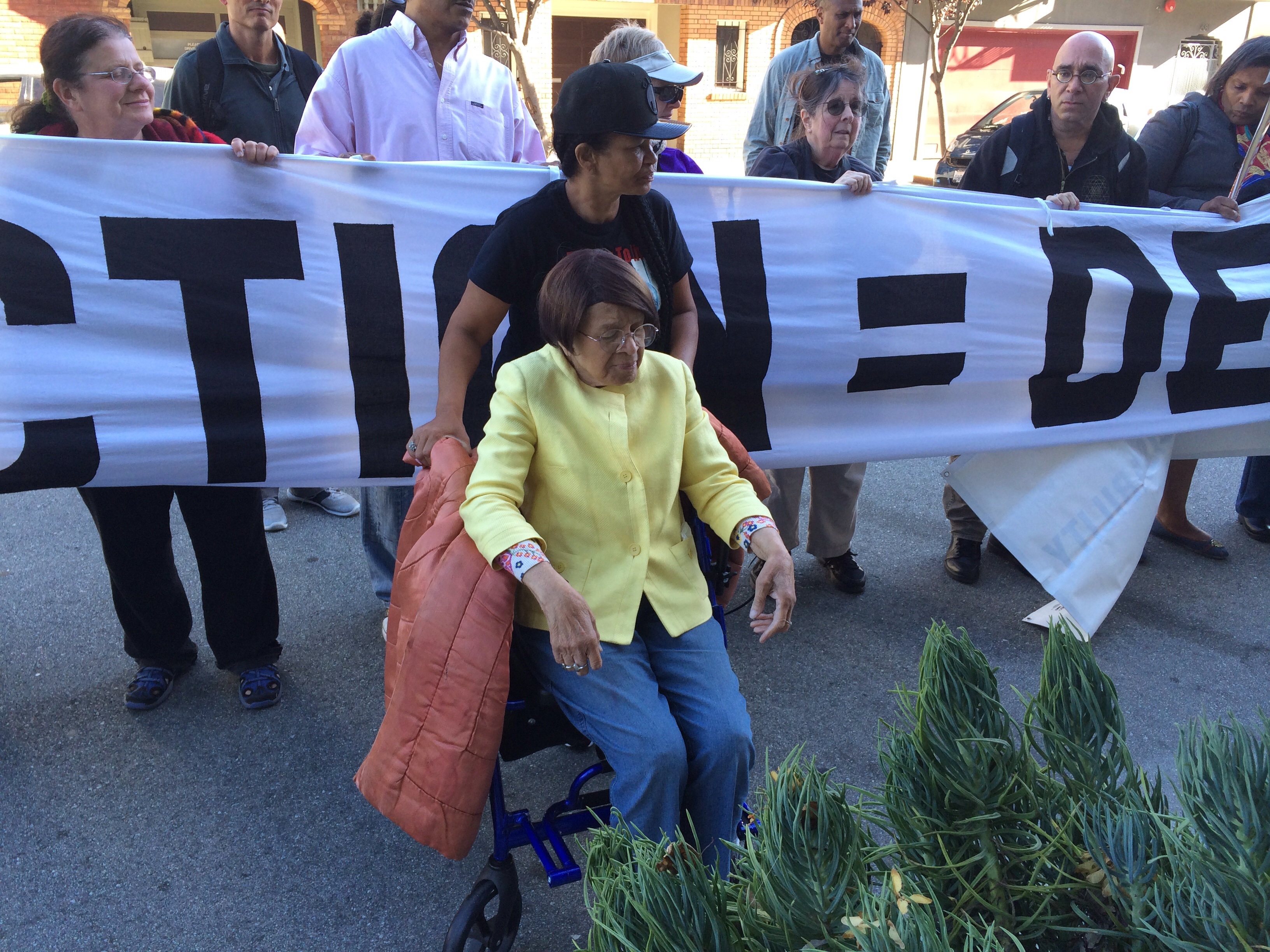 Canada, who just turned 100 in July, was only five or six days short of the sheriff evicting her from the Western Addition apartment where she'd lived for half a century. It's thanks to the work of HRCSF, Homeless Advocacy Project, Senior and Disability Action, and her lawyer Dennis Zaragoza, among others, that her eviction has been delayed this long.
At this moment, she has a temporary court stay keeping her in her apartment, but she could be evicted in the coming weeks.
If you've recently emailed Peter Owens, one of three owners of her unit, to ask that he and his partners not evict her, you may have received a form letter stating that "we, too, share a deep and abiding concern for Iris Canada's welfare—we always have."
That's a surprise to me, considering that he's spent a hell of a lot of money (more than $150,000, according to what his attorneys filed in court) and time trying to evict her from her home. Owens claims that in 2002 when he bought the six-unit building and proceeded to serve an Ellis Act notice to all of the tenants, "we granted her, completely voluntarily and free of charge, a Life Estate right to live out her life in her large 2 BR flat for $700/month because it was the right thing to do. We have never wavered from that commitment."
48hills emailed Owens to get a clarification: He and his partners did, indeed, file Ellis Act notices to evict all of the tenants, including Canada, right? His response:
Evicting Iris Canada was perfectly within our legal rights. There was no legal basis (for) "fighting" the eviction. So long as we followed the proper procedures, there was nothing she could to prevent it. There was no downstream penalty for evicting a protected tenant at that time (that came several years later).

The plain truth is we did not want to evict her. We acted voluntarily and unilaterally to find a work around to the required Ellis Act termination of tenancy rights that would allow her to stay. We instructed our attorneys to find an alternative. The alternative they came up with was the Life Estate. Her attorney was receptive (to) the idea. There was no settlement. There was the execution of the Life Estate in lieu (of) evicting her."
Actually, that's not how her attorney remembers it. Steve Collier of the Tenderloin Housing Clinic represented Canada when she got the Ellis notice. The landlords may have been "within their legal rights," but Collier had a lot of experience in this area, and knew how to fight Ellis evictions. At the very least, a good lawyer can make an Ellis eviction painful and expensive, and sometimes, can block it for years.
Collier told 48 Hills that the life estate was, in fact, part of "a settlement of an Ellis eviction," not something unilaterally done by the landlords. If Owens had promised her a life estate from the start, why would she have gone and gotten a tenant lawyer with experience fighting Ellis evictions to represent her?
The other tenants in the building weren't as lucky. They got booted out.
If he never wavered from his commitment to Iris Canada, then why did Peter Owens go into court two years ago to kick her out after she refused to sign condo conversion papers that would allow him and the TIC owners to substantially increase the value of their units?
Owens says that Canada violated the life estate by moving out of the unit in 2012. According to her niece, she was out of the unit for a time. She suffered some health problems and was hospitalized. She also spent time visiting relatives. Which is her right. Any claim that she hasn't lived in her unit seems disingenuous at best: the past two years of litigation has been about her refusal to sign condo conversion papers.
The TIC owners are pressuring Owens for a conversion, because it gives them a fixed mortgage rate instead of one that can go up at any time. With the added value to their property, they could sell at a profit. We are told that Canada is blocking these folks from exercising some sort of right to convert.
But there's no guarantee when you buy a TIC that you will ever get a condo conversion permit. TICs are risky business. Owners know that when they buy them. Iris Canada has no legal obligation to sign on to a conversion or help TIC owners make a profit. Yet it seems she is being evicted for just that.
Owens claims that Merriouns wants to acquire the unit for herself or her family. According to Owens, that's why, in the attempted negotiations over the past couple months, Merriouns insisted on a right of first refusal for her aunt.
The right of first refusal is guaranteed to existing tenants under our condo conversion law. Why shouldn't Iris Canada have it? Why shouldn't an African American family that has decades-long roots in the neighborhood, unlike Owens (who doesn't even live in the city) and his partners, have a right of first refusal?
Redevelopment's destruction of Canada's neighborhood, once hailed as the "Harlem of the West," and its displacement of a huge part of its African American community is a shameful chapter in this city's history. These days, the city's black population is down to 3%.
Owens and his partners may not be responsible for that, but they have contributed to the gentrification of the neighborhood by evicting those tenants in 2002 and selling their units as TICs. Converting those units to condos not only endangers their rent control status (at this point, they're still protected under our rent ordinance, should they ever be rented out again), it also increases property values, which brings up rents and gives landlords in the area more incentive to push out any long-term tenants.
If Owens truly cares about Iris Canada, he'll drop this eviction and let her live her remaining years in peace. The condo conversion can wait.
Judging by the fact that news of another sheriff's notice recently sent her into the emergency room, any attempt to displace her from her home could negatively impact her health, even kill her. A human life is more important than a condo conversion.