SCREEN GRABS What if Sylvester sang at this year's Grammys? What if Keith Haring was speaking right now at Art Basel Miami, or appearing at a retrospective of his work at the refurbished SF MOMA? What if Robert Mapplethorpe was Twitter-fighting with Trump?
What if AIDS never took the lives of these gay icons, or, indeed, the 35 million other people who have died from the disease? 
December 1 is World AIDS Day, a time to remember the untold lives lost to the HIV virus – but also a powerful monument to activism and commemoration. For much of the world now, AIDS is a manageable disease, and new treatments like PrEP are helping a new generation rediscover the power of sexual liberation free of fear. (We've still got a looooong way to go though until everyone has equal access to treatment and proper healthcare.)
Playing on World AIDS Day's tradition of remembrance, local filmmaker Leo Herrera is launching the trailer and crowdfunding campaign for his "Fathers" project — an ambitious undertaking that attempts to artistically recreate a world where AIDS hadn't wiped out significant gay figures. 
"In a feat of digital wizardry, Herrera uses age-progression (a forensic technique used by police to find missing children) to take iconic portraits of Robert Mapplethorpe, Keith Haring, David Wojnarowicz, Vito Russo and Sylvester, and morphs them into happy seniors in a joyful Dorian Grey reversal of their fate, " the "Fathers" press release states. "Combined with imagination, input from those closest to these figures, and historical research, Herrera immerses us in exploring possibilities and potential outcomes if the AIDS crisis hadn't wiped out an entire generation."
"I was first inspired by the "Have You Seen Me?" notices that were delivered to your home or on milk cartons," Herrera told me from New Mexico, where he was visiting family. "You would see the missing child in the photograph where they were aged to what they would look like now, often years after their abduction. I always wondered what the parents felt like.
"The original project was to make a film asking, 'What if they had found a cure for AIDS?'" Herrera said. But then PrEP" — the once-a-day pill treatment for HIV-negative people that helps protect them from HIV — "came on the scene, and a very interesting thing started happening in the community.
"It was very confusing at first, having something like PrEP, and I think the community really felt a need to hear from its elders, for guidance. But AIDS had ensured there were few left. It made me think of what it would be like if none of this had happened."
"Each of the age-metamorphoses took about 40 hours — I was staring into the eyes of these subjects I had thought so much about for 40 hours as I worked on aging them. It was very affecting," Herrera told me.
The final project will be a 'faux' documentary, aiming for 2017 release, produced by Herrera alongside a team of collaborators, historians from the GLBT Historical Society, survivors, friends, lovers and family of the men featured. It will be filmed in San Francisco, New Orleans and New York. To research the political storylines for Fathers, Herrera worked in a New York art collective with Act-Up legend Avram Finkelstein, of the Silence=Death campaign.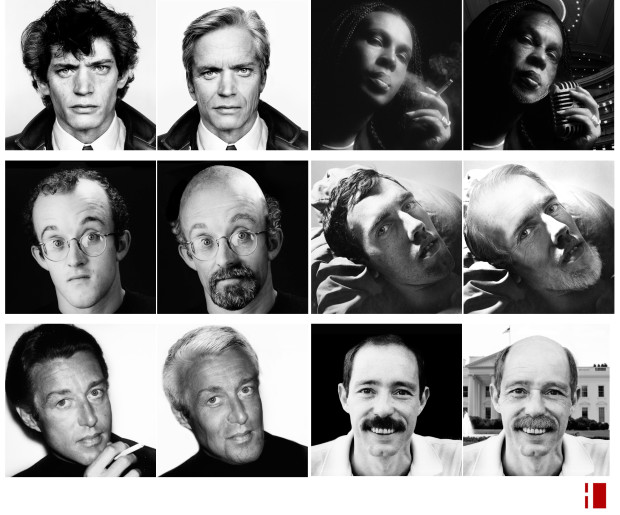 The idea is pretty brilliant, and raises questions and issues right off the bat. For one thing, a lot of "Mothers" and trans people were wiped out by AIDS, too. For another, would gay rights have made such progress without the humanization of gay people that occurred during the ravages of the disease, or without the martyrdom of our dead activist-heroes?
But Herrera is no stranger to diving into charged moments of gay history — he's made substantial work around Harvey Milk's assassination and the criminalization of HIV. "Fathers" promises to add something beautiful to the speculative history of the gay community.  
Check out the 'Fathers' crowdfunding campaign here.