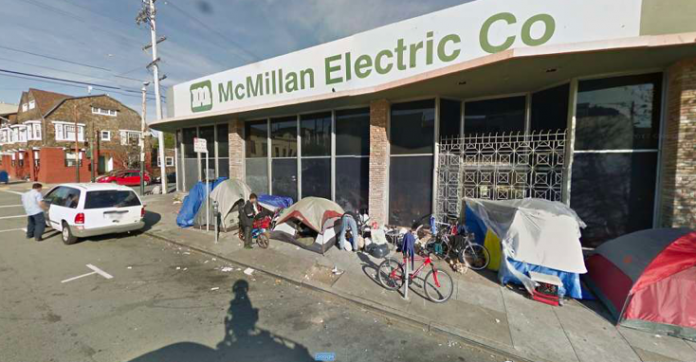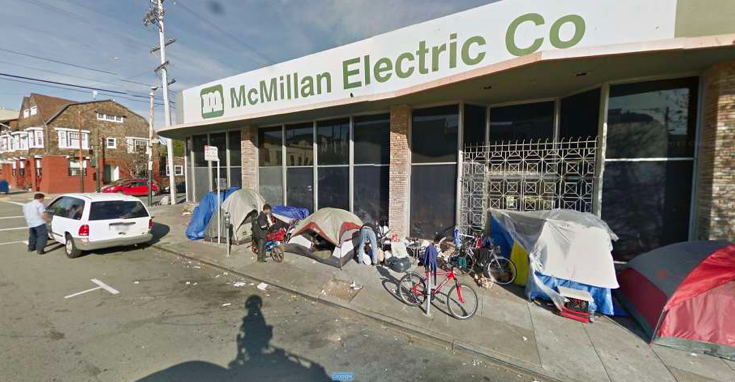 After months of undertaking, all of the encampments in San Francisco's Mission District have been "resolved" — in other words, moved off the sidewalks. Or at least that's what Street Sheet learned from recently documents received from by the city's Department of Homelessness and Supportive Housing.  
Yet it's clear from simple observation that new encampments temporarily sprout in previously resolved areas, prompting visits from "re-encampment prevention teams."  These teams are composed of SF Homeless Outreach Team and Department of Public Works staff, but local cops are also included, lending the appearance of a police action in camp visits. The city assigns these teams despite the shortage of available shelter space and below-market rate housing that could accommodate some 7,500 San Franciscans.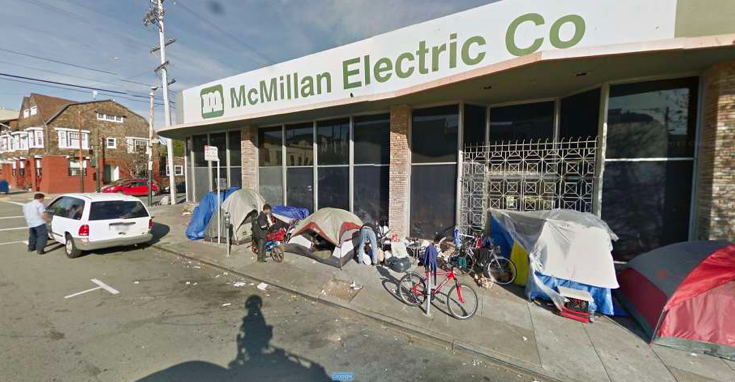 In response to a public records request from Street Sheet, which the Coalition on Homelessness publishes, the Homelessness Department sent updates from its encampment working group dating from June 2017. Weekly agendas chart the progress of camp resolutions: An August 9 memo stated that 87 percent of the Mission's encampments from Division Street to Cesar Chavez Street had been resolved, and by the September 20 meeting, resolution in the Mission reached 100 percent.
"Resolution" is the city's term of art describing the relocation of people living in temporary structures, such as tents. When the city resolves an encampment, they offer places for folks to go, such as a Navigation Center.  This is different from a "sweep" where folks are just forced to move, usually across the street, and often have property confiscated in the process. 
The Police Department oversees and enforces these operations, with officers mandating a move-along from the premises. At the same time, the Department of Public Works is on hand to power-wash the area and dispose of debris, which usually consists homeless people's belongings.   The city gives two weeks notice to allow time to work with residents to find placements.  
In theory, the Homelessness Department sends workers from its Encampment Resolution Teams to help place campers in transitional settings. The department maintains that resolution efforts were meant to enable encampment residents to enter the neighborhood's recently opened Navigation Center on 1515 South Van Ness Ave. Deputy director Sam Dodge said at last month's meeting of the Local Homelessness Coordinating Board that 45 encampment people were placed in the center as of August 31.
But where do other campers who aren't placed go? That is unclear, especially to them.
Soon-to-be-displaced residents told "sweeps watchers" led by the Coalition on Homelessness that city workers engaged in sweeps offered no services. They also mentioned the lack of notice; instead of advanced notice, city workers -—- police, in particular -—- ordered them to clear out immediately. 
While it's not apparent where now-unsheltered campers could go, what is more evident, based on agendas from meetings of the Encampment Working Group, is that re-encampment teams include cops are paying visits to ERT-resolved areas. The Homelessness Department-led working group and the re-encampment preventers share three other agencies in their ranks: Public Health, Public Works and the police. Also, the meeting notes say that the re-encampment teams report new people living on these streets.
The department's Encampment Resolution Team noted the resolution of three specific encampments: One on Vermont Street, between 15th and 17th streets, housed 47 people in 40 tents. Another on Stevenson and 12th streets, by the Navigation Center at the Civic Center Hotel, is estimated to have 17 folks in up to 12 tents. The third, bordered by 17th and Vermont streets and San Bruno Avenue, and located near Showplace Square West, is also reported having 17 residents in up to 12 tents.
Throughout the summer, police and Public Works dispatched teams of workers  to the freeway-adjacent areas of the neighborhood, particularly along Brannan and Division streets, and Potrero Avenue.
But according to the encampment working group, the city had to send its Re-Encampment Team to the Vermont Street stretch, where two makeshift structures and four RV campers re-emerged where the 40-tent site was resolved earlier this summer.
That team also found the San Bruno street area that includes Showplace Square to be repopulated with two- and three-person camps -—- not to mention at least 20 bicycles.
Records indicate that other resolutions are pending in the nearby Mission Bay neighborhood. High on that list is a piece of city-owned property between King and Berry streets; that patch is where recent camp dwellers moved from Seventh and 16th streets. Also, city agencies are eyeing a site on Berry and DeHaro streets.
Near California College of the Arts, the city performed an impromptu removal of a tent site after a fire on September 13 consumed two Box City houselets that were funded by the Saint Francis Homelessness Challenge. A number of tents close to the units were also dismantled. That operation  involved heavy equipment, including compactors and front loaders. 
Reading the bureaucratic language in the encampment working group's weekly agendas, one is struck by how homeless constituents aren't mentioned. Percentages of resolved Mission blocks are updated each week. Encamped streets are enumerated with numbers, structures and even RVs. A September 20 agenda notes a "section 169 summary," referring to the local sidewalk sit-lie ban.
There are no numbers of people housed after years of being unhoused.
Wouldn't those figures be fitting on a workgroup plan with a letterhead from the Department of Homelessness and Supportive Housing?