The prosecution and defense in the Zarate trial presented dramatically different – and irreconcilable – versions of the events of July 1, 2015, when a gun went off and a bullet ricocheted off the hard concrete at Pier 14 and struck and killed 32-year-old Kate Steinle.
Deputy District Attorney Diana Garcia showed the jurors the .40-caliber Sig-Sauer that fired the fatal round and told them that Jose Ines Garcia Zarate "pointed the gun in her direction and pulled the trigger."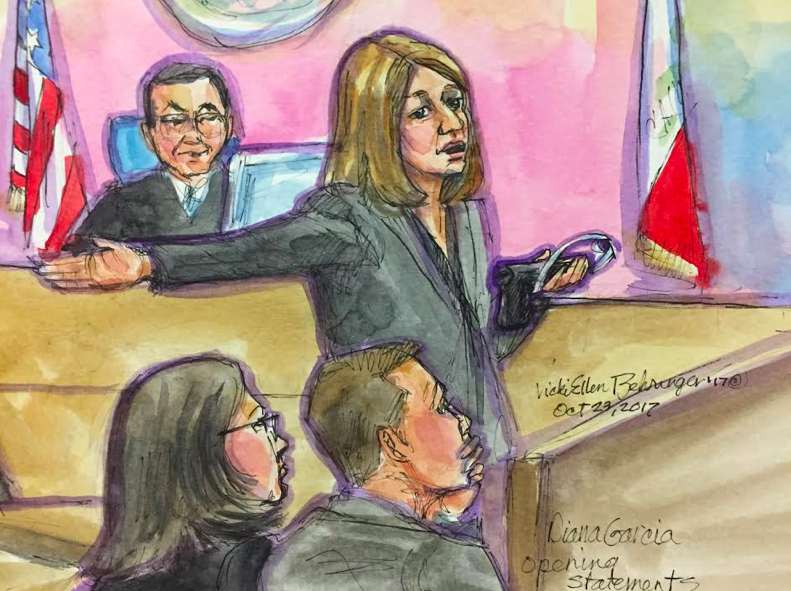 "I will prove to you that the defendant intentionally fired a gun at people on Pier 14," she said.
Defense lawyer Matt Gonzalez argued that Zarate never intended to fire the weapon at all, much less at anybody, and that the hair-trigger gun designed for use by highly-trained law-enforcement officers discharged by accident – as that model of gun is known to do.
In fact, he offered new forensic information suggesting that it was very unlikely Zarate held the steel in his hands and fired.
Garcia described the scene that day and told the jury how Steinle and her father were walking on the pier with an old family friend. Several witnesses heard a loud bang, then Kate Steinle fell to the ground. The bullet severed a major blood vessel, and she died at SF General.
Garcia said she would produce evidence of Zarate "fleeing the pier" after throwing the gun in the Bay. He was arrested about a mile away, taken to a police station and interrogated.
"After giving a bogus date of birth, he started out by lying," she said. "He said he wasn't there."
The officers, she said, then did a little lying of their own: They told Zarate that they had found the gun, which wasn't true, and that they had found DNA evidence on it. "They told him all of this to make him think he was dead to rights, to make him talk, and he did," she explained.
He admitted that he had fired the gun, she said, and was aiming at a seal.
The jury also heard a bit about the Bureau of Land Management ranger who left the gun in his car. He was on his way from Southern California to Montana, and was taking a two-day holiday with his family along the way when he parked his car on the Embarcadero and went to dinner.
The gun was loaded, with a round in the chamber, because that's how the agency trained its officers to carry it, she said.  It was a "backup gun," a secondary weapon to be used in dangerous situations where a primary weapon had been lost or was out of ammo, and thus had to be ready for immediate action.
There is no doubt that the gun had a round in the chamber and a full magazine. Garcia said the hammer wasn't drawn back, meaning the trigger would have required a harder pull; Gonzalez later suggested that it was in such a ready firing position that even a few pounds of pressure on the trigger could have cause it to discharge.
"He knew he had a gun, meant to conceal it, meant to shoot people, and ended up killing Kate Steinle," Garcia concluded.
There was an odd moment in her statement when she talked about how police departments in the old days used to teach officers about ricochet (or "skip") shots – which sounded to me as if she was suggesting that some officers used that technique intentionally, and that maybe Zarate intended to bounce the bullet off the concrete and kill someone. I was not the only reporter who got that impression.
But a spokesman for the DA later said that Garcia was really saying that departments teach officers how to interpret and analyze ricochets. Which makes little sense if she was talking about the old days, since clearly investigators are taught about ballistics today, too.
Garcia has not taken questions from the news media.
Gonzalez offered a very different version of events. The gun, he said, was pointed at the ground, not at Steinle or anyone else. The shot, he said,  at first "missed Kate by 78 feet," instead hitting the concrete floor of the pier.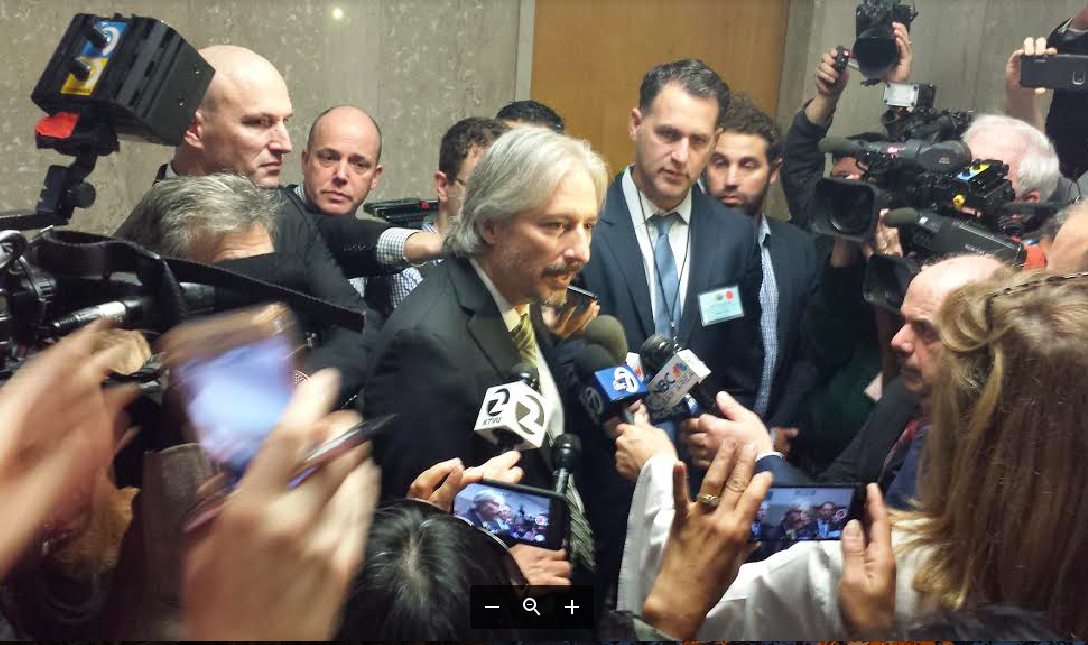 "If this had happened in a public park, it would have embedded in the grass," he said. "Only a freakish ricochet could have been the cause" of Steinle's death. "There has never been a murder trial on a ricochet case in San Francisco history," he said.
There's no way Zarate could have intended to kill anyone if he shot at the ground, Gonzalez argued: "An expert marksman could not make that shot."
The bullet was deformed when it hit the concrete, and its path was altered in a way that would have been utterly unpredictable. He quoted Jim Norris, the former head of the SF crime lab, as saying that nobody intending to shoot anyone would fire at the ground first.
Then he said that type of gun in question "has been at the center of several law-enforcement accidental shootings." It's designed for elite law-enforcement people who are in an emergency situation, he said, and "it has discharged when dropped, when a button on a piece of clothing caught on it, when officers put it in a holster, when it is stepped on – and this is by trained personnel. Even the firearms instructors at the Sig-Sauer academy have accidental discharges."
The federal agent who left the gun in his car, John Woychowski, was travelling with his family, including a five-year-old, and had the gun fully loaded with a round ready to fire in his backpack, Gonzalez said. He has never explained why he left the lethal weapon in his car.
Among the interesting elements of the case today: Gonzalez showed the jury a report demonstrating that Zarate had only a tiny amount of gun-shot residue on his hands. In fact, the report showed that on first examination, he had none, but a later microscopic review showed one particle.
A person who holds and fires a gun would typically have hundreds, if not thousands, of particles on his hands, Gonzalez later told reporters.
That, the attorney said, strongly suggests that the gun was wrapped in cloth, perhaps a piece of clothing, when Zarate picked it up – and was still wrapped when it went off.
It's highly unlikely, Gonzalez said, that the prosecutions version of events — that Zarate aimed and fired the gun — could be possible if he had almost no gunshot residue on his hands.
Zarate made a long, rambling statement to police after he was arrested. He told them he was born in 1863 – "and if you think that's a bogus answer, you are free to believe that," Gonzalez told the jury.
In fact, from what we saw, the statement is full of inconsistencies – not surprising when you consider that Zarate has a second-grade education, understands little English, was questioned by a Spanish-speaking officer whose translations have been challenged, was exhausted at 5 in the morning, and was very likely mentally ill.
But in one are he was consistent: He said he had no idea who Steinle was, had no reason to want to hurt her or anyone else, and didn't even realize he had fired a gun that killed someone.
He threw it in the Bay, he said, because "I didn't want it to keep shooting on its own."
And rather than "fleeing" the scene, he walked away.
"He had no motive, no animus, no erratic behavior," Gonzalez said. It was, in short, a tragic, horrible accident, he told the jury – one that started with an irresponsible federal agent who is facing no charges at all.
"If a college kid or a Swedish tourist had been involved," he asked the jury, "would he be charged with murder?"