ART LOOKS I didn't expect to be here, writing to you, about this. After many years of penning flippant retorts and scene reports from art weeks from Miami to Mexico, I was happy to finally spend Mexico City's annual artsy-fairsy orgy as a civilian (art attaché, I liked to call it).
This is CDMX Art Week, anchored by the 15-year-old Zona Maco with several satellite affairs. And as half my friends contracted hives from courting prospective collectors at sponsored cocktail hours and the other half ignored my invites to acknowledge even the mere existence of the "art fair," I ate marijuana chocolates, ignored official after party invitations, took zero notes, and wore the same jacket all week.
Imagine going to art week to enjoy art! Of course, 48 Hills contacted me two days after it ended and asked if maybe I could share my thoughts. Luckily, I had some, so here are five things that stood out during the whorl of visiting creatives and complimentary tote bags.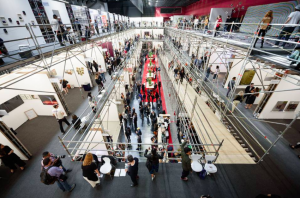 1. Material Art Fair's scene-stealing architectural proposal Everyone likes to talk about how the five year old Material is their favorite such art event in the world, and they are not only being hyperbolic. The expo still qualifies as the experimental young upstart, the sprightly African oxpecker to Zona Maco's tick-attracting hippopotamus girth.
This year, Material gave me the chance to check in with Bay projects Et Al, Alter Space, R/SF, and City Limits Gallery as well as CDMX faves like Lodos and Labor—but the big news came via the fair's designers, Mexico City architecture project APRDELESP. The firm devised a deceptively stable, three-level scaffolding system that filled El Frontón's historic jai alai courts and resembled nothing so much as the Inception-style madness of Mexico City's nearby Biblioteca Vasconcelos. The vertical visual spread made finding galleries, friends, and Hennessey-horchata cocktails easier than spotting art tourists in Tepito. Recommended!
2. Neon invasion Not being shady—Tracey Emin is wonderful and some of my favorite artists from Mexico's solo New Museum Triennial representative Manuel Solano to Puerto Rico's Hector Madera and gringa Chelsea Culprit, not to mention Nicola Arthen at Salon Acme, put a tube on it this year. But it's relatively affordable to get custom designs rendered in neon in Mexico City and for those of you tuning in from home, we are all wending through a whimsical, gleaming grid of the stuff to get through to our comida corrida at this point. The invasion is far from limited to the CDMX art world; forget having a nightlife project, tattoo studio, or music label in this town without first copping a logo in brights.
3. Zona Maco social science In amongst Gary Nader Gallery's decadence of Boteros and Minerva Cuevas's interactive, ever-growing pile of carrot peelings for Kurimanzutto, I was very high. (Did I mention I had no plans of reporting on the fairs?) So I have little to share with you about art from Zona Maco besides my joy at the return of commercial viability for Leonora Carrington's feline goddess statues and over Cisco Jiménez's ceramic boomboxes— but I have everything to say about how funny people are at art fairs.
I boggled happily through a panel discussion in which a private Peruvian collector shaky on the subject of inherited wealth, said that art collecting runs in the family. (His proof, if my sugary weed memory serves: he has a niece that collected 800 tea services "by the time she was 10!") A young boy sat in front of me recording the talk on his smart phone. Later, I added a shot of a chocolate Pomeranian sleeping on a exhibitor table to my Instagram story and a painter friend on the other side of the equator immediately sent me a shot of him holding aloft the same pupper. It turned out to be the 80k-followed Bertram (has more fans than his owner's gallery), but you probably already knew that.
4. "Una vida doméstica" x José Esparza Chong Chuy When wandering through art fairs with no agenda besides seeing thought-provoking works and staying hydrated, you long for engaging installation-constellations like that of José Esparza Chong Chuy's section in Salon Acme. Once the assistant curator of Museo Jumex, now of Chicago's Museum of Contemporary Art, Esparza reanimated long-abandoned Colonia Juárez living quarters with works pitched to the home. His local roots may explain the genius behind how the passive aggressive notes Diego Salvador Rios saved from 21st century neighbors ended up alongside Juan José Gurrola's 1996 transfer "Familia Sandwich" and works by Magali Lara. Esparza's curation made arch use of Salon Acme's main draw—its derelict mansion venue, which is high grade catnip for ruin porn aficionados. 
5. Leaving the big fairs A lot of people came down this week looking to learn more about the Latin American art scene, even attempting to locate or contextualize their project in the exciting work that is being done in this part of the world. Such is the power of white privilege that it may have escaped many of these exhibitors, collectors, and art hangers-on from the US, Europe, etc., that Mexico City Art Week is largely set up to exhibit non-Latino work for an international clientele. This year, just about 25 of the 75 galleries in the main section of Zona Maco, and 19 out of Material's 78 participating galleries and projects were partially or entirely based in Latin America. To a certain point, that composition is a reflection of demographics in the global art market. But for some, it underlines the need for satellite events. It seems only a matter of time before a larger Latino artist-focused event, even one that's focused more on community than sales, is created to run concurrently with Macomania.
There were places to see Latin American art in the spotlight, you just had to be willing to branch out from the expo centers. My partner's work was shown in Dolores, but my own clear bias aside, visitors to that pop-up show by five galleries from Santiago's Sagrada Mercancía, Puerto Rico's Embajada and KM 0.2, and two Guadalajaran spots (Gamma and Guadalajara 90210) remarked that it was one of the most innovative configurations of emerging contemporary artists they'd seen that week.
Other satellite openings that showcased Latino artists were the brand-new Colonia Escandón project Salón Silcón, Tomás Díaz Cedeño at BWSMX, Abraham González Pacheco's "Yacimiento" at the September 19th earthquake-wounded Biquini Wax, MUAC'S Yoshua Okón show and Carlos Amorales retrospective, Guillermo Gómez Peña's hallucinatory retrospective at Museo de Arte Moderno, and thankfully on this long list of cis men's names (SORRY), Border's long-running "Terroristas de la Masculinidad" show and Museo Jumex's presentation of Ana Gallardo's pedagogic rumination on aging, "Escuela de Envejecer."