10 years ago, an almost unbelievable, incredibly San Francisco thing was happening.
A thriving online BDSM/fetish empire, Kink.com, was taking over the 200,000-square-foot San Francisco Armory, its owner Peter Acworth transforming the century-old fortress into the ground-zero of the streaming porn revolution. Enormous leather and gay pride flags flew from the top of the turreted beauty, and where once the National Guard armed themselves to violently put down 1934 Longshoremen Strikers, gleaming eroto-bots and costumed Kinksters now pleasured multiple genders on any one of dozens of online channels like WiredPussy.com, BoundGods.com, and, most interestingly in a city feeling the hot squeeze of tech "disruption," Fucking Machines.    
This glorious fairy tale may not have been meant to last, but it certainly was magical for a time, lewd and jaw-dropping in a moment of growing conformity and toothless civility. Like the naked men of the Castro, before they were cock-socked into oblivion by Scott Wiener, the Kink Armory became a tourist favorite and a point of pride—something good-natured, naughty-feeling yet civic-minded: a thing that stuck out.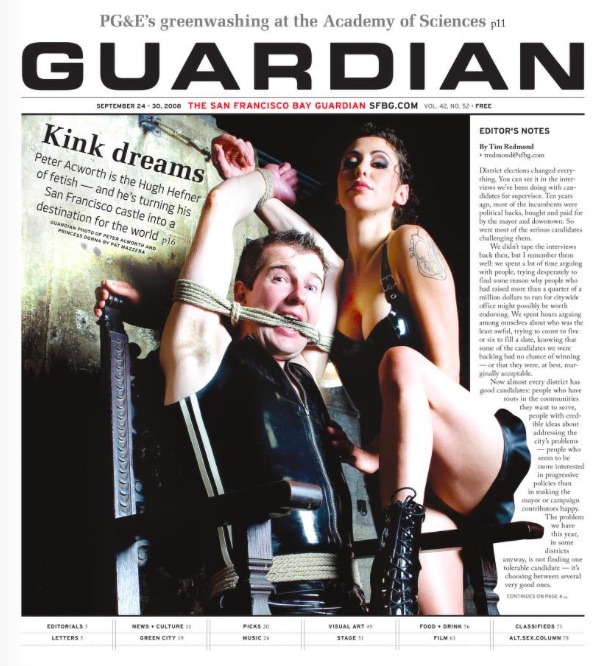 Trouble started around 2013—by then the gusher of free porn and amateur sites on the Internet were carving into Kink's subscription model. (A clever gambit at a potential pivot was the opening of the swanky Armory Club bar nearby, with an eye towards franchise.) But legal battles against porn were raging, with fusty old orgs like the AIDS Health Foundation fighting stale battles against studio-made porn with the force of some new Moral Majority. In Los Angeles a mandated porn-condom law was voted in, and AHF and others aimed to make it statewide. That failed, but the damage against an already panicking industry had begun. Most porn companies fled to Nevada, where the laws were looser, the costs way down, and a population of eager young actors springing up. 
A sign that Kink was succumbing to economic pressure was when owner Acworth attempted to transform the Armory to hold more office space (which required the expensive Proposition X on the SF ballot), and again when Acworth announced that Kink would no longer be producing porn at the building, turning its immense drill court, once the site of sprawling Public Disgrace bondage exhibitions, into a party and concert venue. 
I visited the drill court a couple years ago, as it was going through the incredibly costly process of soundproofing. (I also saw some astounding shows there, including Black Watch.) Legendary promoter Audrey Joseph of 177 Townsend fame and her team had taken over production of Armory events, which included huge corporate events and all-night raves. As she notes with her typical homey bluntness, "The Armory is the only 4,000-seat venue in the city besides Fort Mason, and that's in God's country."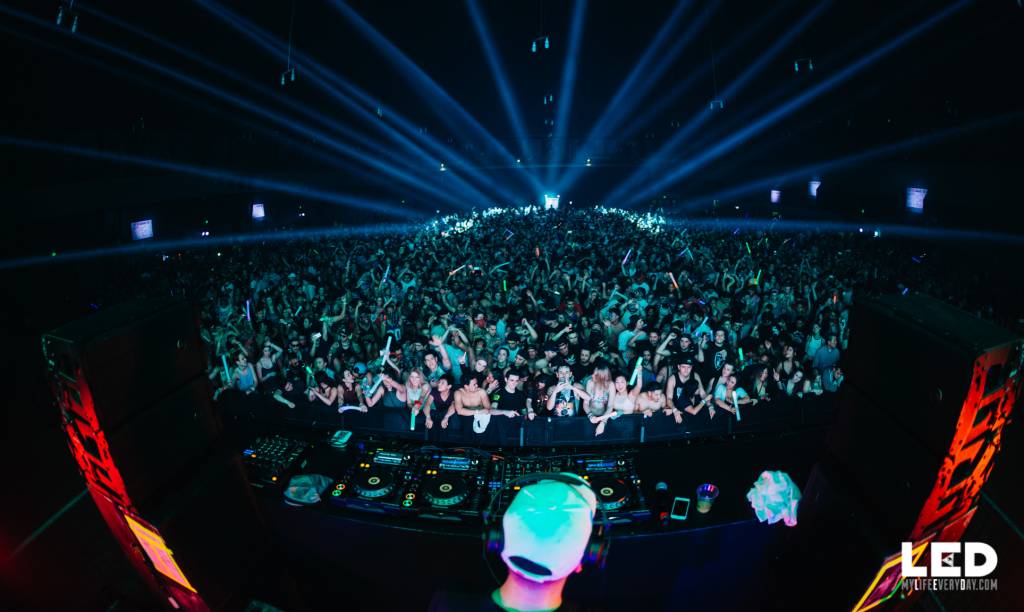 Now, the Armory saga seems to be taking yet another turn. Rumors ran rampant in November that posh member's only club and hotel chain Soho House was buying the place, but those were vociferously quashed by insiders. It turns out the rumors were truth-adjacent, however. Reports surfaced Tuesday afternoon that the Armory had sold for $65 million and that the purchaser was a Chicago-based developer closely associated with Soho House. 
"All I know is that the Armory has been sold to a developer and I and my team are out," Joseph told me over the phone Tuesday afternoon. I had arranged to call her a couple days ago because a flurry of bondage events had been posted to the Armory's Faceboook, including one called "Our last days at the Armory" and I wanted to know what was up. The news that the Armory had been sold actually broke while we were on the phone together.
"It's strange because we have huge events coming up here," Joseph said. "Lil Uzi Vert, Erykah Badu on Valentine's Day, the Opel party, a bunch of corporate events. We're working our asses off. So really, I cannot say I know anything exactly that's going on, other than the last week of March we're out. 
"There may be a large concert promotion company angling to take over the space," Joseph then added mysteriously. "I can't say who it is, but they have definitely been around. But for very specific reasons, they would only be able to contract the Armory for a year. I just cannot say who."
Joseph can't say, but I can guess: LA-based music promoter giant Goldenvoice is producing at least two major shows there. Goldenvoice is growing, recently "partnering" with Slim's and Great American Music Hall, which program Hardly Strictly Bluegrass, much to at least one outspoken club owner's dismay over the growing corporatization of the local music scene.
An alliance between Goldenvoice, despite the rightwing associations of its parent company AEG, and Soho House (basically an upscale globe-trotter hostel) in the Armory might mean a slick, crowd-friendly venue rather than more luxury condos or dreary start-up incubators. But it would certainly mean a different kind of chain rattling around the Armory.  
PS The Cats of the Castle need a home! Audrey Joseph and her team will land on their feet when they depart the Armory, but Rudy and Lala, the bodega cats of the Kink Armory, need a home. "They're a bonded pair and delicious and wonderfully loving," Joseph told me. "They're 11 years old and fabulous. If you are the lucky winner of these cats, you'll get a year's supply of cat litter and food, and a discount card for Pet Food Express. You may have to let our employees come pet them."  If you can take the Cats of the Castle, please email Audrey at audrey@audreyjoseph.com