The chorus or progressive groups endorsing both Sup. Jane Kim and Mark Leno for mayor continues to get louder, with the Milk Club, the Sierra Club, the Tenants Union, and the Community Tenants Association holding a joint press event today to promote that ranked-choice-voting strategy.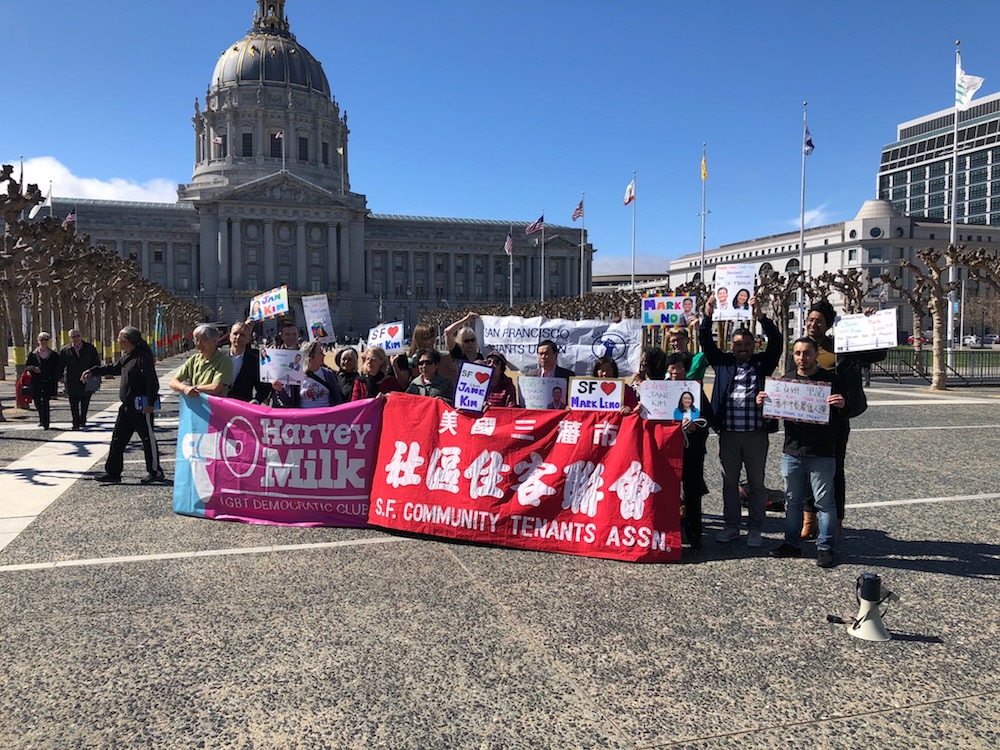 Deepa Varma, director of the Tenants Union, said that this race "is all about keeping people in the city. If we are going to stay here, we need a mayor who cares about tenants."
She said that instead of splitting the vote, her organization had endorsed both Kim and Leno.
That was the theme of the event: For progressive groups, this race could have been seriously divisive with nasty fights over whether Kim or Leno should be the Number One pick. The dual-endorsement strategy has largely eliminated that.
Honey Mahogany, co-president of the Milk Club, said "I'm proud that San Francisco has such a diverse slate of candidates. It's essential for we as progressives to work together."
As far as the candidates go, however, Kim is a lot more enthusiastic about this strategy than Leno.
In a statement to the Bernal Heights Democratic Club, which asked if the candidates would endorse anyone else, Kim said: "I believe we should utilize rank choice voting and have committed to ranking Mark Leno in my ballot."
Leno said he has not endorsed in the race and "is still considering options. There will be no consideration of any candidate who is not an early endorser of our Fair Campaign Pledge."
That difference underlies the tricky politics of this race. In 2016, Leno supported Scott Wiener for state Senate – and Wiener and his allies launched vicious attacks on Kim. Wiener has endorsed Leno – and while Kim seems to be willing to let that be part of the past, Leno has a problem:
He needs the Wiener voters who were told to mistrust Kim. Will he alienate them if he now endorses her?
And if he doesn't, will he alienate (or fail to inspire) the Kim voters to list him Number Two?
Is there any way these two candidates can work together the way their allies are?
That's happening as pretty much everyone agrees this is a three-way race with none of the top candidates – Leno, Kim, and Sup. London Breed – pulling away. It's almost certain that no candidate will get 50 percent of the vote in June; in fact, I'd be surprised if any candidate got 40 percent of the first-place votes. So this election will absolutely come down to second-place votes.
It will be the first truly dramatic test of the RCV strategy in a mayor's race. And although some observers are saying Breed is pulling ahead, the narrow differences in the polls at this point mean nothing. Breed, Leno, and Kim will all be in the mix, all close, all in the top three.
So let's just speculate here. Suppose Breed comes in first, by a few points, Leno comes in second, and Kim is third. The Kim second-place votes will decide the race: If enough are for Leno, he will pass Breed. If not, Breed will win. 
If Leno comes in first, Breed second, the same scenario applies.
If it's Breed, Kim, Leno, then Leno's second-place votes will elect the next mayor. 
It's possible, but unlikely, that Leno and Kim will be first and second, and Breed third; in that case, her Number Two votes will decide the outcome. (I am assuming that Amy Farah Weiss and Angela Alioto will be far behind, and that Alioto's second-place votes will be all over the place.)
You get the point. The candidate who figures out how to make RCV work will be the winner.