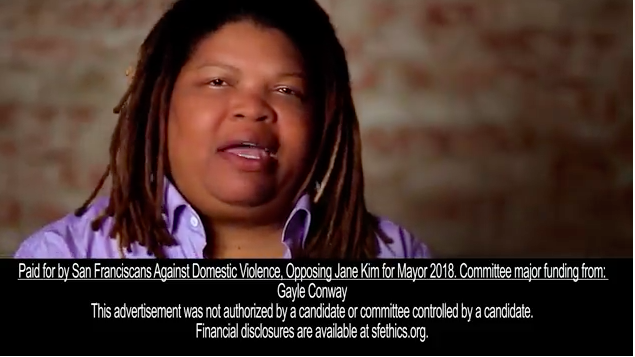 Ron Conway, the tech titan, plutocrat, and political bully, said in March that he was "too busy" to get involved in the SF Mayor's race. He had already endorsed London Breed, but his strong-arm antics have made him unpopular in some parts of town, and Breed has made an effort to say she is not his pawn.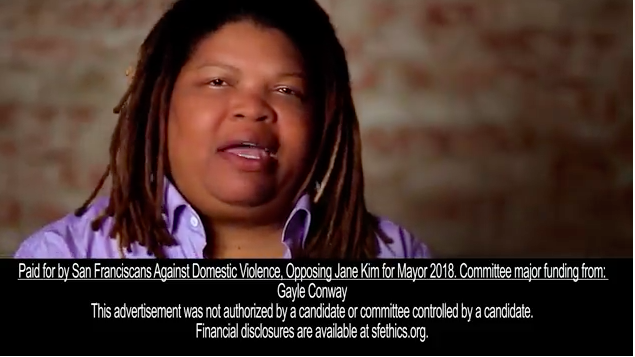 But apparently Conway's wife, Gayle – whose wealth comes largely as a result of her marriage – is not too busy. She has just funded a new independent expenditure committee that is attacking Sup. Jane Kim.
The committee, called "San Franciscans Against Domestic Violence," has not yet filed with the Ethics Commission. But its first ad is out, featuring Andrea Shorter, and it's a pretty vicious assault on Kim.
(UPDATE: The ad got so many negative comments on YouTube that it's been pulled)
The ad says that it has "major funding" from Gayle Conway. The Chron reports that Gayle Conway put up $200,000 and that the ad will go on TV starting Wednesday.
I have never seen any evidence that Gayle and Ron disagree on politics or that she spends money on causes he doesn't support. I would be very surprised if Ron wasn't fully aware of and fully approved of this latest attack campaign.
In other words, Ron Conway is very much involved in the mayor's race.
I would not be surprised if the next ad attacks Mark Leno, possibly for his endorsement of Kim.
The ad focuses – as previous attacks on Kim have focused – on her vote not to remove Ross Mirkarimi from his elected office as sheriff. As we reported that last time this political attack campaign was launch, that was a really difficult situation; Mirkarimi pleaded guilty to a crime related to domestic violence, but the issue before the supes was whether the mayor should have the right, based on something that happened when Mirkarimi was not the sheriff, to unilaterally oust from office someone elected by the voters.
Kim said she would have supported a recall of Mirkarimi, but she didn't think the mayor should have the power to remove an elected official. That was a reasonable position.
The reality is that Conway opposes Kim and supports Breed because Kim has voted to more tightly regulate Airbnb and other companies that Conway has invested in, and Breed has voted against those regulations.
Julie Edwards, a spokesperson for Kim, said tonight that "Jane Kim will stand up to Donald Trump. She will stand up to Ron Conway. And she will take this city back for the people who are sick and tired of letting billionaires run our government."