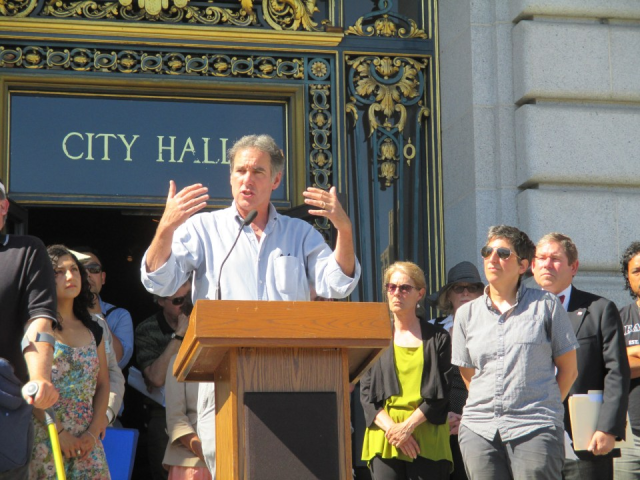 Tim Redmond
OCTOBER 8, 2014 – The Board of Supervisors adopted a slightly amended version of Sup. David Chiu's Airbnb legislation yesterday, but the measure doesn't include all of the proposals that a community coalition demanded, setting the potential scene for a ballot-initiative fight.
The board, by a consistent 6-5 majority, refused to:
— Require that Airbnb and other hosting platforms pay some $25 million in back taxes;
— Limit to 90 the number of days that housing units can be rented out as hotels;
— Limit short-term rentals in neighborhoods zoned for single-family detached homes;
— Or restrict short-term rentals in the city's recently legalized in-law units, which were supposed to provide affordable housing, not tourist hotel rooms.
"It's breath-taking that our city officials found it okay to pass a $28 million tax giveaway," Mike Casey, the head of the hotel workers union, told me tonight. "It's quite astounding that these folks blinked in the face of a $10 billion corporation."
The supervisors did approve amendments to give nonprofit housing groups a very limited right to take private action against illegal tourist hotels – although those changes will have to be reconciled and go back to committee.
But overall, Airbnb got what it wanted – virtually unlimited conversion of San Francisco housing stock, in every single part of town, to tourist hotel use – potentially for 365 days a year.
The Chiu legislation requires that the operators of short-term rentals register with the city, and limits "non-hosted" rentals – that is, apartments or houses that are rented with the occupants gone – be limited to 90 days a year. Only housing units owned by permanent residents can be used for so-called homesharing.
But people who rent out a room in their homes while they are present can do that every day, with no limits – which critics say will eliminate the incentive for people to seek permanent tenants for those rooms.
And while the law says that renters who sublet rooms in say, a flat or apartment can't charge more than what rent-control allows, "there's no way to enforce that," Ted Gullicksen, who runs the Tenants Union, told me.
"Do you think a tourist who is paying more than the legal rent is going to file a petition with the Rent Board?"
In fact, enforcement is a huge part of the problem with the new law. There's no way to monitor who is home and who is out of town for the so-called "hosted rentals."
The coalition opposed to the Chiu bill did get one of its key demands – sort of. Nonprofits that specialize in protecting affordable housing can go to court to enforce the law if the city doesn't have the time or interest. That provision still needs to be heard again by the Planning Commission and go back to committee, but there's little doubt that it will pass, since it has solid support.
Sup. Scott Wiener tried to derail the "private right of enforcement," arguing that it would allow frivolous (and expensive) lawsuits. Sup. Jane Kim, who promoted the provision, said that "frivolous" suits aren't really that much of a problem, and that the only ones who complain about them are "the Bush Administration, the Koch brothers, and the Heritage Foundation."
But Kim freely admitted that her provision was "watered down." If would give the right to sue (and potentially collect legal fees) only to a small number of nonprofit, most of them in the central city.
In the meantime, Calvin Welch, a longtime housing advocate, told me, "the supervisors have just allowed every one of the 370,000 housing units in San Francisco to be turned into a hotel, every day of the year."
Yes, short-term rentals when the permanent occupant is out of town are limited to 90 days a year – but "there is no way to monitor where 600,000 San Franciscans sleep every night," Welch said.
As Kim put it, "I struggled with this legislation. I'm concerned with the city's ability to enforce it."
Every member of the board agreed that "homesharing" – or short-term rentals – is here to stay, and isn't necessarily a bad idea. But Supervisors Campos, John Avalos, and Eric Mar tried to impose more sweeping limits on how many units can be turned into tourist hotels. Sup. Norman Yee tried to restrict STRs in single-family neighborhoods, but lost his effort, too.
Sup. London Breed introduced (and won approval for) an amendment that would make it easier for nonprofits to sue if a building that was cleared by the Ellis Act was later rented out as Airbnb hotel rooms. And a Campos amendment that would bar any building with an Ellis Act eviction to be rented to tourist won 8-3 – but Chiu (along with Farrell and Teng) voted against it.
Mar suggested that in-law apartment legalized under the city's recent amnesty shouldn't be rented to tourists. His point: The in-law legislation (sponsored by Chiu) was designed to create more affordable housing in the city. If those apartments are instead rented to tourists, the whole point of legalizing them goes away.
"That law was not passed to create hotel rooms," Mar said.
Avalos argued that even rentals where the host is home should be limited to 90- days – because "short-term rentals replace long-term tenants."
There are, he said, "huge needs that need to be addressed for people who call San Francisco their home."
But both the ban on in-laws and the 90-day limit were rejected by the same 6-5 vote, with Campos, Kim, Mar, Yee, and Avalos voting in favor, and Chiu, Wiener, Mark Farrell, Katy Tang, London Breed, and Malia Cohen siding with Airbnb.
One of the more contentious – and in the minds of critics, astonishing – votes was the rejection of the Campos amendment mandating that Airbnb pay its back taxes.
There's no dispute from city officials that short-term rentals are subject to the city's hotel tax. Since April 3, 2012, when the city tax collector ruled that Airbnb and its hosts were liable for paying the same taxes as other commercial hotels, nobody has serious contended that the corporations could continue to duck their tax bills.
But Airbnb has only in the past few weeks started collecting and paying that tax – which means, by the estimation of Campos, that about $25 million is back taxes is due.
"This is not a tiny company sleeping on air mattresses anymore," he said. Airbnb is now a $10 billion corporation – "and it's only fair that the company make good on its back taxes."
In the past, when the city has legalized practices (like renting out parking spaces), back taxes were a clear requirement.
The Campos amendment would have stated that the law would only take effect after the tax collector certified that all back taxes by all platform operators had been paid.
Campos said that it would be unfair to small businesses, which have to pay all their taxes, to allow this giant company to avoid playing by the rules. "In San Francisco, it shouldn't just be the little people who pay the taxes."
Chiu and Wiener both argued that the city can collect back taxes anyway, and that the legislation had nothing to do with the issue. But the city hasn't collected those back taxes – and while Airbnb might fight the question in court, if the price for legalizing its practice (and raising the company's market value in advance of a likely IPO) is $25 million, there's a good chance Airbnb would just pay up.
And yet, that went down by the same 6-5 vote.
Then the board voted 7-4 to approve the bill, with only Campos, Avalos, Mar, and Yee dissenting.
"It's very disappointing," Campos told me.
So what happens now? Well, there's at least a chance that the ballot initiative that would shut down most of this short-term rental activity will move forward. "That is what I will recommend very strongly to our coalition," Welch said.
In the meantime, Casey told me, the vote was a dramatic indication of the difference between the two candidates for state Assembly. "It draws a very clear line," he said. "Which side are you on – funding schools and libraries or giving a $10 billion corporation a tax break?"