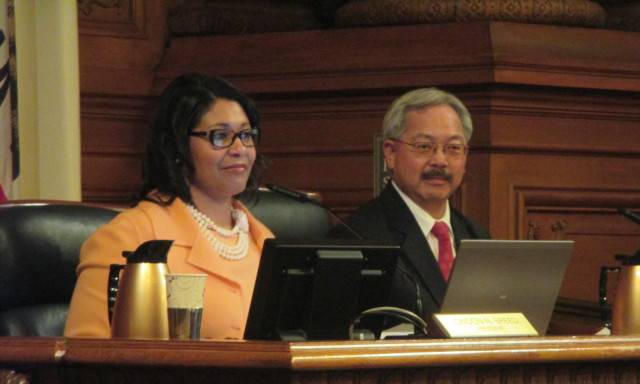 It now appears likely that London Breed will be the next mayor of San Francisco.
There are only 8,000 ballots left to count, and Breed is ahead by more than 1,800 votes. There is no pattern in any of the votes counted since Election Day that would suggest Mark Leno can catch up.
In the end, her victory margin will probably be less than one percent – which is a good bit short of a mandate. That would also have been true if Leno won.
It's clear this town remains divided: The Board of Supes just picked up a progressive majority at the same time that Breed, who was and remains part of the more pro-growth, pro-tech camp, is winning the top job.
There will be plenty of time to analyze the campaigns and talk about ranked-choice voting. There's also plenty of time for progressives to think about 2019 – because Breed will face the voters again in 17 months.
But for now, barring some very unusual results from the remaining ballots, it's time to start thinking about what the administration of Mayor Breed looks like.
And based on her campaign, and the people she works with and the ones who supported her, it's likely that we won't see a lot of major policy changes at City Hall. Breed will, I suspect, keep most of the Ed Lee department heads and City Hall insiders, and won't do anything significantly different from what he did in terms of taxing, regulation, and spending money.
The same people who were influential in the Lee Administration will be influential in the Breed Administration.
It's also likely that she will use her office to promote candidates for the Board of Supes in November who are more likely to agree with her agenda and support her.
That means progressives have a big challenge in districts 6 and 10. In both districts, Breed won a plurality – but not a majority – of the votes. The outcome of those races will determine the board majority for the next two years and for the crucial part of Breed's administration.
And then there's the issue of D5.
Breed will appoint her replacement – who will then have to face the voters in November. (UPDATE: This is wrong;  The earliest she can take office is July 10, and the City Charter says the appointee must run in an election 120 days out. It's 119 days from July 10 to the November 2018 election. So the incumbent would not be on the ballot until November 2019). The person she chooses, and the political alignments that creates, will set the tone for her administration and for the direction of the city.
Ed Lee made big mistakes with his appointments in D3 and D8; neither of them was able to win re-election the first time they faced the voters. Breed represents a district that has among the most left-leaning voters in the city, and both district supervisors before her were stalwarts in the progressive movement.
If she appoints a person who is aligned with her politics, there will be a major battle in November. Dean Preston came close to unseating her as an incumbent; he or another progressive candidate would have a strong campaign against a moderate, pro-tech, pro-growth newcomer.
If Breed's replacement in D5 is someone the progressives can work with, it will be a sign of a different type of politics at City Hall.
The new mayor won't take office until mid July; the votes won't be certified by the DOE until July 5, and then the supes need to certify them, too.
So while this race is close to over, the politics of San Francisco, 2018, are only beginning.