ARTS FORECAST Pride is looming in the distance like a monstrous, rainbow-bedecked Stay-Puft Marshmallow Man—look for my guide to drop soon—but alongside the parades and parties, and, hey, even a little politics, lies a vibrant time for queer arts in the city, mostly courtesy of the 21st Annual National Queer Arts Festival (through June 28). You'll find a plethora, nay, a panoply of Pride-related (and not so much) performances and activities that will amaze and astound. 
Take the centerpiece Fresh Meat Festival (Fri/14-Sun/16): three days of incredible trans and queer dance, storytelling, music, art, and everything else you can think, with an emphasis on the new. Hosted by the local legend Shawna Virago and Sean Dorsey, this 12th annual edition includes "a transgender superhero rock opera, world champion gay ballroom, award-winning queer disabled dance pioneers, gender-bending dance-theater, trans comedy, and more." Boo-ya! More info here. 
MORE UPCOMING EVENTS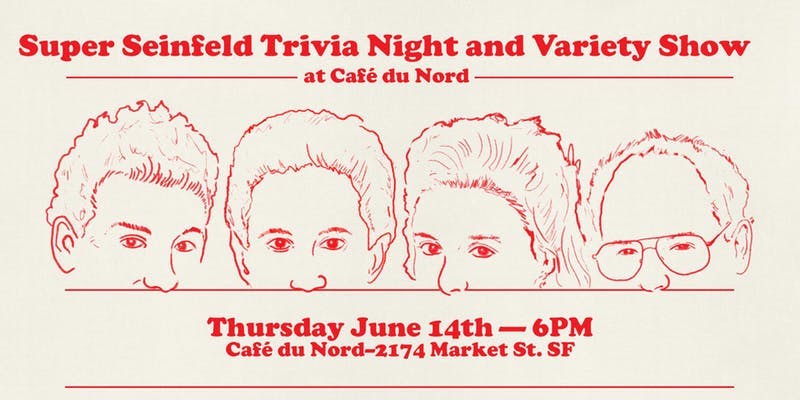 THU/14 WTF SUPER SEINFELD TRIVIA AND VARIETY SHOW From the creators of the wildly popular Simpsons Trivia Night comes "a Seinfeld trivia night with awesome prizes, plus a comedy showcase, plus a themed food menu, with themed cocktails, and more fun stuff!" Comics include Aviva Siegel, Drew Harmon, Sam DiSalvo and Alexandria Love, and it's hosted by local music writer wiz Adrian Spinelli. I am dying to know what the Seinfeld menu is, and it better include a big salad. 6pm, $5-$8. Cafe Du Nord, SF. More info here.
THU/14 NIGHTLIFE PUFF 48 Hills sponsors this super-fun and lively queer cannabis appreciation evening at the Stud, with burlesque, cabaret, and live music performances, as well as giveaways and showcases of the most innovative local products coming out today! With DJ Sergio Fedasz and rock goddess Maria Konner. 7pm-10pm, $10 suggested donation. the Stud, SF. More info here. 
THU/14, FRI/15 + MON/17 MUSIC BORIS GODUNOV A semi-staged production of Mussorgsky's classic at SF Symphony, with all its dramatic bombast and poetry. "Inspired by Pushkin's Shakespearean tragedy, the work follows the rise and fall of the 16th-century Tsar Boris Godunov in a story underpinned by ambition, power, and betrayal." 8pm (2pm Sunday), $35. Davies Symphony Hall, SF. More info here. 
FRI/14 STAGE SHORT-LIVED IV "It's the country's largest audience-judged theater competition, with thousands of audience members scoring hundreds of artists who put together 48 plays over 9 weeks—all competing for a $5,000 cash prize." Phew, ought to be a riot! The massive competition runs in rounds until August 4, get in on the ground floor with your theater critic skills. 8pm, $20-$40. Piano Fight, SF. More info here.  
FRI/15 MUSIC FANTASTIC NEGRITO "Fantastic Negrito is a man's truth told in the form of black roots music. Each song a real story about a musician from Oakland who experienced the highs of a million dollar record deal, the lows of a near fatal car accident that left him in a coma, and is now in the phase of rebirth — despite his playing hand being mangled." We love him. 8pm, $22.50. The Fillmore, SF. More info here. 
FRI/15 NIGHTLIFE FATIMA YAMAHA The Dutch DJ, producer, and musical polymath Bas Bron scored a massive re-hit a couple years ago when a record he released in 2004 as Fatime Yamaha, called "What's a Girl to Do," was re-released and spoke to an entire generation eager for laidback beauty and sultry yet desultory noodling (not to mention a queer subtext). His DJ sets, usually consisting His DJ sets, usually consisting of his own expansive, unhurried tracks, are just lovely. This is a Lights Down Low party, so be prepared for excellently rave-y vibes. 10pm-3am, $20. Audio, SF. More info here. 
SAT/16 NIGHTLIFE CIEL Dance music was really so incredibly boring without women at the forefront! Toronto's incredibly talented, outspoken Ciel is leading the charge to diversify the Canadian (and worldwide) scene, while bringing some excellent music with her. She's playing the Mixed Forms party, which brings together one of the most colorful and vibing crowds in the city. With Chicago's SOLD, whose singular ASMR approach to techno will have you feeling yourself, and local kids Sepehr (live) and Trevor Sigler. 10pm-4am, $15-$20. the Stud, SF. More info here.  
SAT/16 ART DOMESTIC. POLITICS. Artist Philip Hua imbues everyday items with intense meaning that reflects our violent and frenzied moment. "Recalling day-of-the-week underwear, photographs of neighbors and loved ones in armored vests for each day of the week imagine a world in which protection against gun violence is just another article of daily wear.  Duvet covers depicting snippets of articles from the marriage equality movement symbolize the private nature of marriage and the public victory for love and equality. And a hand towel designed using a man's fingerprints to let women wipe away the stain of men's unwanted advances draws inspiration from the #MeToo movement are just some of the items that are included in the exhibition." Opening reception 3pm-5pm, free. Show runs through June 31. Ruth's Table, SF. More info here. 
SAT/16 FESTIVAL CORGI CON: SUMMER EDITION I once stumbled upon this congregation of Corgi-lovers unawares while strolling down Ocean Beach, and it was one of those perfectly surreal SF moments. Corgis in little superhero outfits! Corgis racing for prizes! Hot Corgi dads! So many tiny legs and waggling backsides! It was all very overwhelming. 10am-2pm, free. Ocean Beach, SF. More info here. 
SAT/16 AND SUN/17 FESTIVAL 64TH ANNUAL NORTH BEACH FESTIVAL "Featuring over 125 arts and crafts booths, dozens of gourmet food booths, live entertainment, Italian street painting, kids' chalk area, poetry readings, beverage gardens, local non-profit organizations and the blessing of the animals in The Shrine of Saint Francis of Assisi." If your animal has sneezed, get it blessed!