ONSTAGE In one intriguing scene in King of the Yees (at SF Playhouse through March 2), the Sichuan Face Changer (Jomar Tagatac) poses a riddle to playwright Lauren Yee (played by Krystle Piamonte):
I am rich, but poor
Bitter, but sweet.
I am hard to know, but easy to meet.
I've been a jailor, a protector, a stranger, a friend,
A lie, an illusion, a means to an end.
The playwright —played with confidence and élan by Piamonte—is now stymied. "Nothing could be that many things at once," she protests.  But she knows she must answer the Face Chanter's riddle if she is to track down her father, who has mysteriously disappeared. We, too, are stumped. But this isn't the first moment that unpredictable playwright Lauren Yee throws us off guard.
The show opens with a play within a play—Actor 1 (Jomar Tagatac) and Actor 2 (Rinabeth Apostol)—are rehearsing a "two-hander," playing Lauren Yee and her father Larry Yee.
When the real Larry Yee in the play (Obie-award winner Francis Jue) stumbles on to the set, his daughter doesn't want him to hear the actors' lines she has written because she knows her father will criticize her for falsely representing Chinatown or revealing some unsavory family secrets. 
But Larry Yee doesn't want to leave. In fact, he wants to tell the story of his family, his community activism, and especially his loyal campaigning for "cousin" State Senator Leland Yee. He even wants to get the audience involved, and passes out voter registration forms for them to fill out. 
In an elegant set design by Bill English, the stage is bare except for a red double door under an ornate frame. It is decorated with gold Chinese characters that we learn designate the Yee Fung Toy Family Association.
The doors "on Waverly Place, wedged between Stockton and Grant" are ones "you have passed by dozens of times" says Actor 2, playing Lauren. But they serve as a magical metaphor of the entrance into the tradition and myths of San Francisco's Chinatown. For father Larry Yee they represent the Yee family history, dating two millennia back to the Model Ancestor. To playwright Lauren they represent "obsolescent Chinatown," and all she does not understand about her heritage and about her father. Try as she might, she cannot even budge the doors open, even when she uses every language in the book—Open Sesame! Alla Kazam!—except Cantonese, which she does not speak.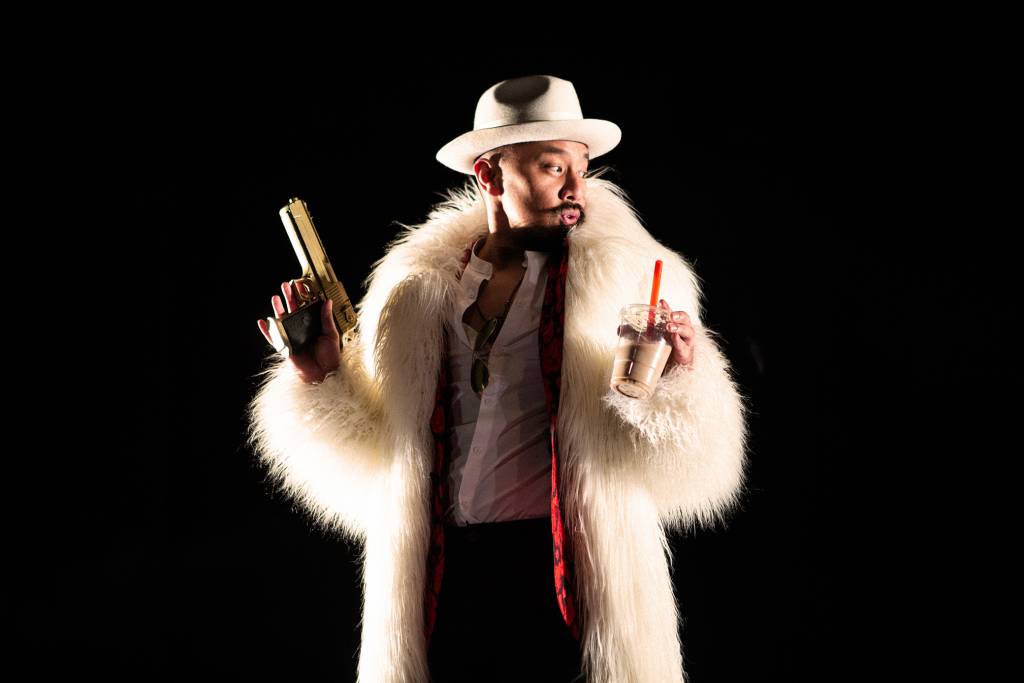 In King of the Yees, Yee, a Horton Foote Award winner who has current commissions at Lincoln Center and the Geffen Playhouse and whose new play The Big Leap is opening at ACT next month, portrays an intricate family drama, a unique insiders' view of Chinatown, a dissection of the creative process, and an exploration of  the mysterious ways values and memory are passed from one generation to the next. Yee's imaginative tale, directed by Joshua Kahan Brody, envelops both myth and  popular culture—and she skillfully weaves in the history of Chinese immigration: paper sons, the laborers on the transcontinental railroad, tongs, and the Chinese Exclusion Act. 
The play has been produced in Chicago, La Jolla, and other cities, but Yee says that she is especially thrilled to have it staged in San Francisco, just blocks away from the real Chinatown where she grew up.
Though the story includes many familiar tropes like a lion dancer, an erhu player, firecrackers, fortune cookies and "the best cheap liquor in Chinatown," Yee has a knack for upending the expected and undermining stereotypes. She uses dance, mime, drama and lots of laughs to make every scene dynamic and engaging. 
The program listing of Jomar Tagatac as Actor 1, Rinabeth Apostol as Actor 2  and Will Dao as actor 3 is deceptive, because these three versatile and extremely talented actors play many roles. On a rehearsal break, Actors 1 and 2  curse the ways Asian American actors are ignored or marginalized in the entertainment industry.  Actor 2 says, "I had no idea the whole thing was going to be so Chinese-centric, I thought they were just looking for general Asians," and laments that she can't do an authentic Chinese accent because she is actually Korean—and adopted, at that.
Actor 1, who confesses that his "mother's mother was Irish"  tries to teach her to speak with an authentic stage-Chinese accent, and the results are hilarious. They also play roles ranging from the notorious gangster Shrimp Boy Chow (Tagatac), to an FBI agent (Apostol), to a drag queen version of the ancient Model Ancestor (Dao). Perhaps, an ironic twist on the characterization of Asian Americans as the Model Minority?
The trio also portray the Lum elders, the wise ones who hang out in shabby clothes on Portsmouth Square and who hold the clues Lauren needs for her quest to find her father. What is the price they exact in return? Lauren has no money, so she offers something even more precious: helping their grandchildren fill out their college applications. The Lum elders are eager, but reject Lauren's proposal of her alma mater, Yale. "No," they answer in an adamant chorus, "UC!"
This marvelous play is so full of surprises and contradictions, so thought-provoking and intriguing—it is so many things at once—that the answer to the Sichuan Face Changer's riddle might just be King of the Yees.  
KING OF YEES
Through March 2, $25-85
San Francisco Playhouse 
More info here.