Mayor London Breed has ordered SF Police Chief Bill Scott to relinquish control of the investigation into the release of a police report on the death of Jeff Adachi.
In a press release sent just before 5pm Friday, Scott said that at the mayor's request, the department is seeking an outside agency to take over its inquiry into how freelance journalist Bryan Carmody obtained the confidential police report.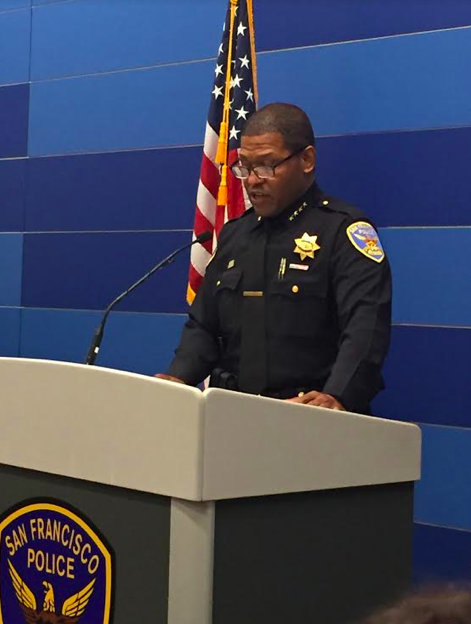 Scott did not name the agency taking over the investigation. However, Carmody previously said when police used a search warrant to raid his home and office on May 10 – after attempting to break down his door with a sledgehammer – they were accompanied by two FBI agents who tried to interview him. Weeks earlier, Carmody said police also threatened him with a federal grand jury subpoena if he did not reveal his source.
Since the raid, SFPD has come under criticism and ridicule for their flagrant violation of the state's shield law, which protects journalists from being forced to disclose sources or unpublished material. After previously showing a clear lack of understanding about the shield law, Scott today finally acknowledged the criticism.
"I am specifically concerned by a lack of due diligence by department investigators in seeking search warrants and appropriately addressing Mr. Carmody's status as a member of the news media," Scott wrote. "This has raised important questions about our handling of this case and whether the California shield law was violated."
Scott said the Department of Police Accountability will investigate SFPD's use of a search warrant, as well as continue their own investigation into the unauthorized release of the police report.
"I am encouraged by the statement…that Mayor London Breed is taking these issues seriously and is calling for an external review of the police department conduct," said Ben Berkowitz, an attorney representing Carmody. "The most important thing is we get real reform so this doesn't happen to journalists again in San Francisco."
Berkowitz has also previously represented 48hills.
"What's been remarkable about this case, and made me so angry when I learned about it, is they targeted a guy that was an everyday individual journalist," Berkowitz said. "They never would have broken down the door of the San Francisco Chronicle with a sledgehammer."
The Chronicle obtained the same leaked police report Carmody is being investigated for, but said their copy did not come from Carmody. The Chronicle has not been investigated by SFPD for their possession of the report.
"This mission of the free press isn't just carried out by journalists in ivory towers – it's carried out by journalists doing the work every day. They need the same deference reporters at major newspapers get," Berkowitz said.
On Tuesday, attorneys for Carmody and the First Amendment Coalition appeared in court to quash the search warrant and unseal the probable cause memos SFPD presented to judges. At the time, Ronnie Wagner, SFPD's in-house attorney, told the court police would return the 68 items they seized from Carmody.
But Carmody tweeted Thursday not all of the items had been released.
"Everything was not returned, as was represented to the court," Thomas Burke, a first amendment and media attorney representing Carmody, confirmed Friday. Burke also represents 48hills on media-law issues.
Judge Samuel Feng declined to issue a ruling about the warrants from the bench Tuesday, instead setting dates for additional briefs to be filed. A court date to hear the matter won't be scheduled until June 10.
David Snyder, executive director of the First Amendment Coalition, said if the city and SFPD really cared about transparency as Scott claims, they could release statements of probable cause from the search warrant now, without waiting for the motion his organization filed to be decided in court.
"We understand that faith in SFPD has been shaken and we will work hard to restore it," Scott wrote.
San Franciscans "deserve better," he added.