ONSTAGE Probably most of us can remember the first time we saw Cabaret (at SF Playhouse through September 14).
For many it would have been the groundbreaking movie directed by Bob Fosse with Liza Minnelli as nightclub singer Sally Bowles and Joel Grey as the beguiling Kit Kat Klub MC. Luckier ones might have seen it on Broadway with Lotte Lenya, widow of composer Kurt Weill, as Fraulein Schneider, and Joel Grey again (Grey is one of only a handful of actors to win both a Tony and an Oscar for the same role). Younger audiences may remember its Broadway revival with Alan Cumming as the MC and a series of Sallys including Natasha Richardson, Brooke Shields and Molly Ringwald.
Whether or not you've seen one or more of these star-studded earlier versions, the current production at the San Francisco Playhouse will still knock your socks off. Maybe it's the dynamic direction by Susi Damilano, co-founder and producing director of the San Francisco Playhouse, or the hard-hitting songs—including the classics "Willkommen, Bienvenue, Welcome" and "Money [Makes the World Go Round]" by John Kander and Fred Ebb—or the fact that what's going on outside the theater resonates deeply with the threat so effectively evoked on stage.
Cabaret is based on Christopher Isherwood's stories inspired by his experiences as a young writer in the 1930s Weimar Republic of Germany, just as the Nazi Party was in ascendance. Isherwood's story was turned into the play I Am a Camera by John Van Druten, and later adapted into Cabaret by Joe Masteroff. The host for the evening is the MC of the Kit Kat Klub, played by John Paul Gonzalez. Our first glimpse of him is a pair of eyes behind a peephole in the door of the club, then a beckoning arm, and finally his long, muscular fishnet-and-heels clad leg.
He tells us to "Leave your troubles outside," and his gaze is so seductive that we readily accept his invitation to "Come to the Cabaret." Once inside, we are immediately exposed to the lusty depravity of 1930s Berlin. The Kit Kat dancers, women and men, are all dressed in kinky black leather corsets and stockings. The daring costumes (and they have many!) are by Abra Berman. They join the MC in singing "Wilkommen," while performing a dazzling dance that includes every simulated sex act you can imagine.
So, even before we meet Clifford Bradshaw (Atticus Shaindlin), a young American aspiring novelist who arrives in Berlin with his typewriter and not much else, we know that he is in for a wild ride. On the advice of Ernst Ludwig (Will Springhorn, Jr.) whom he meets on the train, he takes a room in a boarding house run by the elderly Fraulein Schneider (Jennie Brick) on the Nollendorfplatz (quite near to where Isherwood actually stayed).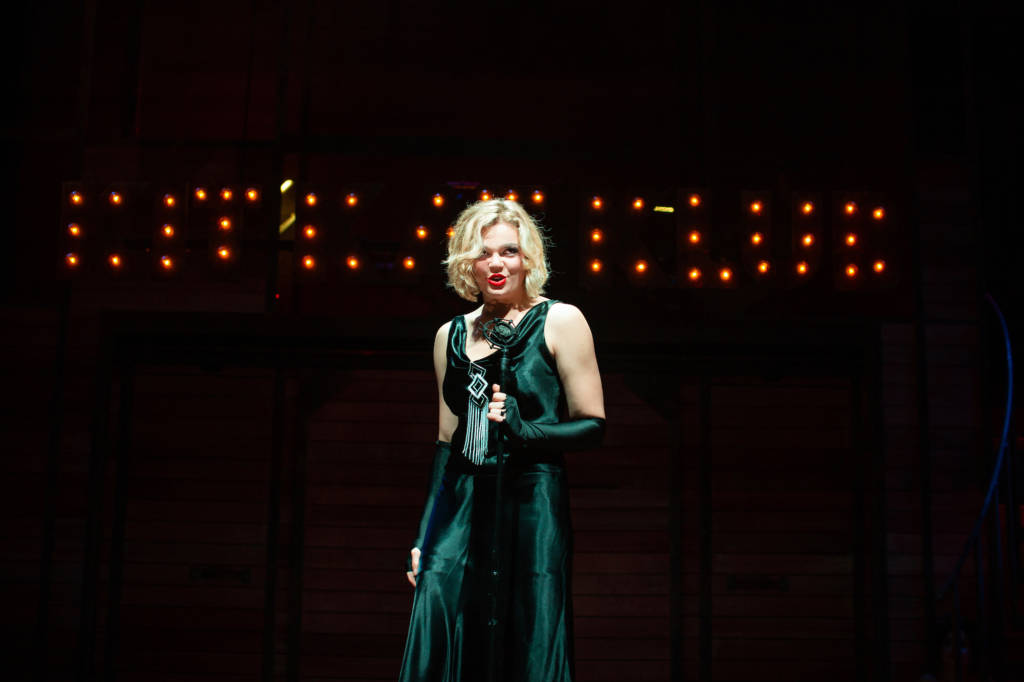 On Bradshaw's very first night in the city, he meets Sally Bowles (Cate Hayman), a vivacious British torch singer at the Kit Kat Klub. He also runs into a former male lover there, Bobby (Zachary Isen), which complicates matters when fur-clad Sally later shows up at his room with her suitcase. She convinces him (and Frau Schneider) that she should move in, and he reluctantly agrees. Despite himself, he falls in love with her.
Hayman has a terrific voice and range. Her nightclub songs are growling and sultry and her rendition of the lament "Maybe This Time" is truly sublime. But her Bowles—who, granted, is supposed to be oblivious to the ominous times—is just too peppy. The contrast with the understated Cliff makes it hard to believe the chemistry between them. There is a more tender, convincing love story between Fraulein Schneider and her Herr Schultz (Louis Parnell), a Jewish fruit vendor. Their dance duet "Married," is a sweet and welcome interlude as the political storm clouds gather.
A musical quintet, directed by Dave Dobrusky, who is also the resident music director at 42nd Street Moon, plays on stage behind a scrim. The musicians are outstanding, particularly Nick DiScala who played clarinet and saxophone on opening night. The combination of live music, innovative choreography by Nicole Helfer and the exuberant energy of the dancers is exhilarating.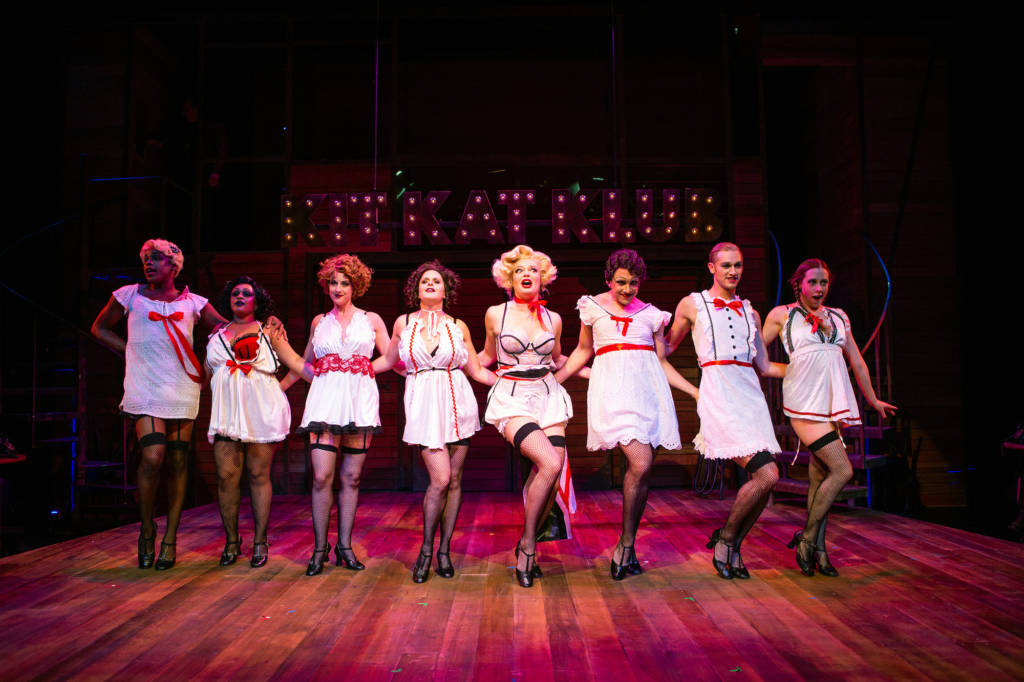 The character who holds it all together is the magnetic Gonzalez's MC. His subtle shifts in expression reflect the delicious pleasure he takes both in the erotic dances and in thumbing his nose at societyís conventions. His performance alone is worth the price of admission.
When the second act begins the threat of creeping fascism becomes more palpable. The Kit Kat dancers are still in their sexy outfits, but this time they have added military caps and knee-high leather boots. Their lascivious dance ends with a goose-step. The rise of Nazism and anti-Semitism begins to take its toll—a brick is thrown through the glass window of Herr Schultzís fruit market, Bradshaw is beaten on the street for refusing to help a Nazi operative. Yet others get by unscathed, either by ignoring the jackboots or trying to get along.
This pivotal dilemma reflects today's conflict: how perilous does the situation have to become before we recognize it, before we act? Perhaps that's why Fraulein Schneiderís song, "What Would You Do?" resonates so strongly. Of course, all of Cabaret's audiences, from the first production in 1966 to today, know very well what happened in Germany. But being reminded of how pernicious fascism can be as it sneaks up on you is still deeply disturbing. Even the outré dancers who have created their own hedonistic bubble in the Kit Kat Klub are not immune to the horrors: They have to take off their shoes and don prison uniforms, some with a pink triangle some with a yellow star.
"Today, as the last of the Holocaust survivors are passing, it feels more important than ever to revisit this great story," explained Bill English, Artistic Director of the San Francisco Playhouse. "We must never forget and always stand watch against the power of ultranationalist hatred to take away our human rights." This musical will make you laugh, gasp, tap your toes, and cry—and remind you to never forget.
CABARET
Through September 14
SF Playhouse 
Tickets and more info here.