ONSTAGE It is the waning days of the Mughal Empire. The Emperor's rebellious son is leading an uprising. Famine stalks the land.
But you would never know any of this disaster from inside the walls of the House of Joy, the heavily guarded home of the Emperor's harem. There, food and luxuries are plentiful. Women are robed in lavish silks and jewels. No one, not even the servant girls, go hungry.
This is the world depicted in Madhuri Shekar's new play, House of Joy (through September 1), which is having its world premiere at the California Shakespeare Theatre. Cal Shakes Artistic Director Eric Ting discovered the play at the 2018 Bay Area Playwrights Festival and immediately scheduled it as part of the theater's New Classic Initiative.
Director Megan Sandberg-Zakian, who has previously collaborated with Shekar, explains in the program notes, "The title of the play is to be taken literally, there is a lot of joy in it."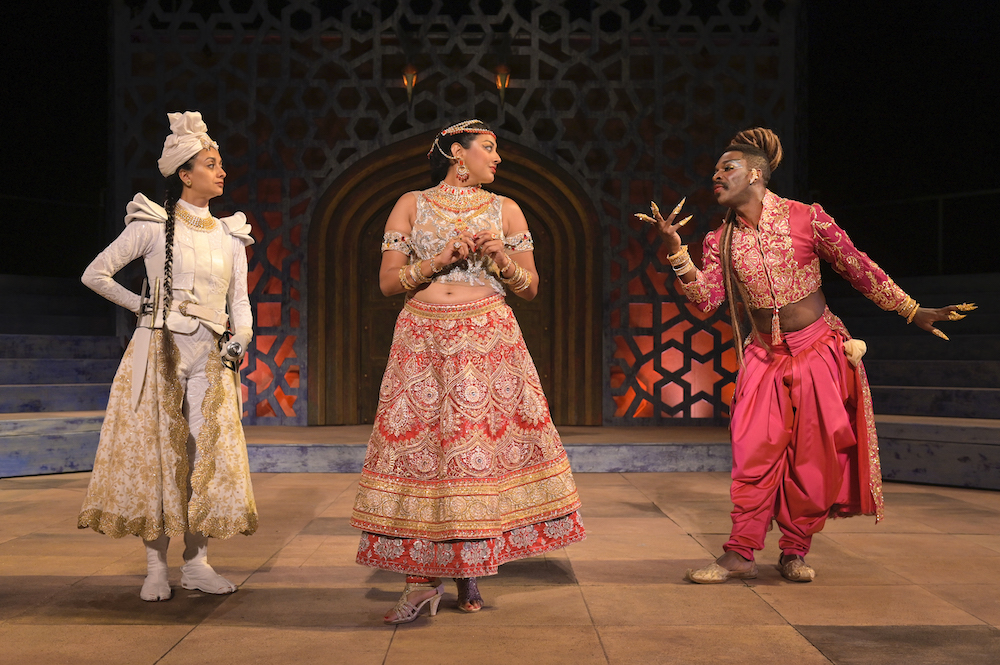 But from the very first scene, we learn that beneath the glitter and opulence, all is not joyous. Chief Queen Mariyam (Rinabeth Apostol), disguised as a servant girl, is attempting to escape with her young son in the dead of night. When she is discovered by two palace guards, Hamida (Emma Van Lare) and Roshni (Sango Tajima) Mariyam faces severe punishment if reported. Roshni is ready to turn her in. The big-hearted Hamida is more reluctant to subject her to a brutal penalty.
When Mariyam realizes she is trapped, she quickly pivots from desperate escapee to domineering ruler. Apostol plays her "Chief Queen card" with great aplomb and authority. After all, she is the sovereign who holds the fate of these palace guards, mere servants, in her hands.
They let her go, but she is caught again, this time by the Emperor's sister Princess Noorah (Lipica Shah), a woman who cannot and will not be intimidated.
From there, the palace intrigue unfolds. Those who think they know all that goes on behind the walls, like Noorah and the eunuch Salima (the magnetic Rotimi Agbabiaka) are cleverly tricked by underlings. False rumors spread. Escape plans are hatched and then abandoned. Loyalties are tested. Secrets are shared.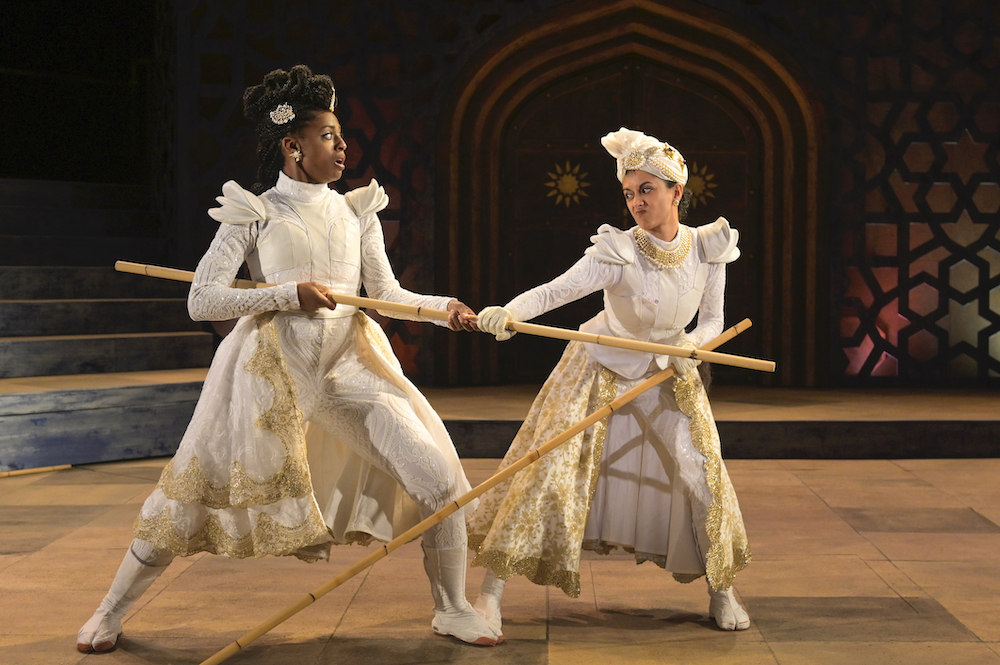 As the nature of the harem is revealed, each character—royal and servant alike—has to make a choice: whether to stay in the gilded cage, with all the security it promises, or to opt for freedom in an uncertain outside world. Mariyam has already made her choice. Noorah, Salima and the commander of the guards Gulal (Nandita Shenoy) seem determined to stay and uphold the Empire, despite the death and deception required to do so.
Hamida wrestles with her decision. As she tries to figure out the right thing to do, she attempts to enlist support from her confidante Roshni and her new crush, the palace doctor Thermometer (Raji Ahsan). Director Sandberg-Zakian writes that Hamida's dilemma reminds us that we have a choice: "We can feel despair as the forces of history work around us or we can ask ourselves, as Hamida does, what kind of human do I want to be in the middle of this?"
Shekar's exploration of the harem is complex: though it was an inherently oppressive institution, it also cultivated the prowess of women, especially as formidable fighters and guards, since no men (except the emasculated eunuchs) were allowed inside the walls. Even the male doctor had to "examine" his patient the Chief Queen from behind a screen, without touching or seeing her.
House of Joy imagines the lives thousands of women with a wide variety of skills who were forcibly enslaved from Africa, Japan, India, the Philippines, and Mongolia. The playwright draws on the medieval text of The Jahangirnama, which describes a harem of 15,000 women maintained by a Sultan in central India in a site he called "City of Joy." Among them were hundreds who became experts in wrestling, archery and the art of warfare.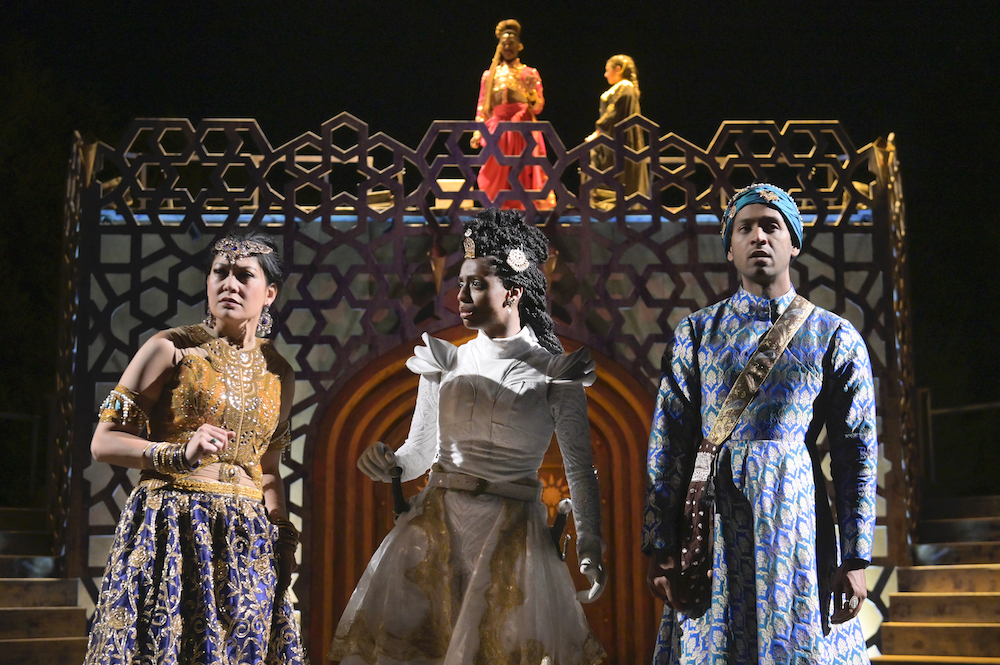 "House of Joy is set in a time and place that is very different from our own," Shekar writes. "But history repeats itself, and these characters face the same challenges, fears, and dangers that we experience here and now. But much like Hamida and her friends, I refuse to give up hope and the possibility that things will change."
The elaborate costumes by Oona Botez are worn with elegance and ease by the actors as if they were their every day clothes. Especially effective is the bejeweled silk outfit worn with great delight by the imperious eunuch Salima, accessorized with sparkling gold eyelashes and fingernails. When Hamida falls at his feet to beg his understanding, he pushes her away. "You'll rumple the silk," he chastises.
The set by scenic designer Lawrence E. Moten III is spare, but evocative. Two huge brass doors are framed by a latticework wall of Asian symbols, which also conveniently serves as a ladder for the descent and ascent of the palace guards. Four thin poles become a dungeon cell, when accompanied by the clanging of doors and the jangling of keys. This is just one of the brilliant uses of sound by music and sound designer Arshan Gailus.
The combat scenes with the elite palace guard are especially engaging, drawing on rarely seen Indian martial arts, which are among the oldest in the world. Van Lare, Tajima, and Shenoy, who trained for months with resident Fight Choreographer Dave Maier, are both fierce and graceful.
The first fight scene is a staged contest between Hamida and Roshni, using long, slender poles. The winner gets to choose her guard shift—but only for one night. Roshni later instructs Hamida in rougher street fighting techniques that she learned just to survive on the "outside" when she and her sister were starving. Later, both methods serve Hamida, when she battles her commander Gulal in the sewers beneath the palace—and the stakes are much higher. It is a fight to the death.
Though the physical combat on stage is intense, Shekar urges us to look at deeper sources of strength. She writes, "As we fight for a better world, let's hold our joy and love and anger close, because they are the best weapons we have."
HOUSE OF JOY
Through September 1
Cal Shakes, Berkeley
Tickets and more info here.