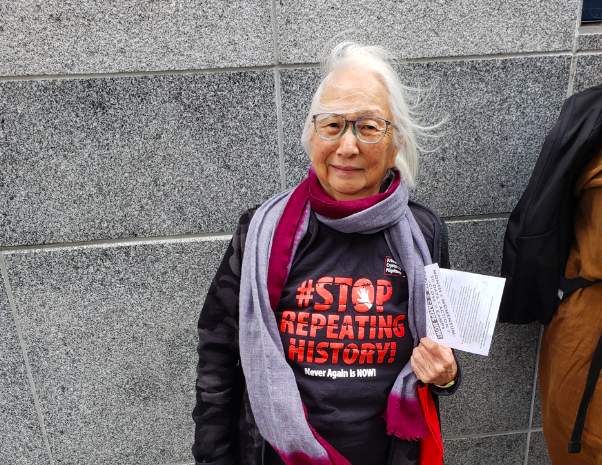 On Thursday afternoon, an ad hoc group called "Month of Momentum" assembled outside of the ICE building in San Francisco to condemn US border policy, call for the closure of all detention camps, and demand family reunification.
Today's press conference was the first of 30 planned days of action and protest at the ICE building. Actions will take place between noon and 1 pm nearly every day throughout the month of August, and each daily action will be led by a different sector or group (including lawyers, poets, librarians, health care workers, the interfaith community, and more). Members of the Bay Area's drumming community kicked off the first day of action and dozens of people showed up in support, including members of the Interfaith Movement for Human Integrity, the National Lawyers Guild, Galería de la Raza, and more.
According to the organizers, ICE currently detains more than 50,000 immigrants and asylum seekers in more than 200 facilities across the country. Media coverage has shown these detention centers to be overcrowded and in squalid conditions, with many reports that detainees are denied access to soap, toothbrushes, clean water, showers, decent food, and clothes. In even worse news, some reports state that at least 24 people have died while in ICE custody, including children.
"History teaches us that this is how it starts," said Penny Rosenwasser, one of the lead organizers of Month of Momentum. "These detention camps are not death camps now, but who knows what's going to happen? When people are rounded up, demonized, and separated from their families… this is where it starts and we have to stop it now."
Rossenwasser⁠—alongside activists Judy Graboyes, Larisa Casillas, Kate Raphael, and Lisa Geduldig⁠—felt outraged about the camps and family separation and decided that something had to be done. They put out a call to action and reached out to various activists, organizations, and community leaders; all were instrumental in organizing Month of Momentum.
As a member of Kehilla Synagogue in Oakland working on the immigration committee, Rossenwasser evoked the horrors of Auschwitz and drew parallels to the detention camps set up throughout the country. "'Never again' is now," she said.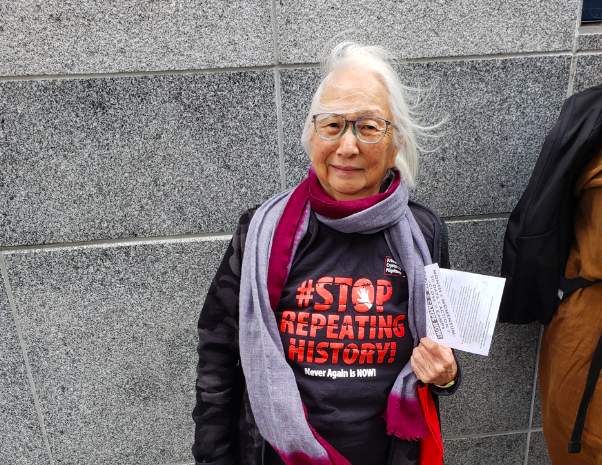 Chizu Omori, a member of Tsuru for Solidarity, a national coalition of Japanese Americans who organized against the use of Fort Sill as a child detention center, also warned of the potential of history repeating itself. At age 12, Omori and her family were detained in a Japanese internment camp in Arizona, and she went to the protest today to stand in solidarity with those being impacted at the border. "I am a living example of what the government has done in the past. We need to stop repeating history," she said.
Trump and his administration have threatened mass immigration raids across the country. These raids not only instill fear in undocumented individuals but also in communities of color throughout the country. Just a few weeks ago, an 18 year old U.S. citizen was released from ICE custody after nearly a month, despite providing proof of citizenship. The current administration is also moving to eliminate asylum claims at the border, despite it being legal to seek asylum on US soil.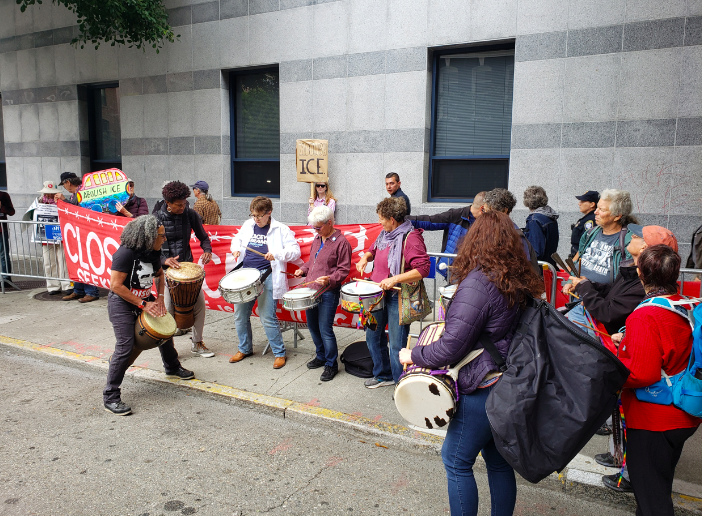 "[This administration] is refusing to let people in based on the color of their skin," said Rabbi Lynn Gottlieb, a member of the Interfaith Movement for Human Integrity. "We need to decriminalize people, because they're not illegal. And we need to close the camps⁠— it's our moral obligation to do so."
The organizers have set up a Facebook event page to keep up to date with the Month of Momentum, which can be viewed here.
While Facebook only allows events to last for 14 days, actions will continue throughout the month of August.