I never heard so much disco at a music festival as I did at Dirtybird West Coast Campout 2019 earlier this month. One of my longstanding complaints about festivals — that the genre is shunned because performers fret that attendees will associate it with "Disco Duck" and the like — got addressed in what I imagined to be the least likely of places. I'm not talking about Modesto Reservoir, but in a sense, that also applies.
It was not the only surprise of the weekend, which otherwise included lots of rubber-tipped archery, not-technically-sanctioned renegade stages that never stop, and extremely fucked up people holding forth intelligibly on minor distinctions between remixes. Dirtybird, which started as a series of free, barbecue-filled parties in Golden Gate Park almost 20 years ago before expanding to a full record label that now throws quarterly parties and annual campouts, is a vessel in which people place whatever looks and energy they have left over from Burning Man. 
Good vibes are absolutely paramount, so even if it took you and your friends five hours to drive in the gates, it's unseemly to complain too hard about it in the Dirtybird Facebook group afterward, much less demand a refund. The group is lively, hilarious, meme-filled, and surprisingly kind. The biggest argument seems to be over the question of whether it's OK for large groups of people to sit in front of the stage, and the winning side is neither "It's fine" nor "Not cool," but "Who cares? Let people do what they want."
Generally speaking, Dirtybird is rooted in house and techno, but its constituent DJs each have their own style, with hip-hop squaring off against acid house and plenty of drum-and-bass on the sidelines. East Coast Campout seems to be on permanent hiatus, but West Coast Campout is where California can flaunt its endless summer for one last hurrah, where the same lit-up pineapple art car keeps appearing like a glitch in the Matrix. It's where in-jokes become totems, the best of which was "White Clawde," a mashup of White Claw and cofounder Claude VonStroke, who's kind of a daddy but mostly a dad. ("All Aboard the S.S. Crackhead" was a surreal second place.) 
The ratio of genuine fans to sponsored influencers is very good even if the food, by and large, is not. Something as corny-sounding as a weekend-capping "family set" that lets every DJ on the label command the decks for two songs actually turns to be a highlight. Unique among festivals, there isn't a headliner per se. But it's definitely Claude VonStroke's party, with undying support from Christian and Justin Martin, the somehow-underrated J.Phlip, and plenty of others. Among increasingly high-profile label signees like Ardalan or Walker & Royce, plenty of non-Dirtybird acts like Bob Moses, Pillowtalk, and Josh Wink perform, too. And the line between between performer and audience is blurred like nowhere else — partly because a third of the Dirtybird attendees are DJs in their own right. You might see a partied-out but laser-focused Steve Darko at somebody's renegade stage at 6 a.m., just because it's a good venue to try something out.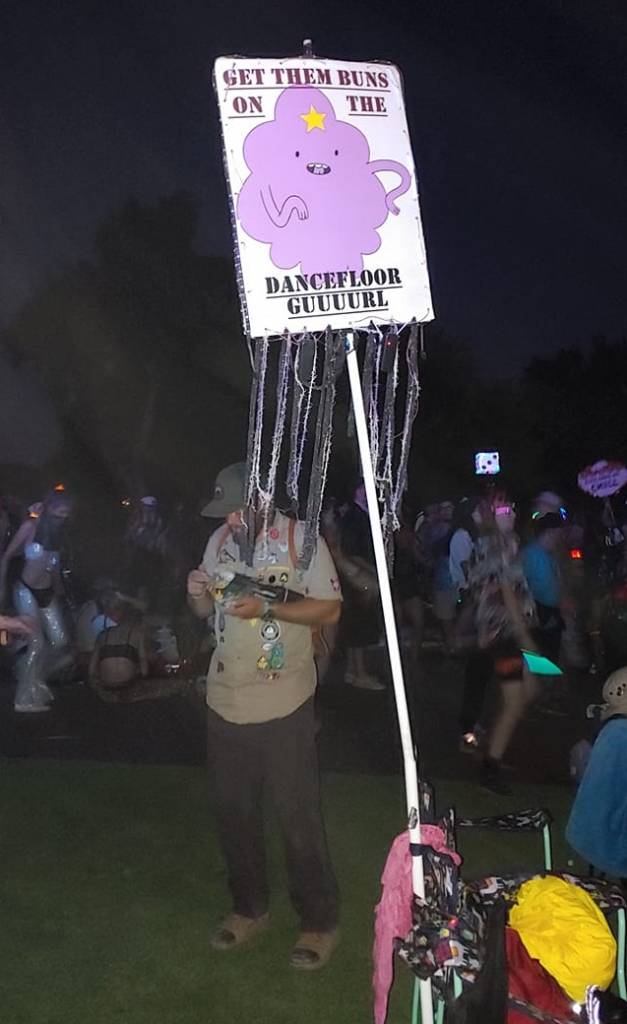 That's just as ordinary as seeing a little cordoned-off "hatching area" for future Dirtybird eggs, or a makeshift memorial to Grill$son, aka Chris Wilson, the longtime barbecue master who died suddenly in 2018. 
It's not quite as ordinary, though, as seeing a woman squirting breast milk while dancing by the AstroTurf that's the only thing keeping the main stage Birdhouse from feeling like a parking lot. #TiddyMilkGirl was such a hit that she even made Tosh.0. I hope she at least won a Bravocado Avocado merit patch for being uninhibited to the max, and also a little extra, because her likeness already graces a fan-made commemorative patch for 2020.
Campout is where you might hear the same song during several sets, including the as-yet-unreleased collaboration between Green Velvet and Claude VonStroke "Jolean." It is much more fun than your music-snob acquaintances will ever admit. I know this because I texted a friend who's kind of a hater that Philly rave pioneer Josh Wink's set was one of the most brilliantly constructed things I've ever seen, and I think I made him a little jealous. 
Even though the word has lost practically all meaning, Dirtybird is first and foremost a genuine community.
You have to do it the right way, though, which involves a bit of giving in. It's hot and it's cold and it's not for beginners. 
In a burst of end-of-the-decade sentimentality, I totted up the number of days I've spent at festivals since 2010. It came out to 115. That's almost four months, roughly half of which I spent sleeping in a tent. 
What little camping gear I own lives in a storage unit on the ugliest block of Potrero Hill, because I live in a small SF apartment. While walking around the reservoir, I felt a twinge of jealousy for the first time in my adult life of people who live in suburban houses where you can park an RV in a driveway and stash your Mars-colonizing ShiftPod on a shelf in the basement. The trick to Campout is making friends with full-on glampers, keeping their coolers replenished with the extra 30-packs of Tecate you filled your shopping cart with in Modesto. Although my sense of self-satisfaction for remembering toilet paper is near-total, there's probably always going to be an echelon of festival pros with massive packing checklists far above me and my rat's nest of a pup tent. I've never left a festival so determined to do it better next time.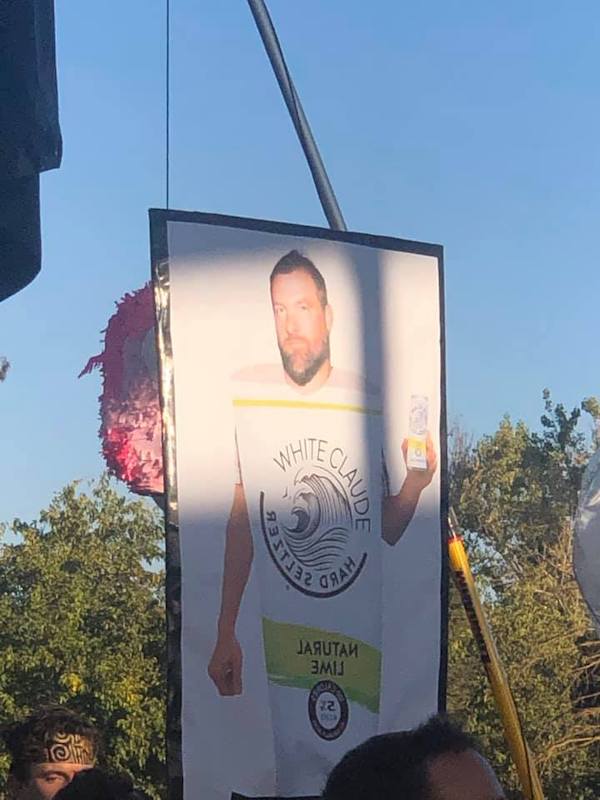 There's also the fact that this is basically summer camp. Divided into four randomly assigned teams — red, orange, green, and purple — everyone's competing to win at volleyball, cornhole, or kickball. Nothing matters and no one cares, but you're instant buddies with everyone who has the same colored bandana as you, and during the Opening Ceremony, the captains of each team made their case through dance. Joyful nihilism, or maybe the reluctance to ruin the good vibes with excessive competition, wins out. ("It doesn't matter!" was Purple's rallying cry.) If people were sensitive about Dirtybird's reputation for sometimes putting partying above the music, it came out mostly in bashing Fisher, a just-press-play DJ who also has a really good song in "Losing It." He wasn't there this year.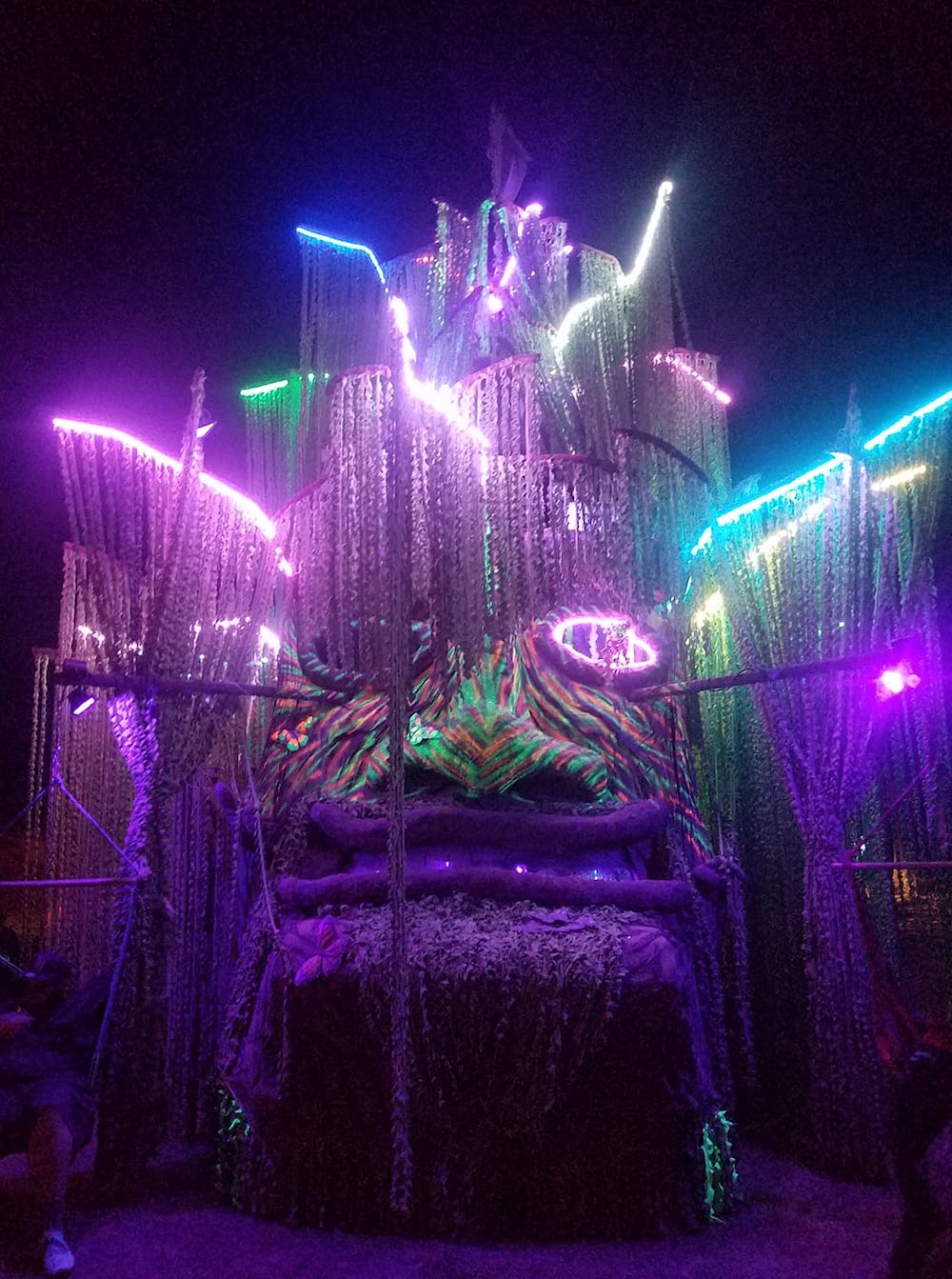 Part of this always feels like tempting fate, but it never ceases to amaze me when you have large groups of people — mostly young, largely male, mostly intoxicated — come together for four days and nothing completely terrible happens. (That's not always the case, of course.) Sexual assaults are almost certainly underreported, but even for people like me with virtually zero crowd anxiety, the specter of a few thousand drunk-and-high people funneling through a choke point at 2:15 a.m. without a lot of yelling or shoving is incredibly impressive. 
Dirtybird Campout is incredibly impressive. There was Eprom B2B Barclay Crenshaw (Vonstroke's government name) on Friday night at the Bass Lodge, there was Shiba San, there was Sacha Robotti, there was the afternoon dance-off between the Counselors and the Lifeguards set to a Billie Eilish remix, Ardalan's Mardi Gras parade, and Sammy Legs' silent disco set late on Sunday night when nobody wants to think about Monday. There was Claude's nephew who had just turned 21 and was attending his first Campout, and there was the somehow-perfect choice of Sade for the transition between Justin Martin and Claude during the family set. It led into — what else but? — "Jolean."
So: How do you like your eggs? With a lightning bolt through it.