"Do the right thing," Marie Harrison admonished the San Francisco Board of Supervisors in June, 2018. "You know it's not safe yet."
Harrison was accepting a commendation for defending her beloved Bayview Hunters Point from pollution.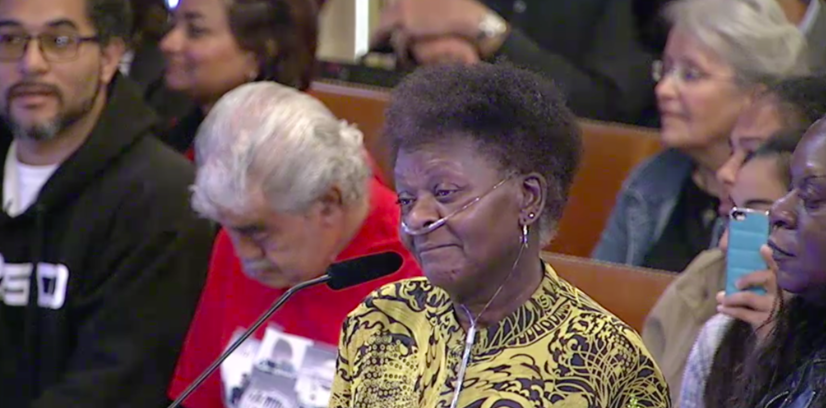 Less than a year later, she died of a lung disease most likely caused by the air she breathed.
In February, community activists of Bayview Hunters Point will honor Harrison's life with more than a plaque. A neighborhood committee will propose ten sites for air monitors, sponsored through grant funding from AB 617 and supported by the California Air Resources Board and Bay Area Air Quality District. The system will track pollution to help prevent losing more lives like Harrison's in the Bayview.
"Ultimately, I hope this project results in data that represents what the community has been experiencing, and I hope that results in many policy changes throughout BVHP," Dalila Adofo, Coordinator for the Marie Harrison Air Monitoring Project for Greenaction, said.
On top of the infamous Tetra Tech clean-up debacle and the shipyard's superfund site status, Bayview houses the engines that drive San Francisco's fabulous wealth, such as two major highways, ports, a sewage treatment plant and a former PG&E power plant that Harrison helped shut down. The impact of this vital infrastructure for residents has been higher rates of asthma, more cases of respiratory illness and more chances of heart problems than the rest of the city.
The air monitoring network, Dylos machines costing $400 each, will target particulate matter, or PM, from a size of ten micrometers (PM 10, which includes dust from crushing or grinding operations) to the finer two-and-half micrometers (PM 2.5, created by different forms of combustion, from motor vehicles to forest fires).
The abundance of construction sites, diesel truck traffic, and the high amount of industrial emission by various factories throughout BVHP contribute to this particulate matter pollution, according to Adofo.
"Unfortunately, what the Bayview is experiencing is typical not just in the US but around the world," Beth Gardiner, author of Choked, Life and Breath in the Age of Air Pollution, said by phone from London. "Air quality affects everyone, rich or poor, black or white, but inequality is a really important part of the dynamic too."
Gardiner, who reported on air pollution in Delhi, Bejing, and California's Central Valley for her book, said PM 2.5 particles have been found in the brain, heart, "even umbilical cords and placentas." These tiny particles are very strongly linked to increased premature death rates, heart and lung disease, aggravated asthma, decreased lung function, and Parkinson's disease. Sierra Magazine reported in December that, due to wildfires, San Francisco particulate concentrations reached 197 µg/m3 , over five times higher than the EPA guideline for 24-hour PM2.5 exposure.
Gardiner cited A Terrible Thing to Waste by Harriet Washington in distinguishing that it's not just poor communities but poor communities of color that suffer the most. Washington reported that communities of color in the US with a median income of $50-60,000 year had the same level of toxic exposure as white communities with a median income of $10,000 year.
"There are real health impacts with bad air," Gardiner said. "The science tells us very clearly that it makes people sick and literally shortens lives."
And as the science to study PM improves, the discovered effects get worse. A study from Harvard University revealed that even short-term exposure to PM 2.5 pollution for the elderly caused hospitalizations for renal failure, urinary tract infections, and skin and tissue disorders.
Community organized air monitoring networks of low-cost sensors are gaining popularity globally as local residents become frustrated with the standard reliance on more expensive but sparsely located reference monitors.
"There can be big differences in pollution levels even within neighborhoods," Gardiner said. "These micro-environments are very important to understanding individual exposure and the impacts on health."
Adofo said that communities are often told that the data they produce from these community-organized air monitoring systems are not accurate and cannot be used to change policy, which means collaboration with established agencies and reference monitoring systems from BAAQD and CARB is vital. They have gotten advice from successful community air-monitoring projects in Imperial Valley like Comite Civico del Valle and West Oakland Indicators in West Oakland. (San Francisco AQ launched this past summer, as well.)
"We don't want to create any more space for an agency to dismiss or belittle the data produced," Adofo said.
"We often get these requests to place these monitors," Michael Flagg, principle air quality specialist for BAAQD, said. "We are working closely with Greenaction on the quality assurance issues for the data." Flagg cited several measures for quality assurance, including collocation of community sensors near established reference monitors, as well as daily data review to catch any equipment malfunctions.
Adofo, who was mentored by Harrison, said she is inspired by Harrison's passion and sacrifice to this day. "You are in charge of your community and can make it better. No residential area should be next to radioactive waste or biodigesters or a concrete plant or industries without proper permits."
"There are no borders," Gardiner said. "These pollutants drift across the state and even the country. You cannot compartmentalize this off as someone else's problem."