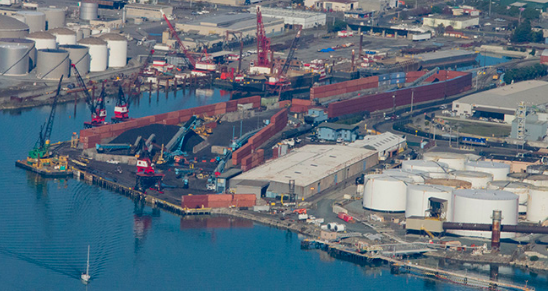 On Tuesday, January 14, to the delight of environmentalists and health advocates and the consternation of the coal industry, the Richmond City Council passed an ordinance banning the storing and handling of coal and petroleum "petcoke" within the city.
The ordinance, first proposed in 2018, addresses air-quality issues linked to an increase in coal storage at Levin-Richmond Terminal to meet an increased demand for coal in Asia. In 2018, nearly 1 million tons of coal was shipped from the terminal.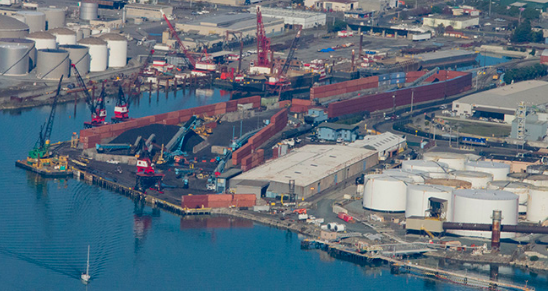 LRT management, the one terminal in Richmond that handles the banned substance, as well as Wolverine Fuels, which ships the mined coal to Levin from Utah, have threated legislation against the ordinance. A similar ban in Oakland is being fought in court.
"This has been a hard fight. A lot of sleepless nights," Janet Johnson, organizer of the "No Coal in Richmond" campaign, said.
The ordinance grants the Levin terminal three years to shift from coal to a different product, but United Steelworkers Local 326 President Mike Miller said he hopes the terminal uses that time for more negotiations.
"These are good, middle-class tax-paying jobs," Miller said. "Out of the blue to say we're going to close your doors is a little extreme. We're all for a better environment and cleaner air. But there are ways we can mitigate it, save jobs, and get to where we need to be to have a healthy environment."
According to a "Health, Economics and Science Analysis of Coal Operations at Levin-Richmond Terminal"completed in November of 2019, the terminal can develop "a feasible, viable market plan for the transition from exporting coal to importing and exporting other bulk commodities, including a variety of construction materials, iron ore, and scrap steel."
"My job is not to manage the terminal," said Eduardo Martinez, a Richmond City Council member for six years. "My job is to protect the health of the citizens. Levin has been in business a long time. They can make a just transition."
"This ordinance is the best decision and only decision that protects the welfare of the city," Martinez said. "Transitioning from fossil fuels is inevitable, and it's important to make that transition as quickly as possible. I suggest the terminal moves into the 21st century."
Miller said he is skeptical that any product other than coal can provide the same kind of union jobs at the terminal.
"You've got to consider supply and demand. What other things are there to ship? The United States only ships maybe 1-3 percent of Japan's coal needs. And they like the coal from the United States because it burns cleaner than the coal from Great Britain, Australia or Africa."
Miller suggested that the state-of-the-art Koch Carbon storage facility in Pittsburgh, completely revamped with a dome that covers the coal, could be a possibility for a Levin remodel.
"There are other commodities," Johnson insists. "One big issue is cleaning up the terminal before they do anything else. I don't care if they say it's spotless, it's not."
In a December letter to the East Bay Express, Steve Morse, retired member of Sheet Metal Workers Local 104, highlighted the global issues of climate change addressed in the Green New Deal that makes the fight much bigger than one port in one city.
"The Green New Deal offers a way forward and away from the Jobs vs. Environment paradigm that powerful corporations have bombarded us with for decades," Steve Morse wrote. "And that serves their bottom line by dividing groups who should be allies. An alliance with Big Oil is exactly the wrong way to go, and it will greatly hinder the alliances we need to make.
As far as making the Richmond Terminal "safer" for coal, Deputy Air Pollution Control Officer for BAAQMD Greg Nudd was measured in his response.
"Safe is not the right word. Safe is a judgment call," Nudd said. "It is technically feasible to look more like Koch in Pittsburgh. If Levin was willing to make the investment, then their coal dust emissions would go down. That wouldn't impact coal dust from the trains, though, which is a federal responsibility."
Nudd said that, embodied in the Green New Deal, to move away from a fossil fuel-based economy, there needs to be some alternative to transition workers into comparable paying fields.
"Union concerns about their livelihoods are valid. But that doesn't change the fact we need to get off fossil fuels."
Nudd also highlighted the environmental-justice issues that become as clear as the lines on maps when the history of who gets to live next to what is seriously examined.
"If you go to the old maps and see where the freeways and rail lines were put, they all go through redline communities," Nudd said. "Decades of racially motivated mapping has caused cities to use their land use powers to reduce negative impacts on vulnerable communities."
When put into the larger global context of climate change, such as the ongoing climate disaster in Australia, the world's leading exporter of coal where out-of-control fires have consumed nearly 18 million acres, or the fact the last decade was officially the warmest on record, the way forward seems clear.
"The world has to transition away from fossil fuels as quickly as possible," Nudd said. "The science is unequivocal. When you're talking about interstate commerce, you're talking about the federal government, but the current federal government is actively denying the problem. Which puts state and local level authorities in a bind."
"The use of fossil fuels has a global impact that is felt locally. We can address those local impacts, while hopefully waiting for a new federal administration that will actually take people's health into consideration."