In these incendiary political times, watching the three master sketch comedians of pioneering Latino troupe Culture Clash is like dipping your spoon into a warm, comforting bowl of menudo—although you can imagine they'd throw in a joke about someone in San Francisco trying to order the vegan version.
The trio has triumphantly returned with Culture Clash (Still) in America (through April 4 at Berkeley Rep), directed by Lisa Peterson. The show is so full of good will and laugh-out-loud-moments that you can't help but sink agreeably into your seat—and into a past when just speaking Spanglish on a stage, or representing the transgender immigrant experience, or shattering the "Latino" monolith into its roiling constituent parts were major cultural provocations.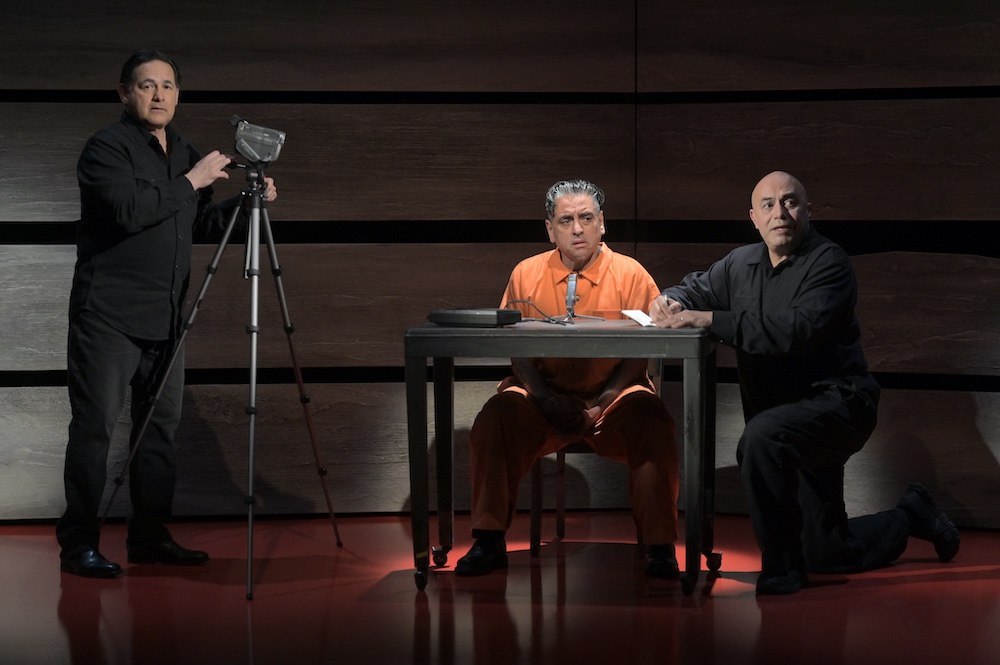 These elements are still more than welcome, if a bit well-worn. Richard Montoya, Herbert Siguenza, and Ricardo Salinas are gleaming and spry as ever, bounding affectionately across the stage like your favorite uncle, promising strong embraces and moments when you just throw up your hands and let them talk. In the 1990s, Culture Clash (which also involved the legendary likes of René Yañez and Marga Gomez) helped define a mode of comedy that spoke directly to rather than for marginalized communities. And if that meant delving into uncomfortable intracultural territory and saying the quiet part loud while deflating a few stereotypes, well, that just made it more important.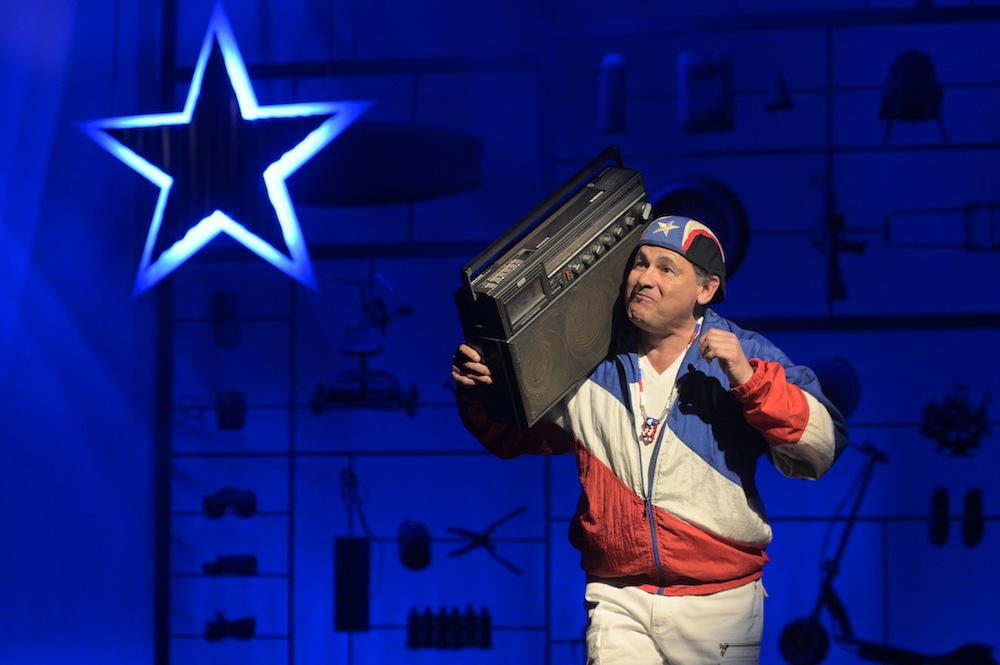 This kind of "equal opportunity offenders," "anti-PC" stance is creaky now—and has been dangerously weaponized by the alt-right—but in the hands of Culture Clash it's still as cozy as sitting around jawing at a BBQ. Yes, there are a lot of letters the latest iteration of the LGBTQ+ acronym. Sure, white Berkeley ladies like yoga, chardonnay, and weed. In one slapstick sequence, Salinas runs though all the different ways that different Latino ethnicities dance to salsa. It's a version of the old "white people drive like this, but Black people drive like this" joke, but its hyper-specificity makes it all the more hilarious. And Salinas tweaks the familiarity by stopping to catch his breath and delivering a punchline wallop—"I've been doing this for 35 years!"
Elsewhere we're introduced to a squabbling Cuban-Puerto Rican couple, members of a citizenship ceremony, and a Border Patrol interrogation team that morphs into something quite different. All of these scenes are loosely connected by a somewhat clunky framing device—a documentary film is being made about life in the US today—that nevertheless dips into one of Culture Clash's pioneering insights: how arts institutions and monied audiences are complicit in the way POC stories get told. Ingenious scenic design by Christopher Acebo and lighting by Tom Ontiveros help bind everything together.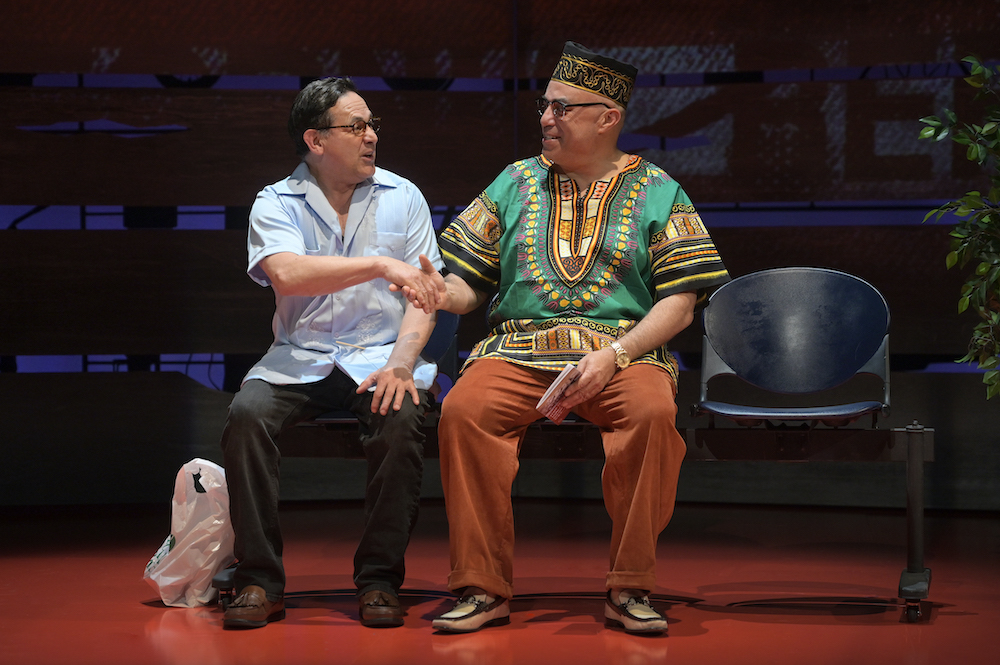 The overall warmth of the affair is heightened by the troupe's long relationship with the Berkeley Rep. Previous artistic director Tony Taccone encountered them in the 1980s when he was at Eureka Theatre, and featured Culture Clash and its members in several productions throughout his career. (Still) in America is a kind of update on Culture Clash in AmeriCCa, produced in 2002 at the Berkeley Rep. Opening night was a buzzy reunion of arts and culture figures that could have been lifted straight from the Mission in the 1990s. (I happened to be seated next to Sean San Jose, co-founder of the Campo Santo performance crew and artistic director of Youth Speaks.)
While Culture Clash still digs sharply into the poignance and relevance of what it calls "social archeology," for me the most shocking thing was remembering how easily the members could inhabit other bodies and identities that were not their own. In the '90s, with so few minorities onstage, the onus to represent different characters fell onto whoever was at hand—brown actors could play Asian, Indian, African, Muslim, transgender, queer, disabled, etc with barely a double-take. Now, with more, if not nearly enough, representation, these "out of your lane" transformations are looked down upon.
Could this be part of the "political correctness" that the troupe disdains? Could it also be that back in the day we felt more all in this together?
Whatever the case, Montoya, Salinas, and Siguenza bring such open-heartedness and assured artistic experience to their portrayals that any objections about appropriation or permissions faded away in my mind. (Still) in America is a big bear-hug of solidarity and laughter that feels refreshing right now.
CULTURE CLASH (STILL) IN AMERICA
Through April 4
Berkeley Rep.
Tickets and more info here.