"House us now! House us now!"
A group of UCSF physicians associated with the Do No Harm Coalition, activists from the Coalition on Homelessness, the Solidarity Forever Collective, and Faith in Action gathered outside Mayor London Breed's house in the lower Haigh tonight to protest her slow pace of placing unhoused San Franciscans into hotel rooms, defying legislation passed two weeks ago by the Board of Supervisors.
People laid in the road to symbolize the deaths of the homeless from COVID-19, and the demonstration lasted 30 minutes to symbolize the 30,000 hotel rooms that are vacant in San Francisco.
"We are here with medical professionals, the faith community, and unhoused San Franciscans to demand that she house homeless San Franciscans today," said Sam Lew, an organizer from the Coalition on Homelessness.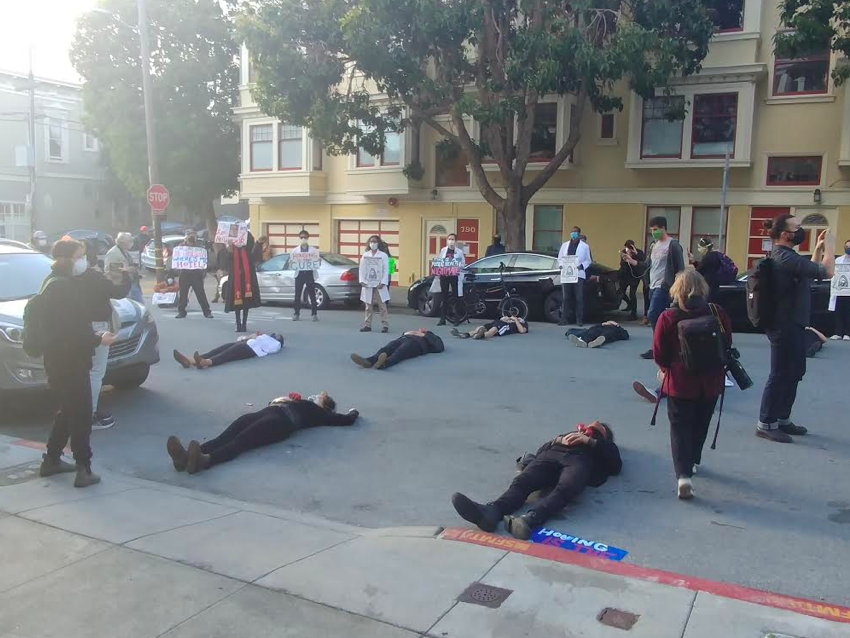 According to Lew, only 950 homeless people are in hotel rooms.
"With the mayor taking such an extreme position, and she has said in her press conferences that she is not checking social media, we felt a need to get on her radar," said Christin Evans, who owns Booksmith and was one of the demonstration organizers.
Olivia Park, who is about to graduate from UCSF with her medical degree in a few days, and a member of the Do No Harm Coalition, expressed her frustration at Breed, and why it was so important for the City to offer hotel rooms to unhoused patients who are discharged.
"I cannot stand by as our city leaders not only blantantly ignore city legislation essential to preserving public health, but also actively doing great harm," said Park. It is a medical necessity that everyone be offered a hotel room who is experiencing homelessness. Not moving our unhoused community into hotel rooms is denying them access to basic human needs, like food, water, toilets, healthcare, and medicine.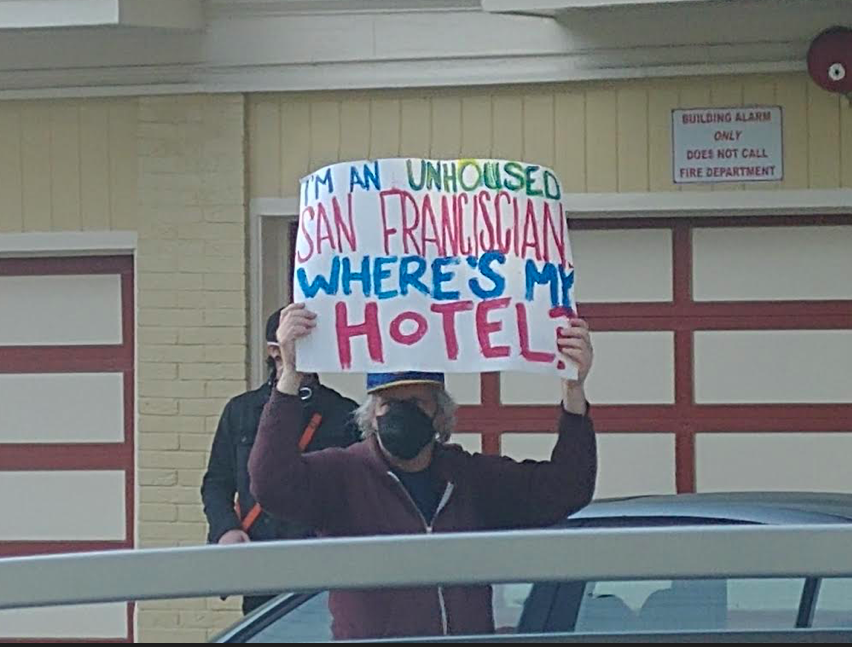 Park described the heartbreak she and the medical staff she works alongside feel at the inability to place unhoused patients into hotel rooms to self-isolate.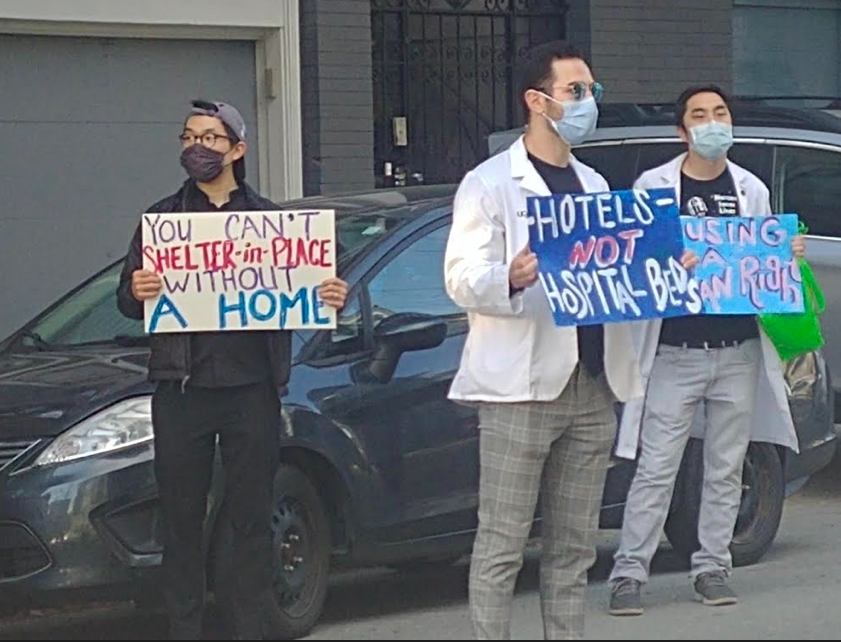 "It is not uncommon for doctors to be completely heartbroken when we have to discharge someone who is unhoused back onto the streets," Park told me in an interview. "That should never happen in the richest country in the world. And SF is a rich fucking city! We are do well-resourced. For us to treat other humans like this, I'm at a loss for words."
Rev. Monique Ortiz, a pastor of the St. Mary and St. Martha Lutheran Church in the Mission District and a member of Faith in Action, called on the mayor to act immediately to house homeless people.
"I am so devastated to see our sisters and brothers who are unhoused die and die and die… They are children of God, you are a woman of God and we are calling you out to open your heart for your people who are dying in the streets," said Ortiz.
Emmet House, a coordinator at the Coalition on Homelessness, said that the situation for the homeless in the face of COVID-19 is incredibly dire.
"I've been with the Coalition on Homelessness since 2001. I've seen the good, the bad, and this is the ugly," said House. "I have people come to my house and I give them tents, because they need hotels," added House.
"Act now, London Breed," said Lew.