In 2012, Erin Lim, a publicist and Karyn Paige, a digital marketer, had just appeared on a San Francisco podcast called Your Straight Male Friend, co-produced by Charlene Goto. After taping the show, they sat at a bar in the Fillmore and decided to start their own podcast.
"Back then, the podcasting landscape was pretty pale and male, which it still kind of is," Lim told 48 Hills. "At the time, there just weren't a lot of women of color doing podcasts."
One of the major exceptions, Aisha Tyler's Girl on Guy, in which the actress-comedian interviewed celebrities about their lives and careers, became a model for what would eventually become Bitch Talk, with Lim and Paige as cohosts and Goto as producer. (Paige left at the end of 2015 and Angela Tabora came aboard the following year.)
Like Tyler's now-defunct show, which ran for five years and 222 episodes, Bitch Talk's topics have varried from pop culture and humor to politics, activism, and drinking and dining over its 450 episodes. But the interview show's early focus on marginalized communities has remained.
This May, in honor of Asian and Pacific Islander American Heritage Month, Bitch Talk is hosting a slew of guests with local ties, like Deadline writer Dino-Ray Ramos, Bravo's Top Chef alumnus Chef Tu David Phu, and filmmaker H.P. Mendoza. Oakland native and award-winning Hamilton star Daveed Diggs will also appear on the show this month.
I spoke to Lim, Tabora, and Goto, who after this many years in business have earned the right to refer to themselves as "The Golden Girls of Podcasting," about setting Bitch Talk apart from the competition, favorite past episodes, and what the future holds for the show.
——
48 HILLS What is it about podcasting that appeals to you?
ANGELA TABORA What I love about podcasting is the freedom to talk about whatever we want and to be mobile. For example, after Anthony Bourdain passed away, we did a restaurant and pub crawl and went to all the places that he ever covered in San Francisco.
CHARLENE GOTO A lot of what Angela says is true. Me, coming from a radio background, I've always called podcasting the hybrid of both worlds, where we aren't as strict and regimented as being on a radio show. With podcasting, we have the freedom to be a little bit more loose but also want to have some structure and format, so that we're not just going off the rails.
48 HILLS What are the necessary elements for a standout episode?
ERIN LIM I'll give you an example. We just had Daveed Diggs on our show. We had him on once before when he was promoting his movie Blindspotting with [writer-actor] Rafael Casal, and that interview was great. But when you're interviewing someone about a film, it's typically a 10-minute interview about the film and process, so we really didn't get to know them per say.
Fast forward a couple years. In February, we were asked to help host a really special event to raise funds for the Moms 4 Housing organization in Oakland with Rafael and Daveed. At that event, Daveed came over and said, "Hey, whenever you want me back on the show, just ask."
So we had Daveed two weeks ago and we didn't know what to expect. His star is rising really quickly and he has a show coming up called Snowpiercer, so we're like maybe we have 20 minutes. We told him upfront this is just going to be a "Basic Bitch" episode, where we just wanted to get to know him. But as soon as he came on and we were able to start recording and talk with him and share a virtual happy hour over Zoom, it was really relaxed and fun and felt like we were sitting with a homie.
ANGELA TABORA Of course, the connection is going to be number one. It can be someone you love onscreen or onstage — even Academy Award winners — but you never know what it's going to be like when you're sitting down with them.
So we do our research and have our questions, but the best interviews happen when those notes go out the window and you're just having a really fun conversation.
——-
48 HILLS What are some of your proudest moments from past episodes?
ANGELA TABORA The proudest moments are when we're on location, covering things like the Women's March or That's What She Said SF. Then we realize, "Wow, we're really part of the community."
CHARLENE GOTO Here's a proud moment for me as a producer. I've been a morning show producer and radio producer since 2002, and around the time that [Moonlight and If Beale Street Could Talk writer-director] Barry Jenkins was coming up, he became a possibility for us to interview. But when I pitched it, my Program Director at Cumulus told me that I wasn't shooting high enough. So I passed it along to Bitch Talk and months later, Jenkins ended up winning the Academy Award. So I'm so proud because we go with our gut. It might not be the biggest thing at the time, but you never know.
48 HILLS How does the fact that you're all women of color impact the show? 
ERIN LIM I don't want to give any shine to the political bullshit we're in right now, but I also feel that the bullshit we're in has given a voice to people of color and raised that voice. Bitch Talk and our brand have really risen in this moment because we had to. Our voices matter as well as the people we focus on. Whether they're politicians, activists, filmmakers, or actors, we want to raise their voices as well.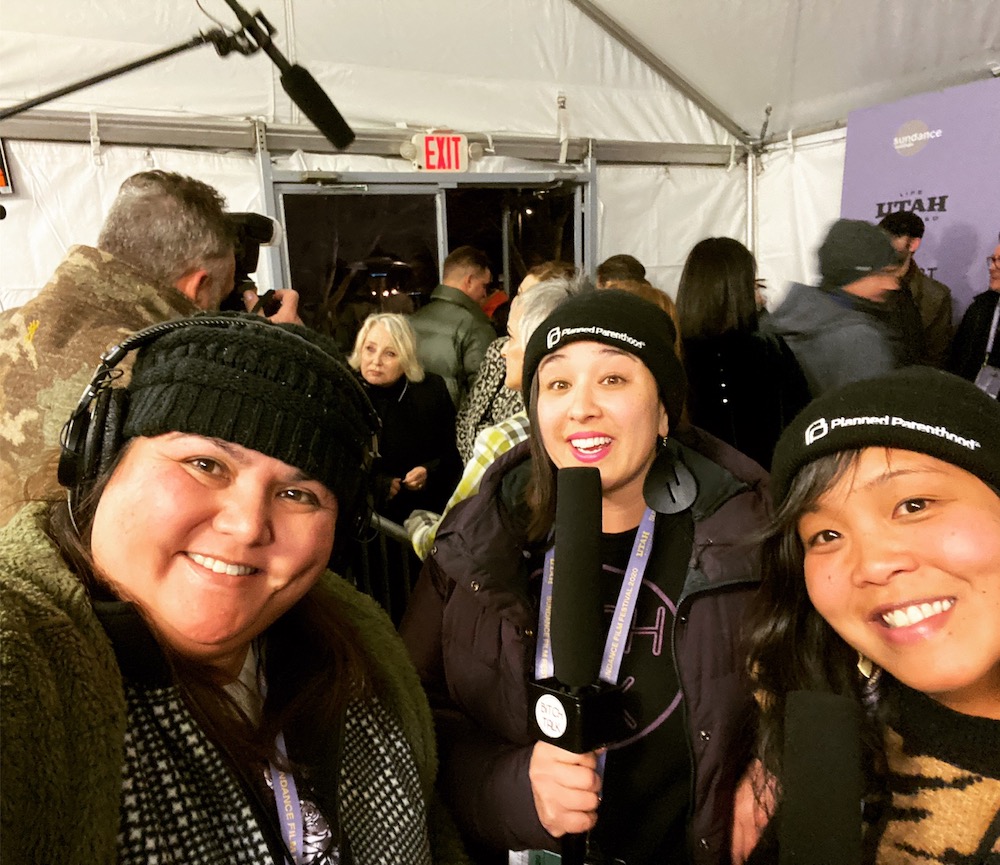 48 HILLS I know that each of you has a dayjob or other projects that you work on. What are the challenges of making Bitch Talk a priority?
ERIN LIM Podcasting is hard if you want to be consistent. You're always looking for guests and posting episodes and promoting over social, so it takes more work than some people want to put into it. There aren't enough hours in the day, so time is my biggest challenge.
48 HILLS What makes Bitch Talk a uniquely San Francisco show?
ANGELA TABORA We're always giving love to local establishments and interviewing local legends and artists. But I think it's mainly our approach. We cover a lot of film, but this isn't the same interview you're going to get from someone in Los Angeles covering a film. Because we're on the fringes like that, you're going to get different questions and a different vibe from our interview.
48 HILLS How has the COVID pandemic changed the way you approach Bitch Talk, as far as the guests you book and the topics you cover?
ERIN LIM It's a silver lining in all of this that we have access to people we may not have if it wasn't a pandemic, like Daveed Diggs. We also reached out to W. Kamau Bell right when this was starting because I was watching his feed and realized that he's one of those parents who's homeschooling his kids all of a sudden—and that became the story. There's a freedom to reach out because we're all sitting at home, mostly hoping to "get together."
We just built out our YouTube page and have two-minute video teasers of our shows and we're able to do that because we can now record from Zoom. And it's great because we have another platform to show our show on.
ANGELA TABORA Our interviews have also been a lot deeper during this pandemic. People just have so much time to reflect and stew and they're excited to have a conversation with people outside their immediate household.
ERIN LIM Then we've had frontline workers who are also our friends on the show. We've had a nurse who works at Highland Hospital in Oakland talk about the realities of being a nurse right now and a grocery store manager who's a friend of Angela's down in LA. I think that's where it turned for us, where we're not promoting people's projects as much, but instead talking about their realities right now.
48 HILLS What do you hope to achieve over the next year?
CHARLENE GOTO We feel like we're on the cusp of going to the next level. It's part of the reason Erin had us rebrand our website. We're also stepping out of our comfort zone and doing more front-facing things. We've been fortunate to go to Sundance for the last couple of years, and we want to do more of those things in the future, like going out and covering big festivals.
ERIN LIM World domination [laughs] and I see a Bitch Talk late night show, 'cause why not?