The COVID crisis has hit us all differently, and that variance certainly applies to local arts organizations. While the virus refuses to give a clear timeline for its defeat, and most decisions are ultimately in the hands of health officials, many creative San Francisco institutions are doing what they can to ensure that they continue to serve their communities. 
To some, the uncertainty has brought about a renewal in purpose. While peers struggle to reckon with the myriad injustices and inconveniences unleashed by the pandemic, Dena Beard, director of The Lab, says that the pandemic has brought her a welcome reminder of the power of the small experimental performance space.
"When I took over in 2014, something that I really felt to be a powerful thing was this sense of precarity, of having an institution that's not really an institution because it's not really so solid in that way," Beard said in an interview with 48 Hills.
The staff of the Lab see COVID is a moment to be met. The organization has doubled down on its series of artist-led public forums meant to reimagine the shape and purpose of democracy during this turbulent election year. (Watch the first five editions here. The next forum will be led by Oakland arts organizer Marvin K. White.)
They are far from the only ones that have tapped into the power of the internet to connect with corona-captive art audiences. CounterPulse hosted a virtual variety show and communal art-making experience in May as part of its annual gala that attracted more than 500 viewers. SOMArts Cultural Center found similar luck with an online edition of its own annual fundraising event; "a great learning experience for us, and a great success!" says director of events Devon Nandagiri of the project.
Other arts organization plans have preceded relatively uninhibited by coronavirus woes, such as Tongo Eisen-Martin's launch of Black Freighter Press, a publication studio for artists of color being created via a collaboration with the Lab. Within that same organization, some projects, like Los Angeles playwright Asher Hartman's plan to create a live-in village inside the Lab, have had to morph.
"The context and everything has changed, but the play has become only more relevant now," says Beard. "We're trying to find a space to do that outside, or in a larger space so that people can see it while social distancing."
Reimagining space has been a primary concern for SOMArts, which in addition to its own programming helps host over 100 cultural events a year through its rental program.
"When COVID-19 hit, we had a full season of events ahead of us, all of which we had to cancel or reschedule with soft holds as we continue to await for more information about when we can safely reopen our event space," says Nandagiri. SOMArts now offers event organizers space and equipment for professional quality live streams—a service that staff hopes can benefit its larger community.
"We would love to work with schools, especially those within SoMa who might need extra space to maintain social distancing, or even arts and after school programs," says Nandagiri.
That's not to say that SOMArts has neglected its own programming. The center will host virtual broadcasts of the annual Murphy and Cadogan Contemporary Art Awards in September, and staff is envisioning how SOMArts' popular Día de los Muertos and upcoming "The Black Woman is God" exhibits can be enjoyed by visitors, while keeping them safe from contagion.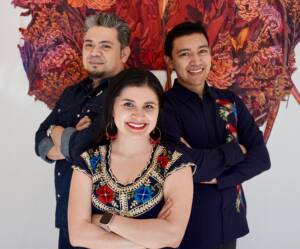 SOMArts has even announced the 11th season of its curatorial residency program that signals a renewal of one of its core missions, made even more essential in tough times. Its season will feature dancer and curator Antoine Hunter's "Bay Area Deaf Arts"; Fátima Ramírez, Josué Rojas, and Mauricio Ramírez, who will collaborate on the multidisciplinary exhibition "CARAVANA: Mobilizing Central American Art (1984–Present)"; and a curation by Duygu Gün and Bengu Gün that examines the cultural transmission of lullabies entitled "Mother's Bosom".
"We continue to prioritize artists and curators as leaders and healers in the recovery," says partnerships and curatorial residencies director Carolina Quintanilla. "SOMArts' curatorial residency will continue to center the work of QTPOC artists and curators, a population who is largely low income and deeply impacted by the pandemic." In the interest of COVID precautions, SOMArts will offer these artists the tools of virtual artists studio tours, publications, and virtual recordings.
CounterPulse plans to resume "select small-audience, public events in September that will likely be held outdoors", according to its communications director Justin Ebrahemi. Z Space has wiped its 2020's calendar clean, and awaits the results of the Wolf Brown COVID-19 audience outlook monitor, a poll that looks to track art consumers' take on proposed coronavirus safety measures in performance spaces, in order to start planning what shape COVID era performance can take. 
"We are hoping to find a model that works to proceed with these technical residencies, but so far feel that we're not ready," Z Space marketing director Andrew Burmester wrote in an email to 48 Hills. In the meantime, its resident theater company Word for Word—which is dedicated to adapting verbatim performances from venerated text works—aired broadcasts of "The Blues I'm Playing" by Langston Hughes, "The Islanders" by Andrew Sean Greer, and "Firelight" by Tobias Wolff on KALW.
At the end of the day, COVID-19 is providing local arts organizations with a dramatic opportunity to demonstrate staff's creativity. "Effectively, our program templates, honed over many decades, are seemingly no longer a guide, and we therefore venture into this unknown period without a map," says Ebrahemi, expressing a mix of trepidation and determination echoed by many in the local arts community. "Yet we continue to center supporting artists and building community; we do not intend to cease programming despite this uncertainty."